CEDIA: Monster Power
UPS. And I don't mean the guys in the brown trucks. I'm talking Uninterruptible Power Supply. When your AC goes black or brown, shutting down or sagging, it's just not a good thing. Electronic equipment hates it when that happens. To the rescue, Monster introduces the Monster Home Theater HTUPS 2700.
This an all-in-one solution for backup power, power conditioning, voltage regulation and surge protection. Housed in a trim 1-rack unit module, its internal battery provides 1 hour of back-up at 50 watts, or more with an optional external battery. It can keep a DVR recording for two hours during a blackout. In addition to providing backup power when needed, the HTUPS 2700 also incorporates surge protection, HD Clean Power noise filtration and voltage regulation. Among other things, the back-up power will preserve home theater settings, prevent data corruption on media servers, and prevent projector bulb damage.
Details.....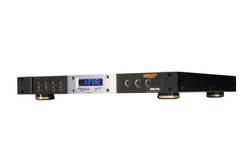 The HTUPS 2700 provides surge protection with microprocessor-controlled T2 circuitry. T2 actively monitors the line, neutral, and ground power lines for electrical surges, dips, and swells and automatically disconnects equipment from AC power when it detects a sustained power dip or swell (continuous voltage below 80Vrms or above 135Vrms).
In the event of a power anomaly, the T2 disconnects the outlets from components and continues to monitor power conditions. If power conditions remain potentially damaging, T2 keeps the unit shut down, protecting both itself and connected equipment. When power conditions return to normal levels, T2 reconnects the unit and components to its electrical source. This capability extends the unit's life, while providing surge protection. For added protection, the HTUPS 2700 also features voltage regulation.
The HTUPS 2700's HD Clean Power feature provides advanced electronic noise filtering. HD Clean Power filters and reduces electromagnetic and radio frequency interference often caused by common household electronics such as lights, refrigerators, radios, and other appliances. The HTUPS 2700 also features Monster HD Clean Power Stage 2 circuitry which incorporates two isolated noise filters. The Monster HTS 2700 has an MSRP of $599.95 and a $350,000 Connected Equipment Warranty. -Ken C. Pohlmann
LATEST VIDEO