CEDIA: Form meet Function
If you're anything like me, you probably think that most audio keypad controllers look pretty cool. Then again, we don't live in mega-million dollar mansions where something on the wall might distract from an original Picasso or some other object d'art. However, NetStreams does have systems in these mega homes, and they have heard the cries of designers and decorators looking for something where form can keep up with function. And, as NetStreams pointed out at their press event, the C and D from CEDIA stand for Custom and Design so they took that to heart with their new TouchLinX TLA250.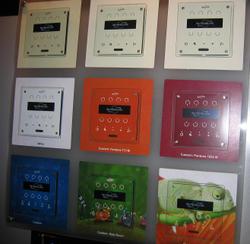 The new pad offers designers and architects the ability to tailor the look and material to match a home's décor on a room by room or wall by wall basis. The pad will be available in 1,114 Pantone colors, plus can be custom designed to blend into any environment. (Check out the chameleon picture for an example.) The pad's glass faceplate has a completely flat look, operating with capacitive touch and utilizes and OLED display for full metadata feedback.
Beyond being a pretty face, the pad also features a 50-watt per channel digital amplifier, Burr-Brown A/D and D/A converters and a microphone for full home or room to room paging. The pad is available now, but pricing was unavailable.
NetStreams also showed the AMP2200, a powerful addition to their line-up that pumps out 290-watts per channel, or 600 when bridged to mono. This amp is perfect for driving big, power hungry speakers or large areas such as the great outdoors. For more flexibility, up to 6 of the amps can be linked together, and the amps feature both XLR and RCA inputs allowing them to work in standalone, non-NetStreams IP systems. The amp is also available now, but again no pricing was given. – John Sciacca
John Sciacca is The Custom Installer columnist for Sound & Vision. His company is Custom Theater and Audio.
LATEST VIDEO