CEDIA 2010: 2D Video Projectors
A few large manufacturers excepted, most of the video projection industry seems in no big rush to get into 3D. As a result, there was plenty of 2D projection action at this year's CEDIA Expo, a gathering in Atlanta this week of custom installers and the manufacturers who supply them.
(Click here for John Sciacca's roundup of 3D projectors from the CEDIA Expo.)
1,000,000:1 contrast (or so they say)
Among the new 2D stuff, Epson's introduction of its new PowerLite Pro Cinema 61000 projector was the most exciting. The 61000 (shown at top) uses the company's new 3LCD Reflective technology, which delivers a rated contrast ratio of 1,000,000:1. The company amusingly dubs it the world's first "mega contrast ratio" projector. Epson didn't provide much detail about the new technology, but I gather it's somewhat similar to the LCoS technology that JVC and Sony have used to such good effect in their projectors. Part of the 61000's sky-high contrast comes from its use of an automatic iris—a feature JVC eschews.
Is this a major advance? I can't say until we get a unit in for testing, but I do have to point out that blacks on some projectors are already getting too deep for most lab equipment to measure.
The projector is THX- and ISF-certified; includes lens position memory and anamorphic image processing modes to allow 2.35:1 and other aspect ratios; and has built-in networking so it can send your installer a message when the lamp is about to die. Epson expects to ship the 61000 in December at a price below $7,000. It will also offer two other 3LCD Reflective models: the under-$4,500 Pro Cinema 31000 and the under-$3,300 Pro Cinema 21000. Both boast rated contrast of 500,000:1. The main difference between them is that the 31000 offers ISF certification and advanced color calibration controls.
The world's cutest projector name

I was shocked to see Wolf Cinema, a brand specializing in super-expensive ultra-projectors, displaying a model priced under $10,000. The new DCC-100FD—affectionately dubbed the Wolf Pup—is a single-chip DLP projector in a gorgeous aluminum chassis that conceals all the connections while allowing excellent ventilation. The list price is $9,800, and that includes a separate video processor that allows your installer to make all the connections at your rack and simply run a single HDMI up to the projector. Expect delivery of the Pup in January.
LED: Still $$$
Last year's CEDIA Expo saw the debut of LED-driven projectors, which use super-bright LEDs in place of conventional UHP lamps. There's a lot of excitement around LED, in part because the LEDs last for the life of the projector without ever having to be replaced, and in part because LED projectors can deliver stunning color rendition.
But projection enthusiasts who hoped to see the next generation of LED projectors at this CEDIA Expo—at lower prices than the $15,000-and-up cost of current models—were disappointed. There were new models, including units from NuVision (left) and Wolf Cinema as well as a powerhouse double-stack 3D model from Runco, but all are built around the same chassis (sourced from Chinese manufacturer ChiLin) used in the first-generation projectors.
Stepping into liquid
The most radical projection technology at the CEDIA Expo came from Projectiondesign, which showed its Remote Light Source projector. The RLS is a two-piece system with a small projector body and a large, rack-mount box that contains the light engine (i.e., the lamp, the color wheel, the DLP chip, etc.). The two are connected by the Liquid Light Guide, a flexible, liquid-filled tube. The idea is, the light engine can be hidden in an equipment closet, where it's easy to maintain and where the heat it generates can be managed. The projector body can then be very small and produce very little heat and no noise.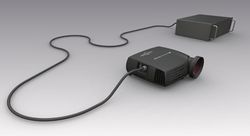 The Remote Light Source is intended for places where maintaining a projector will be a challenge, such as on very high ceilings, or in places where an absolutely quiet projector is desired. Projectiondesign says the Liquid Light Guide works at lengths up to 100 feet. At a projected price of $35,000 to $40,000 for a model with a 10-meter light guide, it isn't cheap, but it is really cool.
2.35:1 with no special lens
Projectiondesign also showed what it says is the first projector that can deliver a native 2.35:1ultra-widescreen image without the help of an anamorphic lens or indexing zoom lens. The Optix SuperWide 2.35 has a WQXGA DLP chip with a resolution of 2,560 x 1,600 pixels. It uses the chip's extra resolution (relative to a standard 1,920 x 1,080 chip) to deliver a 2.35:1 picture natively, without the need for a special lens or zooming. This approach offers significant benefits: none of the distortion produced by anamorphic lenses, no light loss due to an extra lens, and none of the limitations on throw distance that an indexing zoom lens setup can impose.
The technology will also be available in an LED-driven version, the Chroma SuperWide 2.35. Projectiondesign expects both models to list for about $35,000 each.
Bargains galore
Bottom-feeders usually find little to suit their tastes at the CEDIA Expo; few installers want to install low-priced gear because they can't make any money at it. But a couple of manufacturers did show some nice low-priced models.
One was Mitsubishi, which demoed the new $1,495 HC4000, a single-chip DLP model with 1080p resolution and internal video processing that lets you use a fixed or moving anamorphic lens. (Never mind that the least expensive anamorphic lenses I've seen cost more than this projector.) The HC4000 has a UHP lamp rated for up to 5,000 hours of use—double what typical UHP lamps can deliver.
Another promising bargain was Epson's PowerLite ProCinema 8700 UB, which will cost only $2,199 yet will offer THX-certified performance. It comes with a voucher for a free replacement UHP lamp, which will save you hundreds of dollars.
Last but almost certainly not least was JVC's new DLA-HD250, which delivers the company's acclaimed D-ILA technology at a price of just $2,999. Sorry if that sounds like a line from a press release, but anyone who's ever reviewed a JVC projector can't help but get excited about this one. The DLA-HD250's rated contrast ratio is 25,000:1, which doesn't look so great next to the 100,000:1 claimed for the flagship DLA-RS60 and DLA-X9 models, but it's probably still good enough to put many other projectors to shame. And it's no stripped-down cheapie, either—it's equipped with a 2x motorized zoom lens, HQV Reon-VX video processing, and customizable gamma control. Home theater cheapskates won't have to wait long for this one: It's slated to ship at the end of this month.
—Brent Butterworth

LATEST VIDEO