CD Review: Shelby Lynne, and Reference CD Review: Allison Moorer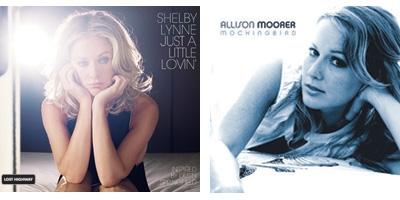 Shelby Lynne: Just a Little Lovin' Lost Highway
---
Music ••½ Sound ••½
Allison Moorer: Mockingbird New Line
---
Music ••••½ Sound ••••½
In a career that has seen as many stylistic shifts as costume changes at a Madonna show, Shelby Lynne has gone from country starlet to singer/ songwriter to pop diva to club crooner. The result is unfulfilled potential, because she also tends to make odd, hard-to-warm-to recordings - and regrettably, that's again the case for Just a Little Lovin'.
On paper, it seems to be a can't-miss: an album of Dusty Springfield-recorded songs, Phil Ramone at the controls, and an ace backing band. Yet it mostly falls flat. First, many of the choices are strange; maybe Lynne didn't think she should touch "Son of a Preacher Man," but who really associates "Anyone Who Had a Heart" or "How Can I Be Sure" with Springfield? Second, Ramone's crystal-clear production is stiflingly airless, not intimate. And last, on classics like "The Look of Love" and "I Only Want to Be With You," Lynne sounds vague and distanced from the material. It's only on that set-closing "Sure" that Lynne, accompanied solely by Dean Parks's acoustic guitar, makes something special happen. But by then, it's too late. Way too late.
Meanwhile, Lynne's younger sister, Allison Moorer, has also recorded an album of covers - in this case, all written by female artists - and it's a stunning success. With notable help from producer/guitarist Buddy Miller, she gets to the emotional core of just about everything she tries. And with this kaleidoscopic batch of songs, that's saying a lot, as it ranges from blues (a sexy take on Nina Simone's "I Want a Little Sugar in My Bowl") and folk (a raw-nerved version of Kate McGarrigle's "Go, Leave") to country (a sultry rethinking of June Carter's "Ring of Fire") and rock (a smoking attack on Patti Smith's "Dancing Barefoot"). Given this set's effortless eclecticism, maybe it's time little sis taught big sis a thing or two about finding one's true voice.
more Entertainment reviews Back to Homepage What's New on S&V
LATEST VIDEO