CD Review: Coldplay's 'Viva la Vida or Death and All His Friends'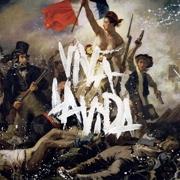 Viva la Vida or Death and All His Friends Capitol
---
Music •••½ Sound ••••
No pressure.
Depending on your point of view, Coldplay had either the incredible luck or the grave misfortune of being asked to Deliver the Blockbuster and Save the Music Industry. Either way, with Viva la Vida or Death and All His Friends, the band had more expectations put upon it than Big Brown - and look what happened to that thoroughbred.
Like I said, no pressure.
Bandleader/songwriter/piano-plunker Chris Martin may demur to some degree, but he must have relished the challenge. And by enlisting soundscape artist Brian Eno to produce the bulk of Viva la Vida, Martin stared down the storied legacy of his own personal model for how to dismantle a bombing music biz.
While 2005's X&Y tried too hard to make a statement, Viva tries just enough. Which means that Eno (also credited here as being responsible for "sonic landscapes") and fellow producers Markus Dravs (Bjork, Arcade Fire) and Rik Simpson (Portishead, Kasabian) have taken song lengths, hooks, and chops and taskmastered them into a precise, 45-minute CD that is the most accessible mainstreamed alt-rock album of the year to date.
The opener, "Life in Technicolor," winks directly at the elegiac buildup that prefaces the vocals on U2's "Where the Streets Have No Name." Just in case you missed the track's intent, "Technicolor" is reprised - this time, with lyrics - immediately at the end of the closing number, "Death and All His Friends." That song attempts to build into a frenzied, layered-vocal sing-along proclamation, but it stays a kick shy of shifting into fourth gear. The percussive, perseverant "Lost!" (as in, ahem, "everything's not . . .") and the foot-tapping, hum-inducing "Viva la Vida" succeed better at imprinting themselves on your repeat-and-enjoy radar.
Much has been made of Martin's laissez-faire "life during wartime" lyrical bent on Vida. (I'd say it's more akin to "life during information-blackout time.") But you can put that aside and enjoy the album's Eno-esqueness, such as the push/pull of the driving strings midway through the initially somber "42," the Big-Country-meets-the-Rising-Sun thrust of "Strawberry Swing," and the Eastern European bursts and sneers sprinkled throughout the deliberately paced "Yes."
Take Viva la Vida as an album that chronicles how to live in the moment of the turbulent late-period '00s. And if you choose to see it in a certain light, then life is good. Or not.