CD, DVD Review: Jay-Z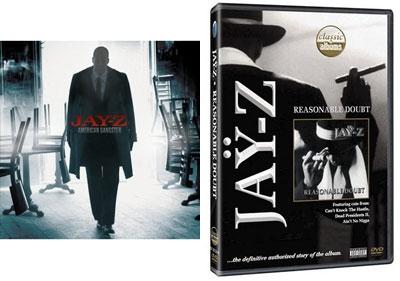 American Gangster Roc-A-Fella CD
---
Music •••• Sound ••••
Reasonable Doubt Eagle Vision DVD
---
Program •••½ Overall DVD Quality •••½
Thank you, director Ridley Scott, for your latest film, American Gangster. Jay-Z caught an advance screening of it, and as a result, he's gotten his game back - a game that had lost some of its spark on his first post-"retirement" album, last year's Kingdom Come.
Rather than having 1970s drug kingpin Frank Lucas as the hero of his concept album, Jay-Z is (as usual) the one smoking the expensive Cubans while, and more importantly, fronting a glittering collection of soulful, somewhat retro pieces that partially recall the sizzle of his excellent pre-"retirement" disc, The Black Album, as well as the smooth regality of his earliest material. American Gangster also has a number of fresh-sounding floor-shakers, like the surging, drum-and-clap "Hello Brooklyn 2.0," where the mike is shared with Lil Wayne (and where Hova eloquently pays tribute to his hometown). Jay-Z also sends out a holla to his peers on "Roc Boys (And the Winner Is . . .)," featuring snazzy horns and a collaboration with Kanye West.
Make no mistake, however: Jay-Z as MC is the main gangsta in this set. He goes quasi-autobio on the dark "No Hook," speaking of what really made him: "This music is where I buried my ashes," and no, "I don't need no hook for this shit." (At the same time, the track does impress with its subtle sonics.) Boasting has always been part of Jay-Z's partially self-invented folk-hero role, and American Gangster shows little modesty. In the hustler-soul joint of "Party Life," after setting the stage with "welcome to the '70s," he declares: "I'm like a young Michael Jackson / These other niggas is Tito." Welcome back to work, Jay.
To recall how Jay-Z's career got started more than 10 years ago, check out the latest entry in Eagle Vision's "Classic Albums" series of making-of docs on DVD, Reasonable Doubt. This look at Hova's masterful 1996 debut uncovers how the recording went down, and the things in Jay-Z's life that led to the album's conception.
The DVD includes interviews with many of the record's producers - studio aces like DJ Premier, Clark Kent, and Sean Cane. It also features interviews with others who contributed to Jay-Z's creation, such as Mary J. Blige, Foxy Brown, and Memphis Bleek. Without a doubt, it's a revealing look at the story behind not just a classic album, but one of the best listens in hip-hop history.
more Entertainment reviews Back to Homepage What's New on S&V