Canton Karat Series Home Theater Speaker System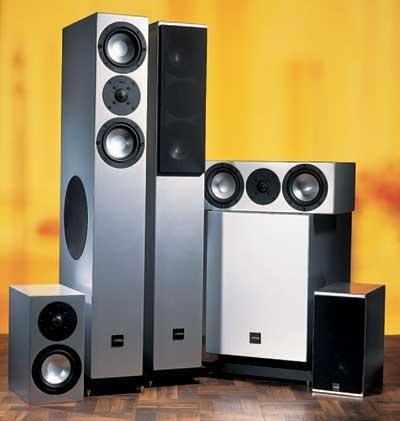 Photos by Tony Cordoza
Silver fever is spreading throughout the A/V world. It first reared up in small components like DVD players. Next, TVs with shiny cabinets started to appear in all shapes and sizes. Now the metal bug has finally worked its way into speakers, with companies turning out silver-cased systems that would look right at home in the living room of T-1000, the cop-suited robot from Terminator 2.
Given the current mania for all things silver, a metal-toned rig like this Canton Karat series system ($4,250) is likely to be a good match for any other new gear that you buy. And it looks extremely cool. At first I was wary of the Cantons' severe facade, but once I set up the slender towers and worked the rest of the system into my room, I was surprised by how well it blended in - the speakers seemed to disappear. Even the Karat AS 200 C subwoofer maintains a slim profile - it's less than a foot wide - which isn't easy to pull off in a relatively big box harboring a down-firing 10-inch driver.
Measuring a mere 5 1/2 inches wide, the Karat S 8 DC front left/right speaker breaks new ground for a slim tower design. The ported, three-way speaker stands just over 3 feet tall and has a side-firing 8-inch woofer. On the front panel, a 1-inch tweeter is sandwiched between two 5-inch midrange drivers (the nominal size includes the surrounds and baskets), all of them covered by black fabric grilles. Its two pairs of input terminals accept spade lugs or bare wire and can be biwired or biamped if you remove the attached jumpers. Each speaker rests on a black MDF base and comes with spikes for coupling it to a carpet.
The CS 4 center speaker is a sealed, two-way design with the same front-panel driver configuration as the tower, but there's no woofer on the side, so the dual 5-inch drivers handle both bass and midrange duties. Canton's compact Karat S1 bookshelf model serves as the surround speaker for the system. A two-way ported design, the S1 also sports a 5-inch midrange/bass driver and a 1-inch tweeter. As with the S 8 DC tower, the terminals on both the center and surround speakers accept spade lugs or bare wire. The Karat AS 200C subwoofer's controls include level and phase adjustments and a crossover that's variable between 50 and 150 Hz.
Since I use a front projector to handle video in our 14 x 20-foot testing room, I positioned the S 8 DC towers at either side of the 80-inch-wide screen - a reasonably spacious spread. The CS 4 went on a low stand directly beneath the screen, and I put the S 1 surrounds on speaker stands near the back corners of the room, angling them in slightly toward the listening position. The AS 200 C slipped into a front corner normally occupied by a massive B&W subwoofer. Standing in that void, the Canton sub looked slimmer than ever - I began to wonder if it would be up to the task of flooding the room with bass.
LATEST VIDEO