Canon Realis SX60 LCoS Front Projector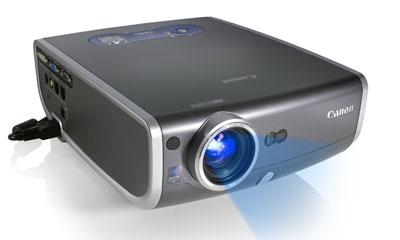 Most people know Canon as a maker of cameras, camcorders, and printers. But the company also produces plenty of other stuff, including video front projectors. After learning that Canon's Realis SX60 ($5,000), an LCoS-based model mainly intended for industrial applications - computer imaging, photography, and that sort of thing - also offers a Home Cinema mode to optimize its picture for movie-watching, we began to wonder: Can this projector cut it for home theater? Before we knew it, a box had arrived, and the Canon Realis SX60 LCoS front projector was officially plugged into the review queue.
All the front projectors we've tested in the past year are either 1080p- or 720p-rez models, but the SX60's three LCoS chips fall in between with a resolution of 1,400 x 1,050 pixels (SVGA+). It also differs in the native aspect ratio of those display chips - 4:3 as opposed to 16:9. That alone needn't prevent you from using a 16:9 screen, since the Canon can also format widescreen HDTV or DVD images. But the 16:9 route involves some ergonomic and picture-quality compromises, the details of which we'll get to shortly.
The projector's polished appearance definitely indicates that it's intended for things other than boardroom duty. With a slate-gray case, silver trim, and rounded edges, it wouldn't look bad at all hanging from a living room ceiling.
Controls including zoom and focus, as well as buttons for navigating menus and switching inputs, are on the top. Side- panel connections include DVI (HDMI- compatible with an adapter), a VGA jack that doubles as a component-video input with the included adapter, and both standard-def composite- and S-video inputs.
LATEST VIDEO