Boxed Set of the Month: Jane's Addiction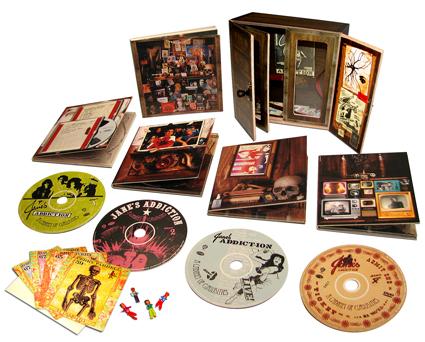 I'm not the world's biggest fan of Jane's Addiction (far from it), but the Limited Edition of A Cabinet of Curiosities (Rhino) is so compelling visually that it draws me in, like C.S. Lewis's wardrobe. As such, it's a lock for our Boxed Set of the Month for April.
For starters, there's a lock  - er, metal latch - on the outside of the wooden box. Open the doors, and you'll find another set of doors that seem to have glass windows (they're plastic, actually, but never mind). Open again, and you'll find the contents: 3 CDs, 1 DVD, a booklet, and an envelope of curios.
At roughly 6 x 6 inches, it's a far cry from March's Boxed Set of the Month, the massive reissue of Pearl Jam's Ten (see entry). But this is a handsome cabinet indeed. And whereas the Ten set is listed at $200, this one is only $75, with Amazon.com selling it for just over $50.
Details . . .
The target here is the obsessive collector, as the box features unheard demos, live performances, and other rarities, as well as unreleased and hard-to-find videos.
CD1: five tracks recorded in 1986 at Radio Tokyo (a studio in Venice, California) plus 12 demos.
CD2: three demos, five live tracks, a rehearsal of "My Time," the 12-inch remix of "Been Caught Stealing," and a couple of interesting, random covers: the Grateful Dead's "Ripple" and Sly & the Family Stone's "Don't Call Me Nigger, Whitey" (with Ice-T and Ernie-C). And among the live tracks, what's this "Bobhaus"? It's lyrics from Bob Dylan's "Like a Rolling Stone" sung to the tune of Bauhaus's "Burning from the Inside"!
CD3: Not merely 14 more live tracks: This disc is a complete show from December 1990 at the Hollywood Palladium.
DVD: First up is the previously VHS-only Soul Kiss, which gathers two videos (including the MTV-banned version of "Mountain Song") and home movies. They're followed by six more videos plus three live performances in Italy from October 1990.
Booklet: Running 64 pages, it has an essay by Steve Baltin, photos, original press materials, and testimonials from the likes of Flea, Slash, Billy Corgan, Tom Morello, and Chester Bennington.
Envelope: four trading cards . . . and four little worry dolls! Pearl Jam didn't think of that!
You may have noticed by now that the box focuses on the band's original run, from 1985 to 1991, and thus its four original members: Perry Farrell, Dave Navarro, Stephen Perkins, and Eric Avery.
Today (as seen above), Avery is back in the fold, and the band is back on the road - as part of the NIN I JA Tour, opening for Nine Inch Nails. The tour begins one week from tomorrow (i.e., May 8) in West Palm Beach, Florida. For dates, click here.
The band is also playing Lollapalooza in Chicago on August 7, as well as (so far) two solo dates: May 29 in Columbus, Ohio, and June 14 in Wallingford, Connecticut. Note that the janesaddiction.com members-only presale for the Connecticut show begins today, April 30, at 1 p.m. and ends tomorrrow, May 1, at 6 p.m. For info (including how to join), click here - but ya better hurry, cuz I know there are thousands of Sound & Vision & Jane's Addiction fans up there in Connecticut, right? Right!
- Ken Richardson

LATEST VIDEO