Bob Dylan: Trouble No More: The Bootleg Series Vol. 13 / 1979-1981 Deluxe Box Set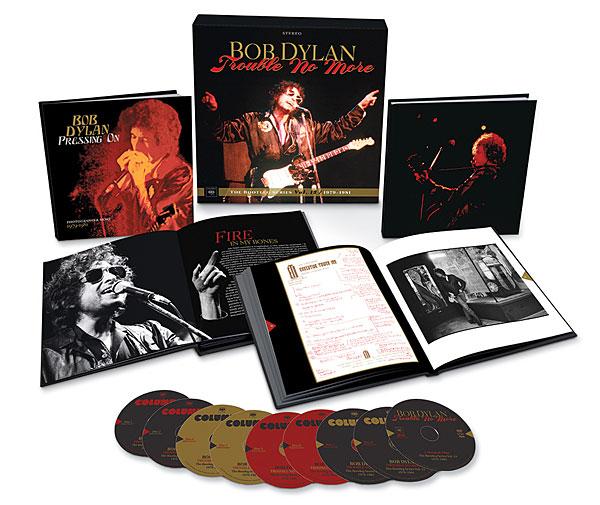 In fact, one of the most infamous heckles in all of pop culture tells the tale of Dylan's career-spanning M.O. to a literal T. Dylan got quite the polarizing blowback during his plugged-in 1966 tour, culminating at The Free Trade Hall in Manchester, England on May 17, 1966. After "Ballad of a Thin Man" concluded near the end of the set, an audience member expressed his overall displeasure at the evening's presentation by calling out, "Judas!" And then came the, well, most Dylanesque of replies, as the singer-songwriter retorted, "I don't believe you! You're a liar!" Turning to The Hawks (the backing band that would eventually transform into The Band), Dylan said under his breath, "You f---ing liar!" just as they collectively launched into a fierce "Like a Rolling Stone." (Some accounts have it as Dylan directing the band to "Play it f---ing loud!" but it sounds more like the earlier exclamation to my ears.) This legendary performance is preserved in the 1998 installment of Dylan's groundbreaking Bootleg Series, Vol. 4: Bob Dylan Live 1966. And those ten words uttered by Dylan tell you all you need to know about the man and the artist—and they also serve to inform how the Judas betrayal concept filtered down through his canon a little more than a decade later when Dylan's most polarizing lane shift came at the end of the fractious 1970s.
That's the time period when Robert Allen Zimmerman decided to embrace religion by way of a trifecta of spiritually inspired albums: 1979's Slow Train Coming, 1980's Saved, and 1981's Shot of Love. And now, being baptized into said Bootleg Series is lucky Vol. 13, Trouble No More, which chronicles that transformation with a score of unreleased live and/or rare tracks and outtakes—some pristine and others restored/upgraded from recordings made on an 8-track portable Otari tape machine.
Naturally, there are a number of options available to experience the intense holy-rolling of Trouble No More—hi-res digital downloads at 96-kHz/24-bit, double-disc CD, and four-LP 180-gram vinyl among them. But if you truly want to experience maximum Saint Bob, then you need to invest in the 109-track nine-disc deluxe version, which once again reinforces Columbia/Legacy's mastery of the big box set art form. Every track here save one has never been officially released until now, and wading through them all is like poring over aural renditions of the bard's old and new testaments alike. From the cathartic opening live salvo of "Slow Train" (recorded in San Francisco in November 1979) to supplementing Tim Drummond's furiously plucked bass notes on multiple versions of "Solid Rock" to "The Groom's Still Waiting at the Altar," recorded again in SF (albeit a full year later in November 1980) with Carlos Santana offering a pair of frenzied, soul-stirring guitar solos, Dylan performs like a man possessed.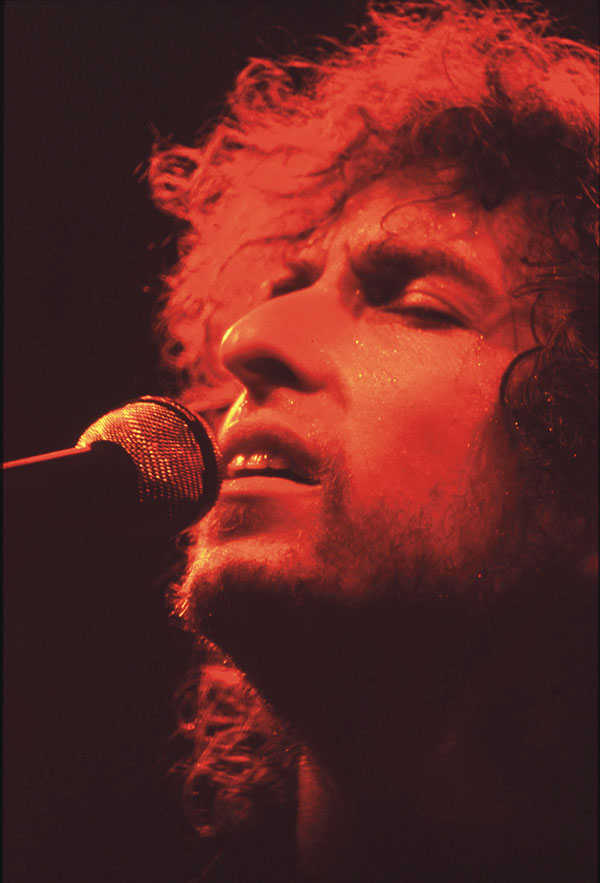 Disc 9 is a DVD with a powerful 59-minute documentary at its core: Trouble No More: A Musical Film. Here, we hear how "disappointed" Dylan followers are that "he's not the Bob we used to know and love," but the scales tilt back a bit when one fair-minded fan asserts, "I don't care about his religious convictions—I just like the sound." (Hear ye, hear ye!)
Interspersed between live performances are some rapturous readings courtesy of "The Preacher," a three-piece-suited wordsmith rivetingly portrayed by Michael Shannon (Nocturnal Animals, Boardwalk Empire). These echo-reinforced interstitial sermons, penned by author/scholar Luc Sante, serve as quite fitting in-the-moment commentary from on high.
As harsh as the criticisms of Dylan's gospel period were, I have to imagine every word was actually music to the bard's ears. After all, is he not the man who authored the immortal lines, "He not busy being born is busy dying," in 1965's "It's Alright, Ma (I'm Only Bleeding)"? (In this case, perhaps we need to revise that one key word as reborn.) Dylan posits we're all gonna have to serve somebody, but when it comes to the artist himself, the one deity being served in full is his unforgiving muse. Ultimately, though, it's we Trouble No More listeners whose ears and souls get taken to the promised land time and again.
CD & DVD
Label: Columbia/Legacy
Audio Formats: 44.1-kHz/16-bit PCM Stereo (CD), 96-kHz/24-bit LPCM Stereo (DVD & download)
Number of Tracks: 109 on 9 discs (102 on 8 CDs, 7 on 1 DVD)
Length: 9:45:13 (8:11:03 on 8 CDs, 1:34:10 on 1 DVD)
Producers: Jeff Rosen, Steve Berkowitz, Gregg Geller
Engineers: Mark Wilder (CD & DVD mastering); Chris Shaw (CD & DVD mixing), Steve Addabbo (CD mixing); Kevin Przybylowski, Eliot Kissileff, Glenn Korman, Matt Cavaluzzo, Jeff Friedman (A/D transfers)
No other artist in the rock era has followed his own muse as deliberately and as singularly as Bob Dylan has. Right from the dawning of his career at the outset of the 1960s, Dylan has chosen his own lane and then merged into it full-on, regardless of any external pressures or expectations. Whether the message is parlayed with his voice backed only by an acoustic guitar or translated with full band accompaniment, the foremost poet of our times has known exactly what information he wants to share with us every step of the way, critics and cognoscenti be damned.