Blu-ray Review: Red Riding Hood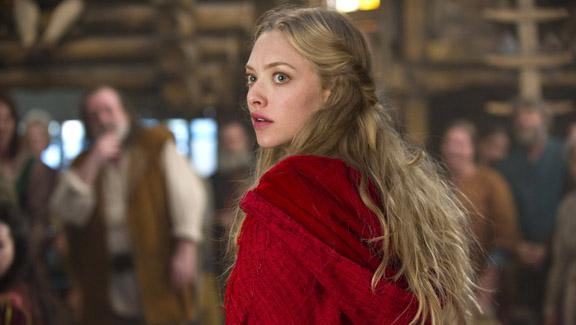 Fairy tales have been reinterpreted throughout history, often with great success. Little Red Riding Hood has been updated by artists from Tex Avery to Stephen Sondheim; it was even presented as a very funny Fractured Fairy Tale on the Rocky and Bullwinkle show. Unfortunately, Catherine Hardwicke's new version doesn't belong in such high-class company.
Hardwicke directed the first Twilight movie, which, unless you were a teenage girl, was a real snoozer. Red Riding Hood is even dumber and more boring.
In a medieval village, Valerie (Amanda Seyfried), trying to run away with one hunky guy (Shiloh Fernandez) while being promised to another (Max Irons, son of Jeremy), is stopped when her sister is killed by what is thought to be a wolf. Straight out of a Universal horror film, the village men get pitchforks and torches and set out to kill the culprit. And bag a wolf they do.
However, Father Solomon (Gary Oldman) arrives on the scene with his bodyguards and daughters to tell the villagers that what they're facing is a werewolf. The disbelieving people celebrate their supposed victory by indulging in one of the oddest ritual dances ever put on the screen. Medieval? It's more like Le Sacre du Printemps with a bit of MGM Golden Age hoofing thrown in for good measure. Meanwhile, the music by Brian Reitzell and Alex Heffes uses period instruments in a modern way. It's all rather fascinating, but . . . it doesn't work. That's true of almost everything in the film, which is loaded with clichés that are laughable if not downright absurd.
The Blu-ray transfer is fairly good. Except for the vivid red of that hood, colors are rich but dark in the 2.40:1 picture. Definition in brighter scenes is far better than that in dimmer ones, where shadow detail disappears more than once. The DTS-HD Master Audio 5.1 sound is big (as it also includes a full orchestra), but it often lacks presence.
In addition to some short featurettes and discarded scenes, there's a tedious PIP commentary with Hardwicke and the cast. Then there's the hyped "provocative" ending of the Alternate Cut; a more honest word would be "gratuitous."
LATEST VIDEO