BIG Screen Panny Projectors
Panasonic is taking on the large venue world with two new three-chip DLP projectors with 12,000 lumen. These aren't designed for home use, though if you can foot the bill, why not? They're perfect for high-definition content for conventions, digital cinema, and staging or education consumers.
We love the edge blending and geometric adjustment features that let them project onto curved surfaces, or use two projectors combining to create a single over-sized image. They even have an image processing circuit that keeps the image crisp and sharp even when there's daylight reflecting on the screen. What else do these do?
The higher resolution PT-DZ12000U WUXGA (1920 x 1200 pixels) and PT-D12000U SXGA (1400 x 1050 pixels) both have Ethernet connections for remote control and even e-mail alerts for maintenance problems, temperature alarms, and burned-out LEDs. ET, phone home.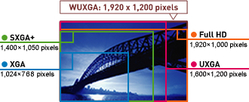 You might say these are pricey models. The PT-DZ12000U is $69,000 and the PT-D12000U is $59,000. Not exactly for sale at the Dollar Store.
Both models also have an Auto Cleaning Robot that keeps the filter clean for about 2,000 hours of use.
Wonder if it can be modified to clean my house. Big picture and a clean house - priceless! -Leslie Shapiro
LATEST VIDEO
WHERE TECHNOLOGY BECOMES ENTERTAINMENT