The Beatles. Rock Band. 09-09-09.
Just received the official press release this morning. Here it is, in its entirety: Apple Corps Ltd., MTV, and Harmonix announce The Beatles: Rock Band, worldwide release set for 9/9/09
New York, NY - March 5, 2009 - Apple Corps Ltd., Harmonix, and MTV Games, a part of Viacom's MTV Networks, today announced the 9/9/09 worldwide release of The Beatles: Rock Band (thebeatlesrockband.com). The music-based videogame — an unprecedented, experiential progression through and celebration of the music and artistry of the Beatles — will be available simultaneously worldwide in North America, Europe, Australia, New Zealand, and other territories for the Xbox 360 videogame and entertainment system from Microsoft, the PlayStation3 computer entertainment system from Sony, and the Wii home videogame console from Nintendo.
The Beatles: Rock Band will allow fans to pick up the guitar, bass, mike, or drums and experience the Beatles' extraordinary catalog of music through gameplay that takes players on a journey through the legacy and evolution of the band's legendary career. In addition, The Beatles: Rock Band will offer a limited number of new hardware offerings modeled after instruments used by John Lennon, Paul McCartney, George Harrison, and Ringo Starr throughout their career. 
The Beatles: Rock Band will be offered as standalone software and hardware as well as a limited-edition bundle. The game will be compatible with all Rock Band instrument controllers and other current music-based videogame peripherals.
Available on 9/9/09:
The Beatles: Rock Band
software - Xbox 360, PS3, Wii: $59.99 MSRP

The Beatles: Rock Band
standalone guitars - Xbox 360, PS3, Wii: $99.99 MSRP 

The Beatles: Rock Band
Limited Edition Bundle - Xbox 360, PS3, Wii: $249.99 MSRP 

Please note: Pricing outside of the U.S. to be announced at a later date.
The Beatles: Rock Band marks the first time that Apple Corps — along with EMI Music, Harrisongs Ltd., and Sony/ATV Music Publishing — has agreed to present the Beatles' music in an interactive videogame format. The Beatles: Rock Band will be published by MTV Games and developed by Harmonix, the world's premier music videogame company and creators of the best-selling Rock Band. Electronic Arts will serve as distribution partner for the game. In addition, Giles Martin, co-producer of the Beatles' innovative LOVE album project, is providing his expertise and serving as Music Producer for this groundbreaking Beatles project.
Exclusive content created by Apple Corps, MTV Games, and Harmonix will be made available to fans over the next few months who participate in a pre-order campaign through major retailers. More details on The Beatles: Rock Band game and pre-order will be revealed in the coming months. 
Please visit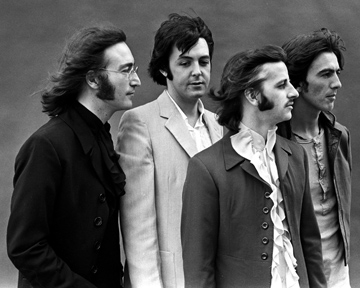 Okay, a coupla quick observations:
(1) Whereas it was originally said that the game would not be pegged to the Rock Band brand and that it would, instead, be a new kind of band-based game, it has since gone the full Rock Band route. This makes sense.
(2) Hopefully, the involvement of Giles Martin means that he has brought along Paul Hicks to do multichannel mixes of all the songs. Then again, don't hold your breath: We might merely get something like the sonics of Guitar Hero: Aerosmith, with just ambience that didn't even change according to the venue.
(3) Maybe, maybe, this action on the Beatles front means that, finally, we'll get remastered and replenished CDs. (Remember, the band's catalog has been issued only once, in 1987. That was twenty-two years ago.) As I've pleaded many times before, wouldn't it be great to get CD+DVD sets that include a surround mix of each album? Sure would. Anyway, we may have to keep on waiting and waiting: The footnotes on the Wikipedia entry that says "All albums by the Beatles will be released newly remastered sometime in 2009 on CD" are at least a year old.
No matter what — I can't wait for the game, can you?
— Ken Richardson
LATEST VIDEO