Beatles CDs remastered. Finally.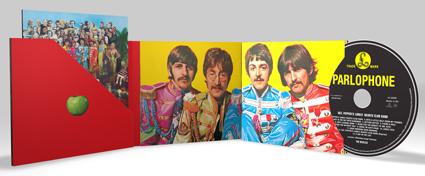 That's right, the press release just arrived this morning at 9 o'clock on the dot. Here it is, in full. And stay tuned to our Bitstream blog in the coming days because, after I've had some time to mull over the press release myself, I'll be firing off a post or two on What They Got Right and What They Got Wrong.
— Ken Richardson

THE BEATLES' ENTIRE ORIGINAL RECORDED CATALOG REMASTERED BY APPLE CORPS LTD. AND EMI MUSIC FOR WORLDWIDE RELEASE ON SEPTEMBER 9, 2009 (09-09-09)

London, England – April 7, 2009 – Apple Corps Ltd. and EMI Music are delighted to announce the release of the original Beatles catalog, which has been digitally remastered for the first time, for worldwide CD release on Wednesday, September 9, 2009 (09-09-09), the same date as the release of the widely anticipated videogame The Beatles: Rock Band.
Each of the CDs is packaged with replicated original U.K. album art, including expanded booklets containing original and newly written liner notes and rare photos. For a limited period, each CD will also be embedded with a brief documentary film about the album. On the same date, two new Beatles boxed CD collections will also be released.
The albums have been remastered by a dedicated team of engineers at EMI's Abbey Road Studios in London over a 4-year period, utilizing state-of-the-art recording technology alongside vintage studio equipment, carefully maintaining the authenticity and integrity of the original analog recordings. The result of this painstaking process is the highest fidelity the catalog has seen since its original release.
The collection comprises all 12 Beatles albums in stereo, with track listings and artwork as originally released in the U.K., and Magical Mystery Tour, which became part of the Beatles' core catalog when the CDs were first released in 1987. In addition, the collections Past Masters Vol. I and II are now combined as one title, for a total of 14 titles over 16 discs. This will mark the first time that the first four Beatles albums will be available in stereo in their entirety on CD. These 14 albums, along with a DVD collection of the documentaries, will also be available for purchase together in a stereo boxed set.

Within each CD's new packaging, booklets include detailed historical notes along with informative recording notes. With the exception of the Past Masters set, newly produced mini-documentaries on the making of each album, directed by Bob Smeaton, are included as QuickTime files on each album. The documentaries contain archival footage, rare photographs, and never-before-heard studio chat from the Beatles, offering a unique and very personal insight into the studio atmosphere.
A second boxed set has been created with the collector in mind. The Beatles in Mono gathers together, in one place, all of the Beatles recordings that were mixed for a mono release. It will contain 10 of the albums with their original mono mixes, plus two further discs of mono masters (covering similar ground to the stereo tracks on Past Masters). As an added bonus, the mono Help! and Rubber Soul discs also include the original 1965 stereo mixes, which have not been previously released on CD. These albums will be packaged in mini-vinyl CD replicas of the original sleeves with all original inserts and label designs retained.
Discussions regarding the digital distribution of the catalog will continue.  There is no further information available at this time.

Please Please Me (CD debut in stereo)
With the Beatles (CD debut in stereo)
A Hard Day's Night (CD debut in stereo)
Beatles for Sale (CD debut in stereo)
Help!
Rubber Soul
Revolver
Sgt. Pepper's Lonely Hearts Club Band
     (also includes 1987 notes, updated, and new intro by Paul McCartney)
Magical Mystery Tour
The Beatles
Yellow Submarine
     (also includes original U.S. liner notes)
Abbey Road
Let It Be
Past Masters
     (contains new liner notes by Kevin Howlett)
The Beatles in Mono
(boxed set only)
The mono albums have been remastered by Paul Hicks, Sean Magee with Guy Massey, and Steve Rooke.
Presented together as a boxed set with an essay by Kevin Howlett
* = mono mix CD debut
Please Please Me
With the Beatles
A Hard Day's Night
Beatles for Sale
Help! (CD also includes original 1965 stereo mix) *
Rubber Soul (CD also includes original 1965 stereo mix) *
Revolver *
Sgt. Pepper's Lonely Hearts Club Band *
Magical Mystery Tour *
The Beatles *
Mono Masters

Remastering the Beatles' Catalog
The remastering process commenced with an extensive period of tests before finally copying the analog master tapes into the digital medium. When this was completed, the transfer was achieved using a Pro Tools workstation operating at 24-bit, 192-kHz resolution via a Prism A/D converter. Transferring was a lengthy procedure done one track at a time. Although EMI tape does not suffer the oxide loss associated with some later analog tapes, there was nevertheless a slight buildup of dust, which was removed from the tape machine heads between each title.
From the onset, considerable thought was given to what audio-restorative processes were going to be allowed. It was agreed that electrical clicks, microphone vocal pops, excessive sibilance, and bad edits should be improved where possible, so long as it didn't impact on the original integrity of the songs.
In addition, de-noising technology, which is often associated with remastering, was to be used, but subtly and sparingly. Eventually, less than 5 of the 525 minutes of Beatles music was subjected to this process. Finally, as is common with today's music, overall limiting — to increase the volume level of the CD — has been used, but on the stereo versions only. However, it was unanimously agreed that because of the importance of the Beatles' music, limiting would be used moderately, so as to retain the original dynamics of the recordings.
When all of the albums had been transferred, each song was then listened to several times to locate any of the agreed imperfections. These were then addressed by Guy Massey, working with Audio Restoration Engineer Simon Gibson.
Mastering could now take place, once the earliest vinyl pressings, along with the existing CDs, were loaded into Pro Tools, thus allowing comparisons to be made with the original master tapes during the equalization process. When an album had been completed, it was auditioned the next day in Studio 3 — a room familiar to the engineers, as all of the recent Beatles mixing projects had taken place there — and any further alteration of EQ could be addressed back in the mastering room. Following the initial satisfaction of Guy and Steve, Allan Rouse and Mike Heatley then checked each new remaster in yet another location and offered any further suggestions. This continued until all 13 albums were completed to the team's satisfaction.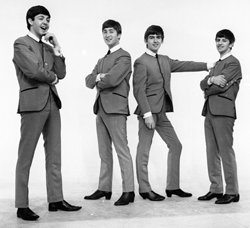 New Notes /
Documentaries Team

Kevin Howlett (Historical and Recording Notes)
Kevin Howlett's career as an award-winning radio producer spans three decades. His music programs for the BBC have included many documentaries about the Beatles, including The Beeb's Lost Beatles Tapes. He received a Grammy nomination for his involvement with the Beatles' album Live at the BBC and, in 2003, produced the Fly on the Wall bonus disc for Let It Be . . . Naked.

Mike Heatley (Historical Notes)
Mike entered the music business via HMV Record Stores in 1970, transferring to EMI Records' International Division 3 years later. He eventually headed up that division in the early 1980s before joining the company's newly created Strategic Marketing Division in 1984. In 1988, he returned to International, where he undertook a number of catalog-marketing roles until he retired in December 2008. During his career he worked with many of EMI's major artists, including Pink Floyd, Queen, Kate Bush, and Iron Maiden. However, during the last 30 years, he has formed a particularly strong relationship with Apple and has been closely involved in the origination and promotion of the Beatles' catalog, besides solo releases from John, Paul, George, and Ringo.
Bob Smeaton (Director, Mini-Documentaries)
Bob Smeaton was series director and writer on the Grammy Award-winning Beatles Anthology TV series, which aired in the U.K. and the U.S.A. in 1995. In 1998 he received his second Grammy for his Jimi Hendrix: Band of Gypsys documentary. In 2004 he gained his first feature-film credit, as director on the documentary Festival Express. He subsequently went on to direct documentaries on many of the world's biggest music acts, iincluding the Who, Pink Floyd, the Doors, Elton John, Nirvana, and the Spice Girls.

Julian Caiden (Editor, Mini-Documentaries)
Julian has worked with Bob Smeaton on numerous music documentaries, including Jimi Hendrix: Band of Gypsys and the Classic Albums series, featuring the Who, Pink Floyd, the Doors, Elton John, and Nirvana, among others. He has worked on documentary profiles from Richard Pryor to Dr. John to Sir Ian McKellen, Herbie Hancock, and Damien Hirst and on live music shows including the New York Dolls and Club Tropicana.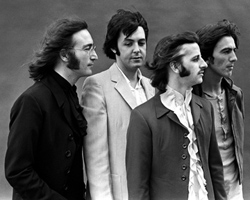 The Abbey Road Team

Allan Rouse
(Project Coordinator)
Allan joined EMI straight from school in 1971 at its Manchester Square head office, working as an assistant engineer in the demo studio. During this time, he frequently worked with Norman (Hurricane) Smith, the Beatles' first recording engineer. In 1991, Allan had his first involvement with the Beatles, copy­ing all of their master tapes (mono, stereo, 4-track, and 8-track) to digital tape as a safety backup. This was followed by 4 years working with Sir George Martin as assistant and project coordinator on the TV documentary The Making of Sgt. Pepper's and the CDs Live at the BBC and Anthol­ogy.
     In 1997, MGM/UA was preparing to reissue the film Yellow Submarine and, with the permission of Apple, asked that all of the Beatles' music be mixed for the film in stereo and 5.1 surround sound. Allan requested the services of Abbey Road's senior engineer Peter Cobbin and assistant Guy Massey and, along with them, produced the new mixes.
     Two years later, he proposed an experimental stereo and surround mix of John Lennon's song "Imagine," engineered by Peter Cobbin. Following lengthy consultations with Yoko Ono, the album Imagine was remixed in stereo, and the Grammy Award-winning film Gimme Some Truth in surround and new stereo. This led to a further five of John's albums being remastered with new stereo mixes, as well as the DVD release of Lennon Legend being remixed in 5.1 and new stereo.
     Further projects followed, including the Beatles' Anthol­ogy, First U.S. Visit, and Help! DVDs and the albums Let It Be . . . Naked and Love along with George Harrison's The Concert for Bangladesh DVD and album.
    For a number of years now, Allan has worked exclusively on Beatles and related projects.

Guy Massey (Recording Engineer)
Guy joined Abbey Road in 1994, and 5 years later he assisted on the surround remix for the Beatles' film Yellow Submarine. This led to the Anthology DVDs and later, along with Paul Hicks and Allan Rouse, the mixing and production of Let It Be . . . Naked. In 2004 Guy left the studios to become freelance, and he has engineered the Divine Comedy's Victory for the Comic Muse, Air Traffic's Fractured Life, James Dean Bradfield's The Great Western, and Stephen Fretwell's Magpie, co-producing the last two. Since leaving, Guy is still a vital member of the Abbey Road team, and he has been the senior engineer for the remastering project and was responsible for surround and new stereo mixes for the DVD release of Help!

Steve Rooke (Mastering Engineer)
Steve joined Abbey Road in 1983 and is now the studio's senior mastering engineer. He has been involved on all of the Beatles' projects since 1999. He has also been responsible for mastering releases by John, Paul, George, and Ringo.

Paul Hicks (Recording Engineer)
Paul started at Abbey Road in 1994, and his first involvement with the Beatles was to assist engineer Geoff Emerick on the Anthology albums. This was followed by Yellow Submarine Songtrack, the Anthology DVDs, and Let It Be . . . Naked. Like Guy Massey, he has also become a freelance engineer, and since leaving Abbey Road he has been responsible for the surround mixing of Paul McCartney's DVD The McCartney Years and the Beatles' Love. Hicks has been in charge of the mono remasters.

Sean Magee (Mastering Engineer)
Sean began working at Abbey Road in 1995 with a diploma in sound engineering. With a wealth of knowledge in analog and digital mastering, he has worked alongside Paul Hicks on the mono remasters.

Sam Okell (Recording Engineer)
Sam's first job as a member of the team was in 2006, assisting Paul Hicks on Paul McCartney's DVD The McCartney Years, and during that same year he was responsible for the remastering of George Harrison's Living in the Material World CD along with Steve Rooke. This led to him restoring the soundtrack to the Beatles' film Help! in surround and stereo, in addition to assisting Guy Massey with the song remixes. Sam has remastered With the Beatles and Let It Be.

Simon Gibson (Audio Restoration Engineer)
Simon joined Abbey Road in 1990. He has progressed from mastering mostly classical recordings to dealing with a much wider range of music, including pop and rock, with his specialized role as an audio restoration engineer. Apart from the remastering project, his other work includes George Harrison's Living in the Material World, John Lennon's Lennon Legend, the Beatles' Love, and the Help! DVD soundtrack.
(Photos © Apple Corps Ltd., 2009.)
LATEST VIDEO