Bang & Olufsen Introduces 3D LCD TVs; BMW Surround Audio Systems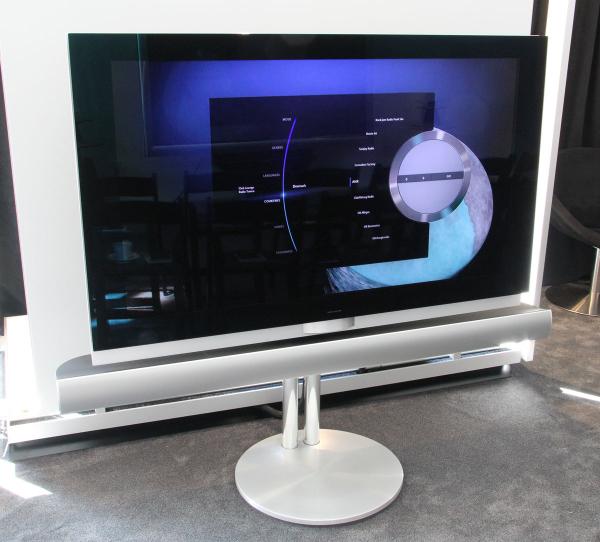 Bang & Olufsen knows its customers value style and ease of use more than being the first on the block with the latest thing, so the Danish company tends to wait for the bugs to be worked out of new technologies before it embraces them. Thus the official launch yesterday of B&O's first LED-backlit LCD 3D TV sets, a year and a half after the Samsungs and Sonys of the world made their big 3D splash.
At its recently relocated Rodeo Dr. showroom in Beverly Hills, the company showed two revamped 3D models, the 55-inch BeoVision 7 LED LCD screen (also available in a 40-inch version), and the 85-inch BeoVision 4 plasma TV (now available in 50-, 65-, and 103-inch sizes) . If these look familiar, it's because they're updated versions of existing models. Both models use infrared-synced active-shutter 3D glasses, which cost $145 per pair.
The $14,800 BeoVision 7 has a built-in 3D-capable Blu-ray Disc player. An optional motorized stand tilts and swivels the TV, and there's an optional center speaker, too. The full package with stand and center speaker costs $20,200.
The $85,000 BeoVision 4 (the original version of which had been rolled out quietly to the Moscow and New York B&O shops in May) is notable for its ultramegacool motorized stand, which raises the colossally heavy, 359-pound screen to a comfortable viewing height, and allows motorized swivel and tilt from the remote. After the TV reaches the desired height, the integrated center speaker moves out from under the TV so it's flush with the screen.
BMW 6-series sound system
The two new BMW 6-series coupes outside the B&O store didn't catch the eyes of passing pedestrians-this was, after all, Beverly Hills-but inside them was B&O's other major introduction: a B&O-designed surround-sound system engineered for the 6-series. While the company also has systems in AMGs, Aston-Martins, and Audis, this is its first for BMW.
I was happy to see that the 6-series B&O system is more discreet than the system in the Aston-Martin, which for my taste was a bit ungepatchke. Instead of two motorized Acoustic Lens tweeters rising ostentatiously from the dash as in the Aston-Martin, there's just a single Acoustic Lens tweeter in the center, mounted under a gently rising panel that also houses an upward-firing midrange driver. A passenger might not even notice it. The system also has door-mounted fixed tweeters surrounded by blue-lit LEDs.
The system benefits from some of BMW's own audio technologies. The dual subwoofers, mounted under the front seats, are attached directly to the frame to lessen vibration. There's also BMW's own Enhanced surround mode, which is more spacious-sounding and dramatic than B&O's understated Studio mode.
New media server
We'd told you about this few weeks back, but B&O had on display the new, Sonos-like wireless streaming audio system, the BeoSound 5 Encore. It can pull music from a network-attached storage (NAS) drive, from a USB stick or from Internet radio stations. Like Sonos, it uses its own network to stream music around the house, so the sound doesn't suffer from heavy loads on your WiFi network. To use the BeoSound 5 Encore, you'll have to add a dual-band router such as the Linksys E4200. As many as eight BeoSound 5 Encores will run on a single network, so you can create a complete multiroom system.
The BeoSound 5 Encore incorporates B&O's MOTS (More Of The Same) technology. When you play a tune, MOTS automatically scans your music collection and cues up similar tracks, so you don't need to bother creating playlists.
The preamp and volume control are built in, so all you add is a pair of B&O's powered speakers. The BeoSound 5 Encore retails for $3,350; packages with powered speakers run about $5,000 to $25,000 depending on your choice of speaker. Not cheap, but you have to admit it's a more visually elegant solution than the plain black-box systems most of the audio industry is cranking out.
LATEST VIDEO