April 18 is Record Store Day!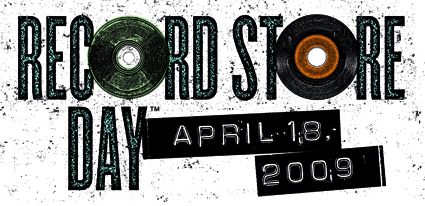 Worried about the demise of independent record stores nationwide? Then make a date to visit your local "mom and pop" shop this Saturday, April 18 — the second annual Record Store Day.
Bands will play. Special releases will be available. And despite the logo above, this isn't only about vinyl; it's about everything that your local record store offers. Including little things like music knowledge and customer service.
For a complete list of participating stores, product exclusives, in-store performances, and related events, go to recordstoreday.com.
Last year, my photographer son Tony and I went to 4 Record Stores in 1 Record Store Day. Visit that link to get a taste of what the second RSD will be like.
Alas, I will be unavoidably otherwise engaged this Saturday, so I won't be able to do another multistore mecca. But I hope to visit at least one shop before the sun goes down.
Don't let the sun go down on your local record store. Spread the word about Saturday, go to the store, buy some stuff, and buy some more stuff. You'll be glad you did.
— Ken Richardson
LATEST VIDEO
WHERE TECHNOLOGY BECOMES ENTERTAINMENT