Apple Announcement #2: iMakeover!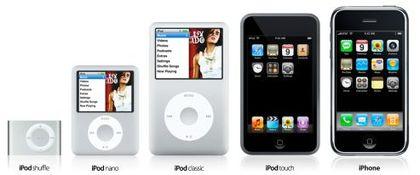 Steve Jobs has done it again. Stealing some thunder from another consumer-electronics confab (that would be CEDIA Expo 2007, where nearly all of S&V's editors are ensconced right now), the Apple Inc. CEO actually made not one but six big announcements today - none of which involves the Beatles coming to iTunes. (See my post immediately below.)
The biggest announcement of the Steve Six: Apple is introducing the iPod touch (below), an iPhone-like redo of its most popular product. Prices: $299 (8GB) and $399 (16GB). Available: later this month!
The other five announcements:
• Unveiled the iTunes Wi-Fi Music Store, "offering music fans the ability to browse, search, preview, purchase, and download songs and albums from the iTunes Music Store over a Wi-Fi network directly onto their iPod touch or iPhone." Available: later this month.
• Announced "an exclusive partnership with Starbucks that lets customers wirelessly browse, search for, preview, buy, and download music from the iTunes Wi-Fi Music Store at Starbucks onto their iPod touch, iPhone, or PC or Mac running iTunes while at a participating location. The service will make its debut at more than 600 Starbucks company-operated locations in New York and Seattle on October 2."
• Introduced a redesigned iPod nano, with video playback and a larger display. Prices: $149 (4GB) and $199 (8GB). Available: now.
• Debuted the 6th-generation iPod, called the iPod classic, with an enhanced user interface and a new all-metal enclosure. Prices: $249 (80GB) and $349 (160GB). Available: now.
• And, oh yeah: Lowered the price of the 8GB iPhone from $599 to $399, effective today. Meanwhile, "The iPhone 4GB model will be sold while supplies last" - which sounds like it's going iBye.
For more info and photos, go to apple.com. -Ken Richardson
LATEST VIDEO