Anthem AVM 50 Preamp/Processor and MCA 50 Amplifier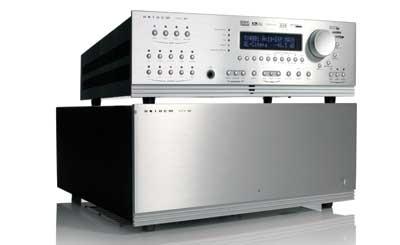 Anthem's AVM-series home theater audio preamp/processors are considered among the best - if not the best - for the money. An enthusiastic review in these pages back in November 2004 made much of the AVM 30's THX Ultra2 certification, multichannel analog input with full bass management, and extensive list of surround modes.
Fast-forward 2 years to the AVM 50, essentially an AVM 30 update that adds HDMI switching to the mix to plug in high-def sources. But what's really new is a sophisticated built-in video processor based on Gennum's VXP chip. This lets the AVM 50 provide a serious bunch of video goodies, including pixel-based, motion-adaptive deinterlacing of 480i- and 1080i-format signals (see below) and upscaling of any S-video or better source signal to the 1080p HDTV format.
The Anthem's sleek, silvery brushed-aluminum face sports a large control knob that adjusts volume in half-dB increments and an equally sizable LED display. Front-panel controls fully duplicate those provided on the remote, including switching among the pre/pro's three zones. There's also a quarter-inch headphone jack, though I wish it had Dolby Headphone processing for nighttime surround listening.
Anthem also sent me its MCA 50 five-channel amplifier, a hefty beast rated at 180 watts per channel (all channels driven!). It features both regular RCA and balanced XLR inputs and automatic turn-on via the pre/pro's 12-volt trigger.
LATEST VIDEO