Another Phase of the Moon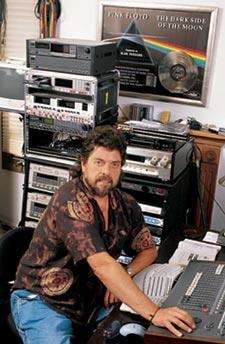 Photos by Ebet Roberts
Walk into the home of Alan Parsons, nestled in the hills of Santa Barbara, and you'll see ample evidence of his illustrious career. There are so many gold and platinum records on the wall of the studio annex that they spill from the hallway and fill the kitchen. There's everything from
Red Rose Speedway
, which he helped record for Paul McCartney, to
Eye in the Sky
, one of the many albums by his own Alan Parsons Project. Then there's the original gold record for Pink Floyd's
The Dark Side of the Moon
, which Parsons engineered at Abbey Road Studios.
But open up the Super Audio CD of Dark Side, and you'll see no evidence that Parsons had a hand in the six-channel mix. That's because he didn't.
"Of course, I understand Pink Floyd would want to take on their engineer of the past 25 years for this project," Parsons acknowledges, referring to James Guthrie, who was tapped to do the surround mix. "But I think it would have been nice if I had received a call just to say, 'Would you like to be involved?' I had been consulted when Dark Side was remastered in 1992."
Some fans contend that the stunning sonic architecture of the original album is at least partly due to the engineering expertise of Parsons. Then again, since its 1973 release, some band members have occasionally tried to downplay his role. There's plenty of room for differing memories and opinions in the span of 30 years. David Gilmour and Roger Waters themselves often disagree on their own roles in Dark Side.
"It's a function of human nature," Parsons observes, "that everybody who contributes to a project feels that their input is the make-or-break, crucial thing-the thing that took it from good to great. I don't think I'm trying to say that, but I would say that without me, the album might have been different."
In the early 1970s, Parsons engineered Pink Floyd's Atom Heart Mother before doing Dark Side, and he then made quad mixes of both-commissioned by EMI but not okayed by the band.
"I'm not surprised that Pink Floyd rejected my quad mix of Dark Side for the SACD," Parsons says. "I did the mix very quickly. If I'd known that the record would sell in its millions, then I would've insisted on having more time. There's stuff missing from the quad mix. I just didn't have enough tape machines in the studio to get it all in. The quad was a compromise; I have no problem admitting that fact. I did it single-handedly without automation. But the feel of that mix is pretty exciting. Conceptually, it wasn't so wrong that I shouldn't have had a crack at the surround mix."
Parsons gave a detailed account of the making of the quad mix in "Four Sides of the Moon," a paper he wrote in 1975, originally published in Studio Sound magazine. (You can read the article online at www.stereosociety.com/ foursides.html.) And last December, at the Surround 2002 Conference, he discussed his philosophy of surround:
"The surround experience shouldn't be a stereo experience with ambience. It should be four stereo sound fields. I tend to work on the outsides when I mix for surround. A lot of people choose to go into the room, but that's asking for clarity problems-it clouds things up. In my quad mix of Dark Side, I liked the idea of action happening in all four channels. I wasn't particularly interested in it sounding like a band onstage."
Today, Parsons tells me his impression of Guthrie's six-channel mix. "I'm generally rather disappointed. It's not very discrete. There is some discrete information in there. But I found myself, about two-thirds of the way through, kind of forgetting that this was surround. James was possibly a little too true to the original mix. He could have taken some risks, as I did on the quad. One of the parameters I always work with when I'm mixing for surround is: Keep the Interest. If there's nothing going on, then stick something in the back."
That said, Parsons agrees with Guthrie's subtle use of the center channel. "He's right with me on that. If it was a perfect world, I'd be fine with the center channel. But since the center can be set up in someone's home at anything but the exact correct level, I'm not really interested in it. Also, artists don't like to have their voices isolated in the center for microanalysis-or for possible karaoke versions.
"Overall, I think that James has done a great job in cleaning everything up. And his surround mix has some very good moments. But it also has some rather dull moments."