Amazon On-Demand Now in Beta
Who needs Netflix and Blockbuster when Amazon.com is around? Seeming to ditch their Unbox, Amazon.com is launching a new store that will stream movies and television shows directly to your PC and soon, to Sony's Bravia Video Link TVs. Yup. We said stream. Unlike the original service from Amazon that required you to download the file, this is a streaming video service, more like cable's video-on-demand.
Who's signed up?
Most of the major studios are already committed, except for ABC and Disney who are sticking with Apple TV.
The Sony Bravia Internet Video link is an extra add-on feature, but hopefully new sets with integrated Internet will be more available. If TiVo can get YouTube, surely others will be following.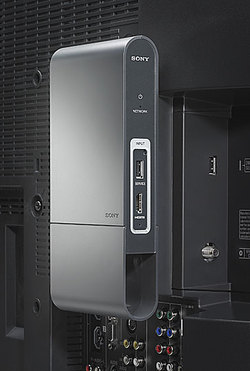 "We can support both streaming and downloading," said Bill Carr, Amazon's vice president for digital media. "Our goal is to continue to establish partnerships with all companies who have a connected device."
"For the first time, this is drop dead simple," he said. "Our goal is to create an immersive experience where people can't help but get caught up in how exciting it is to simply watch a movie right from Amazon.com with a click of the button."
It beats downloads because purchases can be viewed anywhere. "I can be at my office, purchase a movie, and then it will be available on my television at home," said Robert Jacobs, a senior manager at Sony Electronics. "Creating this on-demand available-everywhere access to premium content is going to be very attractive to consumers."
The lines between TV and PC, cable and Internet, streaming and downloads are getting fuzzier and fuzzier. Good thing resolution is getting clearer and clearer. -Leslie Shapiro
LATEST VIDEO