Adam Audio GTC77 Speaker System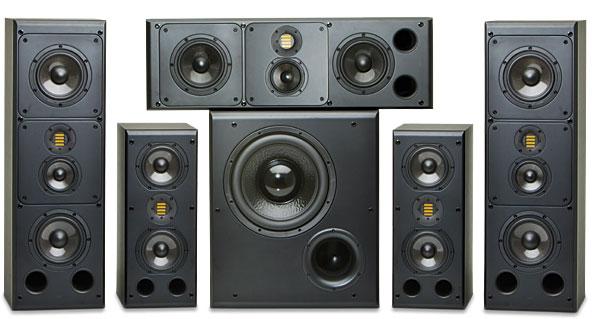 Price
: $6,850
At A Glance
: 0 for looks • 11 on a 10 scale for sound • Smooooth air motion transformer tweeter
Although Berlin, Germany–based Adam Audio is a recent player in the American A/V marketplace, the company has produced passive and powered loudspeakers for both pro and home use for 11 years. The acronym ADAM stands for Advance Dynamic Audio Monitors. ADAM Audio USA entered the pro market here in 2002 and only recently began building a home audio distribution and sales network.
The company's X-ART tweeter is hand-made in house, and the GTC speakers are designed, assembled, and tested in a modern manufacturing facility, the large size of which might surprise you—so don't make anything of it if you don't know Adam from Adam.
While Adam manufactures living-room-friendly speaker lines meant to be looked at as well as listened to, the editor assigned me a review system intended for placement behind scrims in a dedicated home theater environment. If you love that raw studio monitor aesthetic and can live alone to tell about it, you can also place the speakers out in the open on stands.
Although the plain, blackbox GTC series won't win any Architectural Digest awards for elegance, with the grilles in place, even the large GTC77 L/C/R speaker is relatively unobtrusive. If you're the type who prefers to maximize the sonic bang for your buck and you don't care about fine veneers and smooth-to-the touch anodized-aluminum trim, have I got a system for you!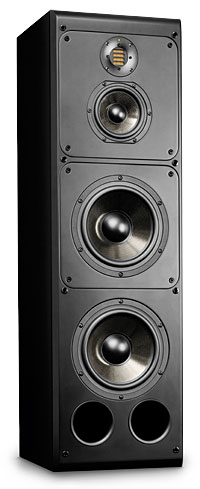 Oskar Heil's Invention Re-Invented: The X-ART Tweeter
From the desktop ARTist 3 computer speaker to the largest speaker in this series, the GTC88, all Adam Audio speakers share a tweeter based on Oskar Heil's unique Air Motion Transformer. Oldsters will recall this design from the 1970s ESS speaker brand—and not fondly (assuming you can remember that decade at all—and if you can and clearly, you weren't having enough fun).
That early Heil tweeter, whatever its merits, could loosen the fillings from your molars. It was bright and hard sounding. Have no fear now, though, because Adam's re-imagining of the innovative concept is incredibly smooth, sweet, and extended, yet precise and detailed. You have to hear the X-ART (Extended Accelerating Ribbon Technology) in action as it reproduces your favorite music or soundtracks. Once you do, you probably won't want to stop listening—even if they are affixed to large, uninspired black boxes. This unique tweeter's sonic performance is positively mesmerizing. Turn up the volume, and it becomes more so—and not hard and brittle.
Here's how they say it works: The folds in the low-mass, pleated X-ART membrane compress or expand depending on the applied signal so that air is drawn in or expelled outward, sort of like an accordion's bellows. Unlike a conventional driver that couples to air inefficiently since the air offers little resistance to the stiff cone or dome, the X-ART driver's squeezing action moves the air faster than the membrane itself moves, upping the loading efficiency by a factor of four. In addition to efficient coupling, the softer membrane doesn't exhibit the high-frequency breakup that normal, stiff cone or dome designs do. And since the conducting material is exposed to air, it cools far faster than a wound coil in a gap, thus improving power-handling capacity. In other words, the tweeter is detailed, smooth, and airy, and its –3-decibel point is claimed to be upwards of 50 kilohertz. I've now spent a month or so being serenaded by five of them, so I've become a big fan.
The Black-Box Solution
Adam Audio supplied a system that consists of three GTC77s and two GTC55s, along with a GTC S12 subwoofer. The versatile GTC77 is large, but not large enough to be floorstanding, so short stands are required. Each tall MDF box includes two modular units, one that contains a single 7-inch carbon/Rohacell/glassfiber-coned woofer, the other a 4-inch midrange driver of the same materials, and an X-ART tweeter. Another 7-inch woofer is attached directly to the thick, front-ported MDF front baffle.
Thanks to the modular design, the sealed midrange/tweeter unit easily rotates 90 degrees to turn the GTC77 into a horizontal center-channel speaker. Or you can swap it with the modular woofer if you need higher tweeter placement to accommodate a better match with ear level. The smaller GTC55 is a more conventional WTW design with a pair of 5.5-inch cones that flank the X-ART tweeter. Although this isn't a modular design, you can unscrew the GTC55 tweeter and reorient it for center-channel placement. Adam's black-box GTC S12 subwoofer features a front-ported 12-inch papercone driver powered by a 200-watt amplifier, all fitted into a conveniently shallow, fairly small box. Like the main speakers, its looks are strictly utilitarian.

The GTC77 represents a 4-ohm nominal load that Adam rates at 88 dB efficiency, while the GTC55 is an 8-ohm speaker rated at 86 dB. Power handling is given as a range of 150 to 230 watts and 120 to 180 watts, respectively. I drove them with a Parasound Halo A 51 five-channel amplifier that outputs 400 watts RMS per channel (into 4 ohms, all channels driven), with fantastic results. Other associated equipment included my Marantz AV7005 surround processor, Panasonic DMP-BD210 Blu-ray player, and Sony SCD-XA777ES SACD player. This system demands good, clean power to perform at its best.
Smooth, Spectacular Sonics
Nothing beats having three identical speakers arrayed across the front of your room—even if their performance is less than stellar. But when you have three identical, big, nearly full-range (rated 38 hertz to 50 kHz) speakers that sport the aforementioned X-ART tweeters, the resulting seamless and expansive front sonic picture is sensational. Sometimes nothing sounds worse than driver technologies that clash within the same box. Often if you pair the sonic particulars of a ribbon tweeter, for example, with a cone woofer, it produces obvious discontinuity. However Adam accomplished this, it's managed to seamlessly blend the X-ART tweeter with the coned midrange and woofer.