88 Minutes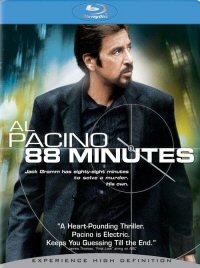 Dr. Jack Gramm (Al Pacino), a Seattle-based forensic psychiatrist, receives a phone call telling him he has 88 minutes left to live. He must use all his skills to narrow the field of possible suspects and find his killer before it's too late.
88 Minutes may be the worst movie I've watched this year. Not only is it grotesquely violent, its plausibility is so far from reality that it insults the audience's intelligence. I was constantly checking the clock wondering when the torture would end. Regrettably, the movie isn't 88 minutes, it's 107, and those additional 19 minutes felt like 19 hours.
The 1080p AVC encode doesn't do much to enhance the viewing experience. The pumped up contrast leads to blooming whites and elevated black levels. This plays havoc with the color palette, which lacks the "pop" generally associated with Blu-ray. Flesh tones have a sickly, unnatural appearance, but the resolution is up to snuff with exceptional detail in both the foreground and background.
The Dolby TrueHD 5.1 soundtrack is a slight improvement compared to the video, but it isn't anything to write home about either. The front-heavy mix doesn't fit the thriller genre by any stretch, with virtually no use of the surround channels. Dialog is clear and concise, but given the poor screenplay, I'm not sure this is a plus. Regardless, the audio doesn't do much to add to an otherwise poor movie.
The BD-Live disc includes an alternate ending, a commentary by director Jon Avnet, a "making of" featurette, and a discussion with Al Pacino about the film and his character. The BD-Live features aren't available until the street date, but if past discs are any indication, I don't expect anything ground-breaking.
After doing some research, I discovered this film has been shelved since 2006—and for good reason. The Blu-ray presentation isn't stellar, and I have a hard time recommending even a rental. Caveat emptor.
Release Date: September 16, 2008
Movie: 2 out of 10
Picture: 6 out of 10
Sound: 7 out of 10

Review System
Source
Panasonic DMP-BD30
Display
JVC DLA-RS1 projector
Stewart FireHawk screen (76.5" wide, 16:9)
Electronics
Onkyo PR-SC885 pre/pro
Anthem PVA-7 Amplifier
Belkin PF60 power conditioner
Speakers
M&K S-150s (L, C, R)
M&K SS-150s (LS, RS, SBL, SBR)
SVS PC-Ultra subwoofer
Cables
Monoprice HDMI cables (source to pre/pro)
Best Deal analog-audio cables
PureLink HDC Fiber Optic HDMI Cable System (15 meters) from pre/pro to projector
LATEST VIDEO