6 Easy Pieces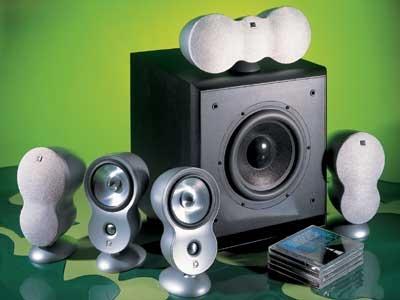 Photos by Tony Cordoza
You've got to give credit to the guy who invented the six-pack. What a concept: six bottles, all strapped together in a bundle that can be easily toted from your local 7-11 to your fridge. Although not as portable as a bunch of brewskis, many home theater speaker systems adhere to a similar model. In addition to the left/right front pair, these carefully assembled kits usually include sonically matched center and surround speakers plus a subwoofer that complements the rest in terms of size and output capability. When it comes to price, the sky can be the limit for home theater speakers, but most manufacturers offer packages that fit nicely within a beer budget.
The three systems we gathered for this test include Celestion's AVP305 ($900), Atlantic Technology's System 170 ($1,496), and a sextet of speakers from Wharfedale's Pacific Evolution series that total $2,000. Though even the priciest of these speaker six-packs remains affordable, they differ quite a bit in terms of both technical design and styling. So grab an opener, sit back on the couch, and let's sample some speakers.
Celestion AVP305
In a world filled with bland, boxy speakers, Celestion's silver-toned AVP305 system ($900) is a sight for sore eyes. The package consists of four identical AVS301 satellites with aluminum-dome tweeters and small aluminum-coated woofers (see the table on page 40 for details) along with a matching AVC301 center speaker that sports a passive radiator the same size as the woofer. All five of the satellites have the same kind of curvy, aerodynamic enclosure, while the S20 powered subwoofer is a traditional-looking black box. I preferred to keep the grilles clamped on the satellite speakers - the metallic drivers' pointy dust caps looked like they might zap me at any moment. Besides, I thought the gray-toned grilles enhanced the system's retro-futuristic look.
Each satellite speaker includes a sturdy set of spring clips for hooking up bare speaker wire, and a pivoting base provides a range of setup options. The most common will be to place each speaker on a stand or shelf and aim it toward the listening position. Alternatively, the base can be transformed into a wall mount with the addition of a few screws. The center speaker's base doesn't offer the same level of flexibility, but it can swivel horizontally to accommodate an off-center listening position.
Besides its stereo line-level connections, the subwoofer has an input-level adjustment, a crossover control that's continuously variable from 40 to 140 Hz, and a phase control that can be adjusted from 0 to 180°. There's also a Cinema/Music EQ switch that's intended to tailor the sub's output for movies or music.
After placing the front three speakers on stands in the front of our 21 x 13-foot listening room, with the sub in the front left corner and the surrounds on stands near the side walls behind the couch, I gave the Celestions a spin. The system's dynamic capabilities were way better than I expected. Watching the opening car chase from The Transporter on an LCD front projector, with the AVC301 center speaker just below the screen and the AVS301 L/R satellites on either side, I was surprised that such little speakers could convey such a big, loud, effects-laden soundtrack so convincingly. The system's handling of surround effects also impressed me. For example, in a scene where Frank washes his vehicle in a garage near the beach, the natural rendering of a background breeze and waves put me right into the scene. Pretty good show for a $900 rig.
It was only when I watched the new, uncut DVD of Dances with Wolves (all 4 hours of it!) that I noticed some shortcomings. The rumble of stampeding beasts in the buffalo-hunt scene sounded boomy and indistinct - not too surprising given that the tiny S20 sub has only an 8-inch driver. And when I slid over to the right side of the couch, Kevin Costner's ponderous voiceovers coming from the center speaker darkened in timbre and dropped off in volume (see Tom Nousaine's lab notes, page 44).
As with movies, listening to music immediately amazed me that such a compact package could produce such a large, seamless soundstage. The combo's delivery of Copland's Appalachian Spring, as performed by the Atlanta Symphony under Robert Spano on Telarc's Rainbow Body SACD, was surprisingly full, with a relaxed tonal balance that made the massed strings and brass sound airy and sweet. Spacy rock mixes like those on Sigur Rós's CD ( ) were also well served by the Celestions. During the narcotic drones of "Untitled #4," a dose of the eerie spaciousness and depth that I'm used to hearing on our larger reference speakers managed to come through intact.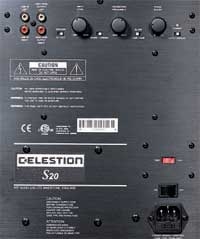 When I downshifted to more basic music mixes, however, a few seams began to show. The system's imaging was vague, which made Richard Thompson's vocals on "King of Bohemia" from Mirror Blue difficult to pinpoint. And on "Moon River" from Bill Frisell with Dave Holland and Elvin Jones, the drummer's normally crystal-clear brush strokes sounded somewhat blunted, and the lowest notes of Dave Holland's acoustic bass were pretty much missing in action. (Switching to the sub's Music EQ setting didn't make much difference except to reduce overall bass level.) But those criticisms are ultimately nitpicks. For a sub-$1,000 system, the Celestion was surprisingly powerful.
Celestion's AVP305 combines cool, futuristic looks with above-average performance. And it does so for a very reasonable price. If you're ready to leave black boxes behind and step up to something snazzy (and shiny), this speaker system is worth a serious look - and listen. PDF: Fast Facts PDF: In the Lab
LATEST VIDEO