50 Cent, Back in the Headphone Game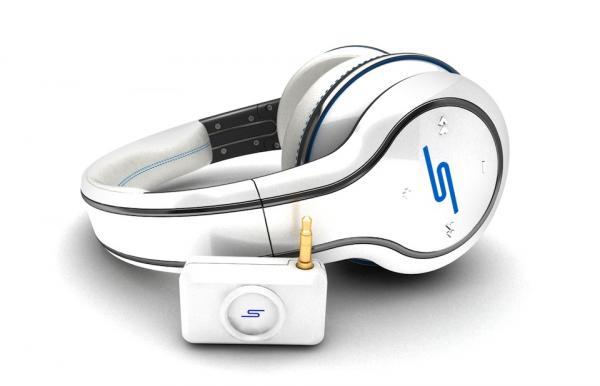 Neither bullets or corporate disputes can stop 50 Cent, it turns out. Having put this past year's breakup with Sleek behind him, the rapper has formed his own outfit, SMS Audio, to market the headphone line he'd promised at last year's CES.
The new company's kicking things off with a focused range of three headphone models: the Street by 50 in-ears, the wired Street by 50 over-the-ear, and - most interestingly, the full-sized, wireless Sync by 50.
The Sync (whose Sleek-build predecessor was causing all of the excitment last January) is a promising unit. Of course all depends on the voicing (and we hope to get ears and measurement mics on these as soon as we can to see what "Professionally Tuned" adds up to), but we're intrigued by the unit's high-end taste in wireless streaming protocols. Not only is the Sync a wireless 'phone, it's using Kleer lossless transmission - and thus broadcasting 16 bit, 44.1 kHz uncompressed audio.
The supplied dongle appears to work via analog connection to a mobile device's minijack, so there's another stage of A/D conversion in there, which isn't our favorite setup, but it does give the dongle universal compatibility (there seems to have been little progress made in getting audio working over the USB connection in Android devices). And there are any number of USB and iOS 30-pin Kleer dongles out there from everyone from HP to Arcam.
Beyond their wirelessness (and remember, a Kleer transmitter can stream to up to four connected headphones, so these may be your go-to for silent dance parties), they include the usual collection of extras for the $399.95 price of admission: hardshell case, a wired (and miked) cable for when you don't feel like cutting loose, a USB charging cable and adapters for airplane and 1/4" jack use.
Like the Fanny Wang 3001s we've got on the giveaway table this week, these include a user-switchable bass boost - an interesting feature that suggests these may not be basshead cans in their basic profile (or that people want more low-end than we can possibly imagine). But we're waiting for more details (and of course, for a review pair) before we can say anything definitive. But 50's got our attention.
LATEST VIDEO