4K "Hancock" Hits Hollywood and Beyond
The 4K revolution has begun, led by none other than Hollywood heavy-hitter Will Smith as Hancock. Yup, the much advertised movie is finally here (don't you love this time of year with all the summer blockbusters?) In a style befitting a big-budget bonanza, Sony is distributing Hancock in 4K, complete with a complete 4K digital cinema package.
Debates continue to rage on whether 4K is significantly better than the already available 2K digital cinema images. See what Sony has to say about the 4K release.
Chris Cookson, president of Sony Pictures Technologies is quoted in the Hollywood Reporter: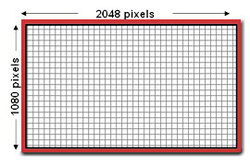 "In a 4K projection-equipped cinema, (a 4K Digital Cinema Package) means you get the 4K image, and it delivers the higher-frequency, higher-detailed stuff. Even if there wasn't 4K cinema today, I would be interested in 4K just to make sure that I save as much information as I historically saved when I was shooting and cutting on 35mm film . . . and putting that in the vault," Cookson said. "In 2K, you lose a fair amount of information compared with what was on the original film."
While there are currently almost 5,000 cinemas equipped with 2K-capable digital projection, there are only 200 4K digital cinemas, all made, ironically enough, by Sony.
With four times the resolution of 2K, perhaps a Saturday afternoon comparison is called for. Let's all go see Hancock in a traditional film release and then a 4K presentation and report back. I'll buy the popcorn. -Leslie Shapiro
Photo courtesy of Associate Press

LATEST VIDEO