2014 Gift Guide: 11 No-So-Ordinary Blu-ray Box Sets
I don't always watch my favorite movies and television series. But when I do, I prefer to watch them on Blu-ray. Thankfully, the studios have provided home theater enthusiasts—people who shop for them—with a bounty of exciting new sets, likely to elicit that elusive "Ooo…" as the ribbons and bows tumble to the floor. From film canons to entire classic TV series to the sort of inspired little tchotchkes that can be proudly displayed, these selections go beyond the ordinary, as gifts that will be enjoyed well beyond the holidays.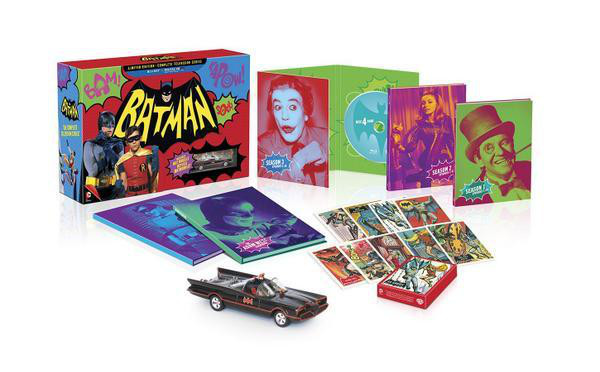 Batman, The Complete Television Series Limited Edition (Warner)
Long topping the list of the most-requested TV series for a home video release, the beloved Adam West classic is now like a dream come true in this complete Blu-ray set. Rife with candy hues like some other programs of the mid-to-late '60s, Batman fueled America's new obsession with the color TV, and these creative costumes and wild sets really throb in newly mastered 1080p. Yes, it's "warts and all" but also a revelation, as the show we grew up on—either in primetime on ABC or in weekday syndication—is reborn for today's high definition. The tiny details in the 4:3 image give this well-worn staple an immediacy that begs us to watch another… and another, even as we chuckle at the limitations of vintage small-screen special effects. Kudos to Fox (the original production studio) and Warner ("owners" of Batman) for finally figuring out a way to give us patient fans what we've been longing for, perhaps not coincidentally on the 75th anniversary of the character's first appearance.
The bonus materials are not quite on point with the magnitude of this set, but delving into the elaborate packaging—complete with a Hot Wheels replica of probably the best Batmobile ever—-erases all grumbling. As we leaf through the episode guide, and the Adam West Scrapbook, and think seriously about putting the reproductions of vintage Topps trading cards into the spokes of our bike, our youthful passion for The Caped Crusader is renewed.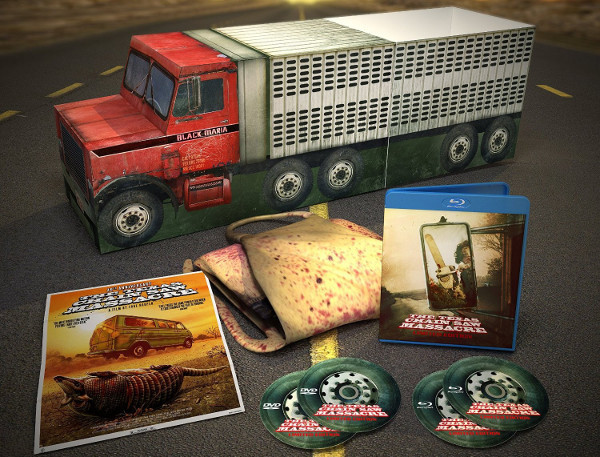 The Texas Chain Saw Massacre, 40th Anniversary Black Maria Limited Edition (Dark Sky Films)
Of course, the carrot (or sausage) here is the new 4K master scanned from the original film elements, paired with remixed DTS-HD Master Audio 7.1, both supervised by Tobe Hooper. No, it's not gorgeous, or "perfect," but I feel as though this new Blu brings us one step closer to what a theatrical screening must have been like for unsuspecting crowds those many years ago, and it's thrilling. A Linear PCM mono track is supplied for the purists, as are a host of previously-released bonus features plus new content, including two new audio commentaries, now four total. I was recently thinking how, for my money, the two scariest movies ever made probably came out in 1973 and 1974, and wouldn't you know the exclusive bonus disc in this edition (a DVD) features a wonderfully candid discussion between Tobe Hooper and The Exorcist director William Friedkin! Also inside the box you'll find a neatly folded mini-poster and a replica of Leatherface's "blood"-stained apron, while the box itself extends to simulate the Black Maria truck. This vehicle has a small but important role late in the film that I won't spoil here… even though it's been 40 years and you really couldn't blame me. Sheesh!
Herzog: The Collection (Shout! Factory)
Herzog's first name is Werner, for those unfamiliar with the bold, prolific German filmmaker with a penchant for remote shooting locations and an often documentary-like dramatic style. (Several of the films in this pleasingly HD-remastered, enticingly book-bound limited edition, including My Best Fiend, about his long collaboration with volatile go-to star Klaus Kinski, are actual documentaries.) One of the best parts about a career-spanning (more or less) 16-film/13-disc set like this is that we might just begin with 1982's breakout Fitzcarraldo and work our way to 1972's lesser-known but equally engrossing Aguirre, the Wrath of God, then indulge our curiosity with some or all of the others: Even Dwarfs Started Small, Land of Silence and Darkness, Fata Morgana, The Enigma of Kaspar Hauser, Heart of Glass, Stroszek, Woyzeck, Nosferatu the Vampyre, Ballad of the Little Soldier, Where the Green Ants Dream, Cobra Verde, Lessons of Darkness, and Little Dieter Needs to Fly. Seven of these include audio commentaries in English, another three with German commentaries, plus there are two different documentaries about Herzog, a Nosferatu "making of," and lots of trailers.