Silverline Minuet Speaker System and Pinnacle CS 66 Subwoofer
Don't underestimate the little guy. Guys.
One of the annual highlights of my career as an audio/video scribe is the Home Entertainment Show. The 2007 edition took place at the Grand Hyatt in New York, practically on top of the gorgeously renovated Grand Central Terminal. It was there that I became interested in Silverline, a California-based speaker maker that was displaying both their Minuet mini-monitor (say that ten times fast) and the slender, floorstanding Prelude. The temptation to try five Minuets in a surround system proved to be overwhelming.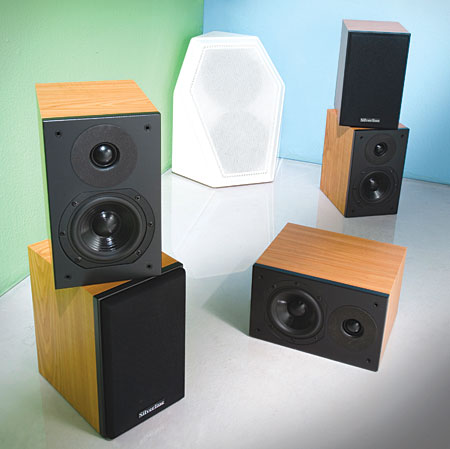 However, although Silverline will offer a horizontal center (not reviewed here), the company has yet to get around to that whole subwoofer thing. For this review, I mated the Minuets with an unusual in-corner subwoofer from Pinnacle of Long Island. Together, they form a viable sat/sub set that combines the well-balanced midrange presentation of the Silverline mini-minotaurs—I mean mini-monitors—with the acoustic efficiency of the small, but potent, Pinnacle subwoofer.
Small Speaker, Big Ambitions
Founded in 1996, Silverline Audio evenly splits their line between stand-mount speakers, all larger than the Minuet, and floorstanders. The only exception is the Center Stage, a horizontal center-channel speaker with paired 6-inch woofers. It is not reviewed here, partly because its driver array doesn't match the Minuets, and partly because I remain eternally skeptical of the ability of horizontal centers to knit together seamlessly with other speakers in a system. Silverline will launch a Minuet- (and Prelude-) friendly horizontal center in the fall of 2007. Thus, by the time you read this, you may have that option, and it is expected to retail for $500.
Because of the Minuet's small size—just 9 inches tall—it can perch neatly atop a rear-projection display without raising the tweeter much higher than it would be with an average horizontal center. It might also fit on a shelf below the screen. However, if you can manage it, the best setting would be on stands, with all three front speakers at the same height. The Minuet includes a rear-firing port that you should not block, and Silverline does not provide a keyhole or threaded mount, so wall mounting is not recommended.
The Minuet seems modest in appearance, with a vinyl-wrapped enclosure housing an exotic, Chinese-made silk dome tweeter and a paper-fiber cone woofer driven by a magnet "equivalent in size to the diaphragm." While it may look like the satellite in a modestly priced sat/sub set, it doesn't behave like one. The upper end of its power-handling range is rated at 300 watts, with a sensitivity rating of 88 decibels—on the low side of average, especially for such a small speaker. Silverline further hints at their lust for power by providing dual gold-plated, plastic-clad binding posts for biwiring or biamping.
That's not to suggest that mega-power is a must. The speaker can also run with an average (or below-average) surround receiver. The Silverline Website even suggests a 7-watt triode tube amp, for those of you on the outer edge of the two-channel galaxy.
Small Sub, Big Ambitions
What better mate for a small speaker than a small sub? The Pinnacle CS 66 manages with a pair of 6.5-inch woofers, backed with 2-inch voice coils and 30-ounce magnets. Although the paper-fiber cones are relatively thick (and coated), they are notably smaller than an average sub with a 10- to 12-inch driver. But using two of them, Pinnacle says, increases the radiating surface area, while halving the necessary driver excursion and, therefore, lowering distortion. Situating them next to each other also increases bass output via "acoustic coupling." Finally, this in-corner design gets a lift from corner loading—that is, most rooms' tendency to emphasize some bass frequencies the closer any speaker moves to wall perimeters, especially corners.
The sub's only right-angled side is designed to fit tightly into a corner. The overall shape is geometrically irregular and intriguing, with eight sides and a baffle shaped like—well, like a coffin. But let me hasten to add, the sub was not delivered by a hearse. If your kid paints his fingernails black and listens to death metal, this might be just the sub for a budding goth. The black version, of course.
None of this prevented the sub from performing aggressively. Did it even need this compromised form of corner loading, I wondered? When I briefly played it in my usual sub-reviewing position (near the front-center speaker, distant from any corner), I found the answer was yes. The sub was definitely interacting with, and being reinforced by, the broad corner in my hexagonal room.
Fit and finish are lovely, in high-gloss white or black. Two grilles are available, in either fabric or large-pored painted aluminum. I'm told they sound the same—Pinnacle offers the choice for aesthetic reasons. When I switched grilles on the review sample, I discovered how determined Pinnacle is to avoid vibration or loosening. Prying off the old grille required a letter opener, sheathed (to spare the glossy finish) in a handkerchief.
A small but notable compromise is the use of wire clips, as opposed to sturdier binding posts, for the speaker-level ins and outs. (The larger CS 88 has posts.) This will not affect the majority of users, who will simply run a single interconnect from the receiver's sub-out to the subwoofer. Pinnacle provides a 4-meter interconnect cable with a right-angled plug. This prevents a jutting plug from depriving the sub of a couple of extra inches of vital wall proximity.
Before we move on to the listening, let me point out something that already may be obvious from the pictures. Regardless of how well the Silverlines and Pinnacle mesh in operation, their finishes cannot be matched. The Silverlines are available only in cherry or rosewood vinyl, the Pinnacles only in high-gloss white or black. But if the sub is off in a corner, perhaps this won't matter. What better object to harmonize with a white wall than a white sub?
My reference gear, as always, included the Integra DPS-10.5 universal disc player and Rotel RSX-1065 A/V receiver.
Dinner with Young Hannibal
After some quick auditions with my standard test tracks, I was pleased enough with the Silverline Minuets' full-range performance that I decided to run them with an 80-hertz crossover. This is on the low side for such a small speaker. Most satellite-sized speakers need at least 100 Hz, and some don't work below 120 Hz. But the Minuet behaved like a larger speaker with male voices and string basses, so I set the cross-over accordingly.
This system's brilliant sleight of hand showed itself immediately in the World War II battle scene that opens Hannibal Rising. With the sub running at no more than halfway on the volume knob, and my usual setting in the surround processor, the tanks and planes rumbled authoritatively through the Pinnacle. To maintain the dialogue's intelligibility in the Silverlines, I had to use a higher master volume setting than usual. That was with the grilles on; when I removed them, dialogue got a slight boost, and the speakers had a reduced need for power. These speakers communicate best on-axis, and they require a greater than average need for precise placement.
The DTS soundtrack of Memory punctuated the hallucinations of its psycho-thriller plot with thundering effects and a pounding heartbeat. Unlike the metal tweeters in many speakers, the silk tweeters were free of ringing, enabling the Silverlines to throw out a giant soundstage that remained clear and unfatiguing at challenging high-decibel moments.
Disappeared is dominated by the voice of leading man (and executive producer) Ray Winstone, as the angst-ridden man who confronts his fears as he seeks a missing daughter in a beautiful and ominous Istanbul. The voice's combination of roughness and warmth was riveting. In a strip-club scene, a limpid acoustic guitar provided a thoughtful distancing effect, foreshadowing what would later emerge, in the music tests, as this system's great facility for hollow-bodied "acoustic" instruments. (All musical instruments are acoustic. But never mind.)
Pipes, a Horseshoe, and Spanish Landscapes
While the system worked well for movies, the cinema auditions offered them few chances to show subtlety. So further surprises were in store when I fell deeply into Toccata: Works by Bach, Mendelssohn, Roger, and Rheinberger by Bram Beekman. The pipe organ on this hybrid SACD predictably allowed the sub a chance to emit low pitches, which it did nicely. But what wowed me was the Minuets' low-level resolution of quieter movements. The flute-like organ stop that Beekman used for the middle movement of Bach's Concerto in D Minor made me put down my book, turn off the light, and waft into another universe.
Sketches of Spain by Miles Davis is another tough test of texture, with the master trumpeting over the epic orchestral landscape of Gil Evans. Truth to tell, my first-generation CD release is not the best, but the silk domes smoothed over any digital unsubtlety to deliver the music with its full emotional sweep. They weren't quite telling the truth—a speaker with the ultimate in top-end resolution would have revealed the defects in the obsolete CD mastering. Still, a forgiving touch is not always a bad thing.
Some interesting effects arose during Gentle Giant's Free Hand, as translated from stereo to 5.1 channels by the ever-reliable Dolby Pro Logic II music mode. "On Reflection" opens with a fugue of four interlocking vocal parts, two in the center and one each at the left and right. The side parts were recorded slightly out of phase, placing them halfway between the front and surround speakers. This formed a classic horseshoe surround mix—my favorite kind.
Bass parts had to split themselves on either side of the sub's crossover, so, especially during solo-bass moments like the opening of "The Last Voyage," I'd hear Ray Shulman's touch from front and center, but his lower tones through the sub a few feet left of the left speaker. That's a generic problem with corner sub placement, and that's why I normally prefer to keep my subs somewhere within the front soundstage. Pinnacle's in-corner approach is a conditional success; it works, but only if your brain can navigate the effects that occur at the crossover.
This mating of the in-corner sub and the mini-minotaurs proved, on the whole, to be an excellent idea. No, I'm not suggesting this brand-hybrid speaker system for cavernous dedicated home theater systems. But for those who live in living rooms, it delivers a delicious midrange that makes tricky recordings sound better than they've any right to—and ladles on the low-frequency gravy with a generous hand. Here's a system for folks who want their systems to provide rich, satisfying sound without intruding, physically or visually, into a carefully designed room.