Sound & Vision's CEDIA 2022 Editor's Picks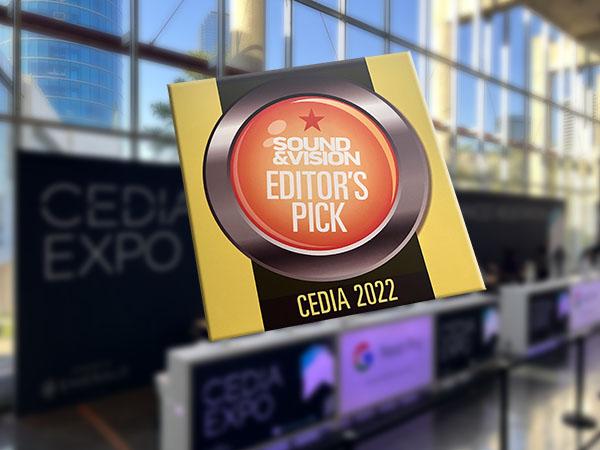 It's been three years since the last normal CEDIA took place, which resulted in a backlog of cool new products that companies showed for the first time. As I explored the floor, I recognized a dozen products and product lines with an Editor's Pick award.
This award is not to be confused with Sound & Vision's Top Pick awards for test reports. It is a more casual award, meant to highlight items of interest from the show, but by necessity, it is neither comprehensive — I cannot possibly visit all the booths in three days — nor is it a measure of tested performance, because show demos are simply not the same thing as in-home reviewing. Having said that, demos on the show floor absolutely factored into my decisions, I did not give any awards to a speaker that I did not listen to or a display I did not see with my own eyes.
The Editor's Picks CEDIA 2022 awards are based on subjective hunches and serendipity.
Samsung MS1A 110-Inch Micro-LED
Although priced in the stratosphere, the Samsung MS1A 4K 110-inch display is the future of TV. Micro-LEDs require no filters or cover, so you are looking directly at the light source for each pixel, and the result is especially stunning in a bright room because there are no reflections, and the picture quality is unchanged no matter what angle you view it from.
Priced at $150,000 as a special order item, a micro-LED TV is still beyond the reach of today's typical TV shopper. But like all things new, you can expect this technology to shrink in price and size. What matters for the award is that Samsung's MS1A is the first micro-LED 4K system I've seen that has all the qualities you associate with a TV in terms of being plug-and-play, the slab form factor with an ultra-thin bezel, and built-in sound.
LG G2 97-Inch 4K OLED
The world's largest 4K OLED TV is a no-brainer. Like any OLED, it does its best work with the lights out. But make no mistake, an OLED this size becomes very tempting to movie lovers seeking the ultimate home viewing experience. Priced at $25,000, it's not cheap, but it's also not as expensive as a house, unlike a micro-LED 4K screen.
The 97-inch G2 OLED is part of LG's brightest-ever OLED series. The G2 comes very close to not needing tone mapping. With most content you are seeing high dynamic range (HDR) represented very closely to how it was mastered.
It's a dream TV for movie lovers, for sure. But it's also one of the finest ways to enjoy video games that exist. Of course, it also makes a tremendous TV for sports or Netflix or news or whatever. This is well known because the G2 series qualities in general are well known. The fact it is such a great TV is why a 97-inch option is so exciting. It was not so long ago that 85-inch TVs cost this much.
Epson LS800 UST Projector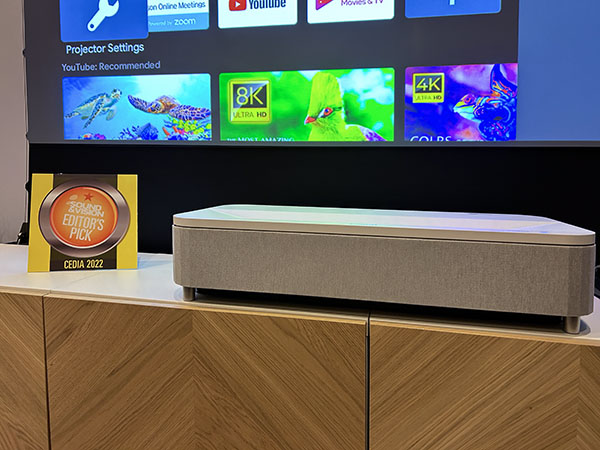 The Epson LS800 4K ultra-short-throw (UST) projector may be the first to fully realize the category's potential with an innovative design that makes it an easy fit for the living room. It has the shortest throw ratio we've seen from a consumer UST, only 0.16:1 and it is wider as well as shallower than typical UST designs.
This new design allows the LS800 to sit very near the screen. With this projector there's no need for a specialized stand—you can use standard furniture such as a credenza from Ikea. The other great thing is that it is extremely bright, with a 4,000 ANSI Lumen output that puts it at the top of the heap among consumer UST projectors. From what I saw, the new lens has great uniformity and edge-to-edge sharpness.
This Epson is notably different than competing UST projectors in that it has a three-chip LCD imager instead of relying on DLP. Consequently, there is no chance of seeing any rainbow effect. It also has lower input latency versus its DLP competitors at around 16 milliseconds. In all, the LS800 is the most promising new 4K laser UST this year, and surely the subject of a forthcoming review.
Marantz Cinema Series AV Receivers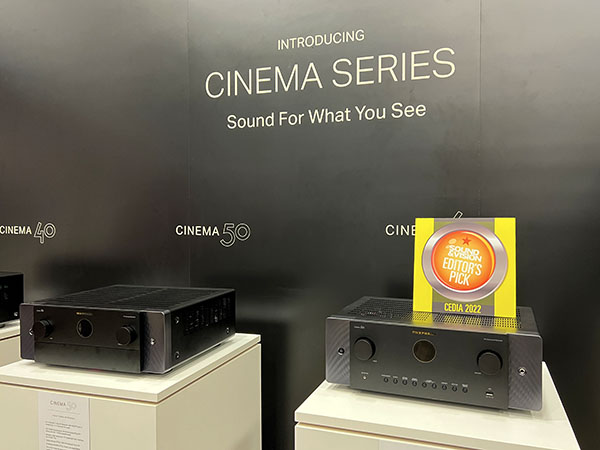 Although this is not a ranked list, there is a little bit of personal bias here, and I'm willing to admit the following: I think this is perhaps the most exciting announcement of the show. Why? Because these Marantz Cinema Series AV receivers are the answer to many AV enthusiast's prayers, especially the bass lovers out there.
Now, you get both Audyssey and Dirac Live support. You also get four... yes, four... independent subwoofer outputs. Finally, multi-subwoofer systems are supported by mainstream AVRs and not just hyper-expensive specialized processors. This new Cinema Series from Marantz is my "Most obvious Editor's Pick of the show." And yes, I heard it strutting its stuff in a high-powered demo using Bowers & Wilkins speakers in the adjacent Omni Hotel. The excellent sound included mighty tight and deep bass and the whole presentation—my last Top Gun demo of the show—was a pleasant surprise in that it sounded like the systems running on processors that cost several times more. Sure, it's just a show demo, but it sounded great!
Victrola Stream Carbon Sonos-Compatible Turntable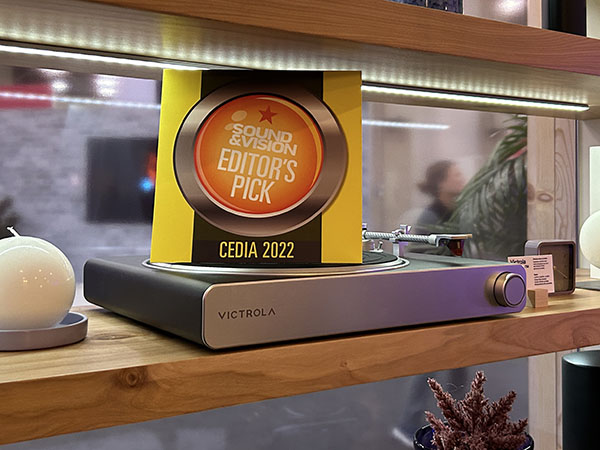 Victrola? Sonos? Are you skeptical? So was I. I live in Philly, so I know what it means that the original Victrolas say "Camden, New Jersey" on them. This whole record player and recorded live music thing, it's got deep roots right around here.
So, I see the new recorder player, the Victrola Stream Carbon ($800). It's solid. It looks modern. The tonearm looks legit, it's got a decent—but also interchangeable—cartridge already installed, an Ortofon Red. The really nice touches include large, vibration-damping feet that are deeply recessed in the plinth, such that they are nearly invisible. Very nice.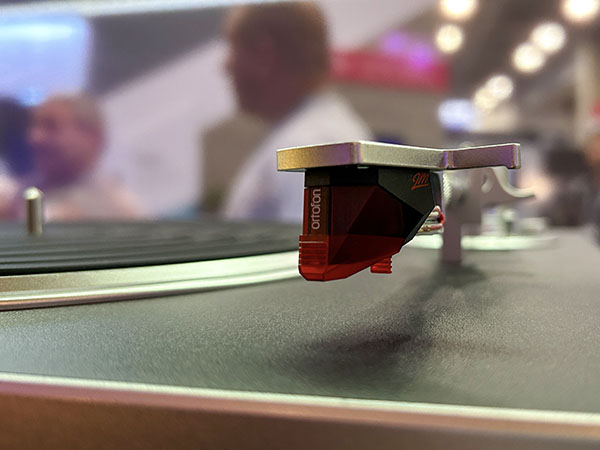 And then there's the volume knob. What's that for? It's because this turntable acts as a Sonos source device with its own master volume control built in. The main idea is it's a turntable that works seamlessly with Sonos. There is a one-time setup involving a dedicated app, but once it's on the Sonos network, you don't need that anymore.
So if you enjoy spinning vinyl, this option gives you a legit turntable that you can essentially listen to anywhere in the house, or have it playing in multiple rooms if you are hosting a party. You can control it with the Sonos app.
It really looks nice, and modern, and like it's meant to go with Sonos. The name is Victrola, embodying both the old and the new. And even if vinyl purists think all this is heresy, I love it!
Theory Audio Design In-Wall Speakers
When it came to Editor's Picks, I let the chips fall where they may. I was at the show, I was in the flow, and after a rather impressive demonstration by the founder of both Theory Audio Design and Pro Audio Technology (PRO)—Paul Hales—I had no choice but to give two of my precious dozen awards to one man.
I've reviewed Theory gear in the past, so I knew how the on-wall speakers perform and how the integrated active amplification and EQ work—it is a system that practically eliminates guesswork and variables. The main thing is Paul's speakers all sound great, whether it's the CI-oriented Theory lineup or PRO, which brings heavy-hitting pro audio firepower (and precision) to home theater installations.
So what are the awards for? With Theory Audio Design, it's the new in-walls. I swear, I did not think in-wall speakers were capable of such a nuanced audiophile-quality presentation. And not just any one pair sounded great. All three of the models demoed sounded fantastic, like real high-quality standalone speakers. And that was the whole point, each model sounds very much like the other, the main differentiating point is output capability, not tonality or timbre, or even detail rendition. There are even great-sounding hanging pendant speakers in the lineup, which were used as overheads for Atmos height effects. Very effective!
The point is that you can mix and match speakers based on application to build out what you need with Theory's on-wall and in-wall options (including the best-sounding soundbar I've ever experienced in my home). One example of pricing is a 5.2.2 system with an in-wall sub, all-in including amplification for $14,340. So not cheap, but not crazy either. You do get what you pay for with Theory, IMO.
Pro Audio Technology SR-28212ai Speakers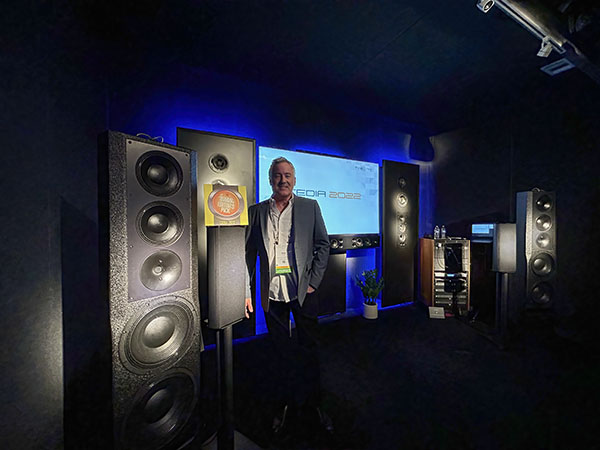 I felt compelled to drop the second award for these astonishing-sounding Pro Audio Technology speakers. Yes, the SR-28212ai speakers are $10,000 each. Yes, I think that's a really good deal for what you get! They are slim and designed to fit behind a screen, and the mid-tweeter array is rotatable and comes with an angled tweeter option—they can even be used in-ceiling for height effects.
Full range, massive power, incredible bass, everything I want from a speaker system wrapped into an industrial design that's no-nonsense but also no compromise. Set up as a stereo pair, they delivered a high-end audiophile stereo listening experience full of nuance, power and precision and always sounded transparent, accurate, and live. Amazing.
JVC DLA-25LTD 25th Anniversary Projector
Taking JVC's best projector, the NZ9, and making it even better by carefully selecting the best performing parts and then adding a custom calibration by Kris Deering to the package makes for an easy Editor's Pick, but you'll have to cough up $29,999 for the privilege—a $4,000 premium over the NZ9.
It's a limited edition of 25, celebrating 25 years of the D-ILA projection technology that makes JVC's projectors look so good. It promises even better contrast than the NZ9, and high contrast is one of the major reasons home theater enthusiasts gravitate toward JVC—the ratios are best in class for the price. JVC is promising up to 150,000:1 native contrast with this projector. Boom, Editor's Pick.
SVS 3000 In-Wall Subwoofer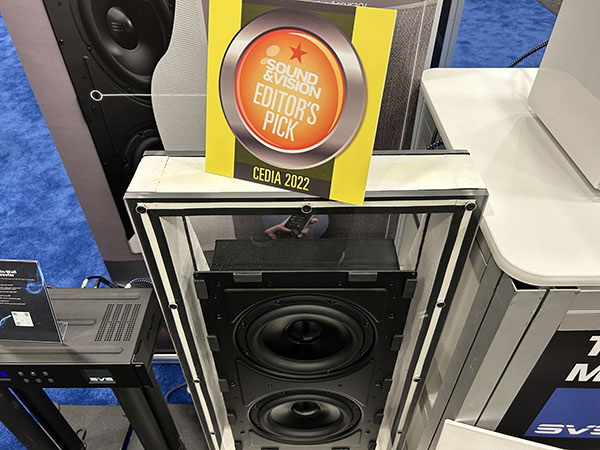 Now you can have the quality bass SVS is known for but in a slim subwoofer enclosure with outboard amplification (800 watts) that—thanks to its small size—easily fits in standard residential drywall construction. It takes up no space at all in the room because the 3000 In-Wall ($1,299) is the company's much anticipated, first-ever custom install-friendly offering.
Also notable, this is the first CEDIA for SVS. The company had the sub playing tunes out on the open show floor and it was doing just fine under rather challenging conditions, including the lack of an actual wall. I'm sure it'll find a spot in many homes where a low-key, high-quality sub—from a company known for its subs—is the right solution.
EPV Darkstar Max UST-FR Motorized Screen
Next up, a nod to the burgeoning 4K UST projector segment, which is bringing down the cost of 4K (or at least near-4K) laser projection while creating new living room-friendly options for anyone who wants a big picture without dedicating a whole room to the endeavor.
EPV is the custom install division of Elite Screens, a company well regarded for providing high value and a wide range of options. What stood out about this screen is the material—it's ultra-thin and it has some elasticity to it. It was very effective at ambient light rejection and it also stretched out completely flat, with no surface anomalies. It just looked good and worked well. It's available in both 100-inch and 120-inch (diagonal) sizes.
madVR Envy Video Processor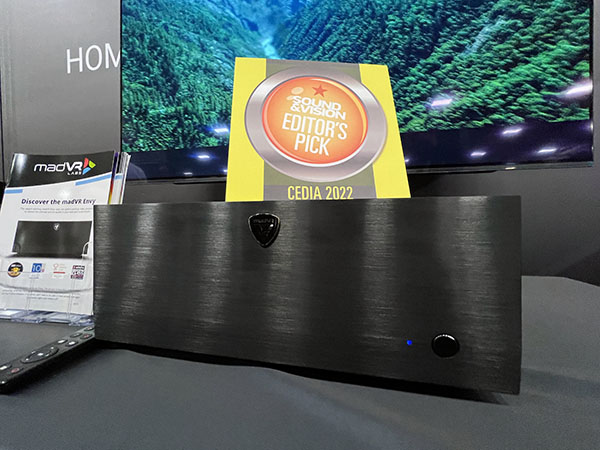 It is a fact of life that projectors cannot handle HDR as it is mastered for home viewing. It is also true that some source material needs a little bit of extra processing to look its best. These are some of the reasons why you might opt to add a madVR Envy 8K video processor to your AV system. It is a highly specialized computer that contains a huge GPU that runs the latest algorithms, something that is simply not going to happen with the smaller chips that are natively found inside TVs and projectors.
If you want the ultimate quality and control over image processing, this is the box to get. The proof is in the pudding, the best-looking projection demo I've ever seen—featuring the Christie Eclipse—had a madVR Envy working to deliver the sort of punch that the combination of optimized, top-notch dynamic HDR tone mapping and a great projector is capable of delivering.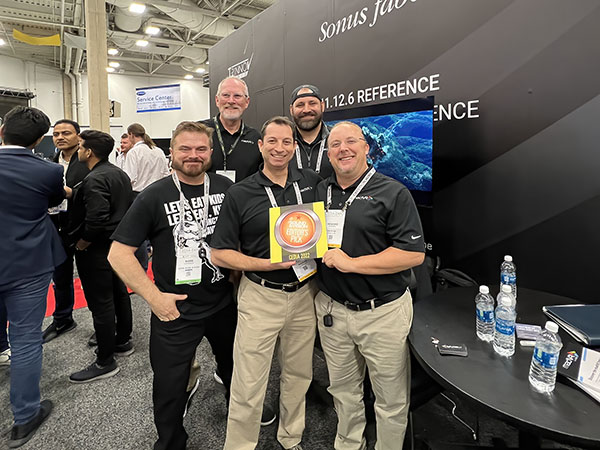 The MadVR Envy Extreme will run you about $14,000, so it's a pretty serious chunk of change, but if you have a high-end projector and want the ultimate in video processing to go with it, you now know where to turn.
Modulus M2 4K Media Server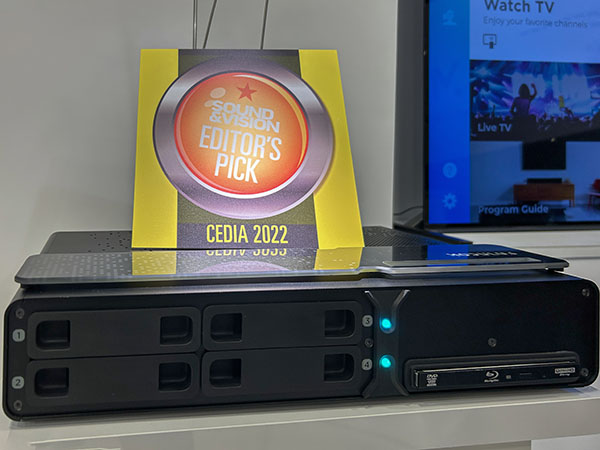 The very definition of "last but not least" is the Modulus M2, a do-it-all 4K media server that'll willingly rip and sort your Blu-rays and even Ultra HD Blu-rays, record live TV on a DVR, store it all on hard drives you own, and serve it to you where and when you want it. And it's made in the USA, too.
The whole pitch here is you can take charge of your media collection. It's a cleaner and more turnkey approach than building a Plex server. It's a perfect solution for anyone seeking to digitize their physical media and store their DVR content in one central place. For delivering a turnkey solution to AV enthusiasts who want to have control over their media, I offer the final Editor's Pick of this list.
It's a Wrap!
What a fun year it's been, CEDIA 2022 in Dallas was, by all accounts, a resounding success. It was so nice to get out of town and see the show. Congratulations to the Sound & Vision Editor's Pick CEDIA 2022 recipients, I hope to see you all again at the show next year!