Best Speakers of 2023 (So Far)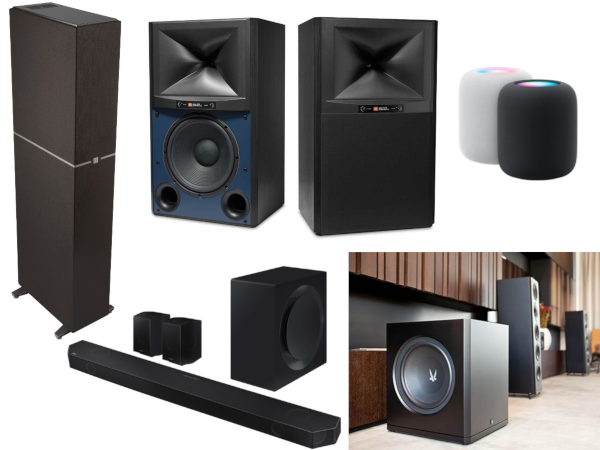 Whether you're laughing your way through
You People
or groovin' to Post Malone's "Chemical," speakers are undeniably the single most important link in the audio chain. The quality of your speakers can make or break the illusion of being in the middle of the action or up close and personal with your favorite musicians. And that goes for traditional stereo systems and multi-speaker surround-sound setups, all of which start with a minimum of five speakers plus a subwoofer that adds visceral impact to music and movie soundtracks. Whether you're updating an existing hi-fi rig or assembling a stereo or surround sound setup from scratch, we encourage you to check out our Top Picks in speakers so far in 2023.
Stereo/All-In-One Speakers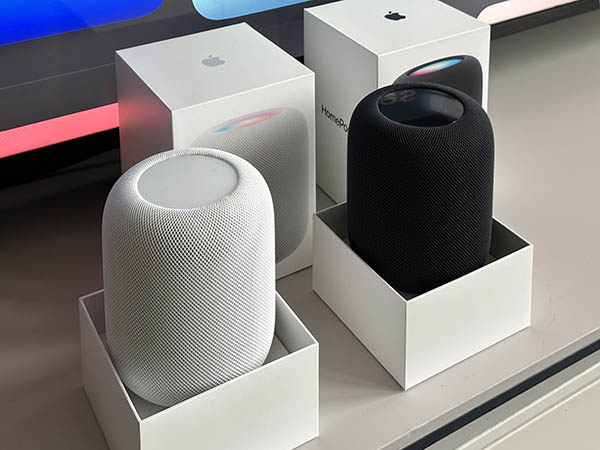 Apple HomePod (Gen 2) Wireless Smart Speaker: $300
It took a few years but Apple finally revisited the all-in-one HomePod smart speaker it introduced in 2018. Like its predecessor, the updated HomePod is quite the streaming marvel, capable of delivering sound that is clear, detailed, and spacious, while doubling as a Siri voice controller for all kinds of smart devices. Put two HomePods in play and you are rewarded with true stereo sound and a genuinely immersive experience whether you're listening to music, watching a movie, or playing a videogame. The system even decodes object-based Dolby Atmos soundtracks with remarkable results. Better yet, you can put the speakers almost anywhere and they will automatically adapt to the acoustics of the environment.
Following a super easy setup, reviewer Mark Henninger paired two HomePods with an Apple TV 4K box and was stunned by how close the sonic experience was to what you'd expect to hear from a full-blown multi-speaker AV system. "For the first time I can recall, I got goosebumps listening to a smart speaker…I also marveled at the amount of bass these charming pods managed to muster." In an impressive feat of technical prowess, Apple has figured out how to provide an all-encompassing listening experience from just two small speakers at a price that won't break the bank.
AT A GLANCE
Plus
Clear and detailed sound
Easy to set up and use
Supports Dolby Atmos, eARC
Pair two with an Apple TV 4K for a complete system
Minus
Needs an iOS device for setup
No optional subwoofer
Limited maximum volume
Full Review Here (posted 1/31/23)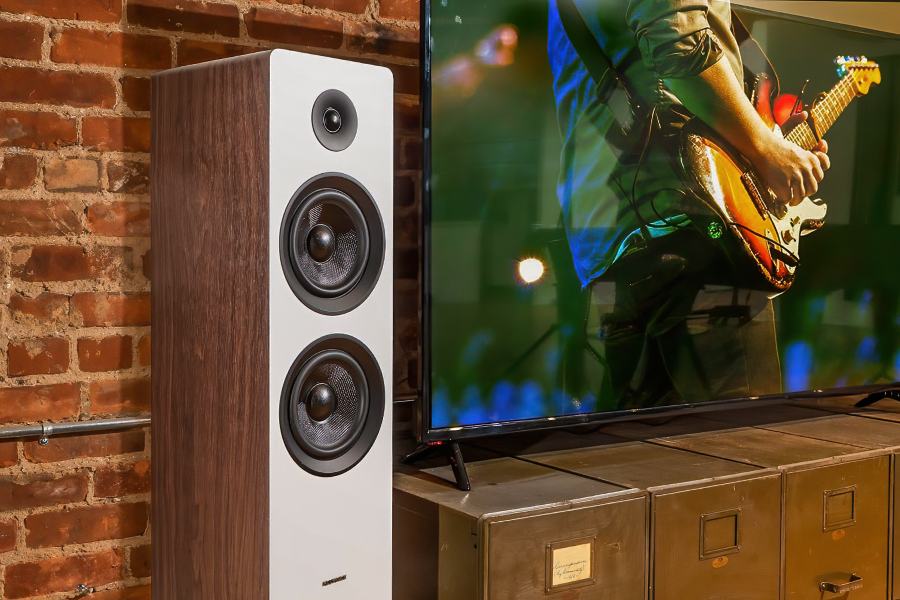 Fluance Ai81 Active Stereo Speaker System: $499/pair
We've been consistently impressed with
bookshelf speakers
from Canada's Fluance so we were intrigued when they came out with the Ai81, a medium-height floorstander, which like its smaller siblings has onboard power — 75 watts/channel in this case — and supports wireless streaming via Bluetooth. The speaker mates a 1-inch silk-dome tweeter with two 6.5-inch woofers in a sealed cabinet that stands just under 38 inches tall with a woodgrain vinyl finish offered in black or the two-tone white/woodgrain shown here. What's most enticing is the price: 500 bucks for a pair of full-range speakers is an achievement worth celebrating, especially if they sound good. And they do.
Grab your phone, select Fluance from its Bluetooth menu and you're off and running. Otherwise, the speaker is of the just-add-source variety, offering two sets of analog RCA jacks and an optical digital input, plus a subwoofer output for those who crave truly deep bass. Recording engineer-turned-reviewer Leslie Shapiro found the speakers to be on the bright (but never harsh) side and fully capable of putting up a realistic stereo image. "I was instantly impressed. There was no surround processing, just precise stereo placement." The Ai81s are an option worth exploring for anyone who is on a budget.
AT A GLANCE
Plus
Convenient (outboard amp not required)
Budget-friendly
Multiple input options
Excellent soundstage
Minus
Needs a subwoofer for movies
Veiled midrange
Bright treble
Full Review Here (posted 2/22/23)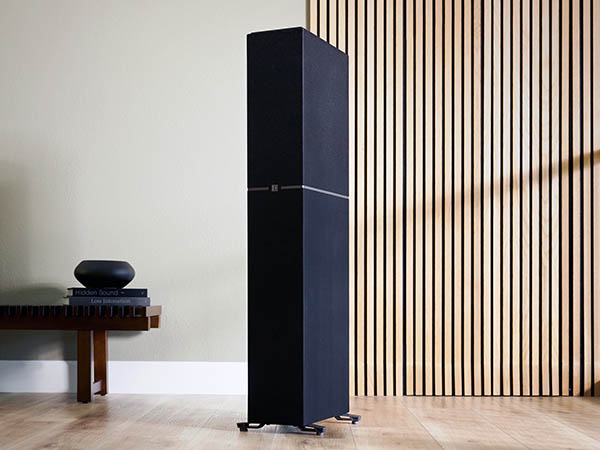 Definitive Technology Dymension DM70 Bipolar Tower Speaker: $4,000/pair
Definitive Technology has returned to its illustrious roots with the DM70 tower, the latest iteration of the bipolar design it pioneered 30+ years ago. Like all of the company's bipolar tower designs, the DM70 follows the path set forth by founder Sandy Gross: mating front- and rear-firing drivers with an integrated subwoofer. In this case, the DM70's slender 4-foot-tall cabinet mates two driver complements, each comprising a 5.25-inch woofer and 1-inch aluminum-dome tweeter, with a built-in bass module that draws on a 250-watt amp to power a 10-inch woofer augmented by a pair of 10-inch passive radiators. The beauty of this design is you get rich, three-dimensional sound with deep effortless bass from two minimalist speakers wrapped in black fabric.
Reviewer Mark Henninger was mesmerized by what he heard when he powered up a pair of DM70s: "Their most obvious quality is stereo imaging that's transcendental in nature. The soundstage is vast and enveloping, and the imaging is so accurate that it is as if the performers are right there in the room with you. I know that's a cliché, but it's also how it really sounds!" But what about that pair of integrated subwoofers — what do they bring to the party? For starters, they are rock solid down to 30 Hz and having two of them helps smooth out peaks and dips in the bass. At four grand a pair, these speakers don't come cheap but they do deliver in spades and are an exciting choice for stereo music.
AT A GLANCE
Plus
Excellent soundstage and imaging
Powerful and adjustable bass output
Disappears when the lights are out
Integrated Atmos module support
Minus
Each speaker requires a power outlet
Cloth grille is not removable
Can't be placed up against a wall
Full Review Here (posted 4/14/23)
JBL 4349 2-Way Studio Monitor: $8,250/pair
JBL continues its decades-long tradition of delivering studio-grade sound quality with the 4349 two-way studio monitor, designed and built at the company's state-of-the-art acoustic engineering facility in Northridge, CA. With its large horn, 12-inch woofer, dual ports, and front-panel trim controls, the speaker echoes the bold styling of JBL's iconic professional monitors and delivers on the promise of conveying artist intent with sonic purity.
Mark Henninger praised the 4349s for conveying mesmerizing sound, characterized by silky highs, a smooth, natural midrange, powerful bass, and a wide, deep soundstage. "The JBLs delivered a nonstop stream of sublime listening sessions, easily blowing past my highest initial expectations. Sure, I anticipated they'd be good speakers…But I did not expect they'd deliver proper pinpoint imaging and a three-dimensional soundstage, regardless of where I sat on my sofa."
Citing one of several specific examples, Henninger wrote: "Binary, the 2019 album by Sounds from the Ground sounded absolutely stunning. The dynamics were incredibly clear and precise, with each instrument mixed in perfect balance…Listening to the JBL 4349s is not a 'wow, those speakers sound amazing' experience. It's all about the 'wow, that music sounds amazing' experience, in which the speakers are transparent conduits for what's found in the recording." What more can you ask for?
AT A GLANCE
Plus
Realistic soundstage
Wide sweet spot
Plays loud and deep
Minus
Power hungry
Expensive
Requires a stand
Full Review Here (posted 1/30/23)