'Tis the Season for Christmas Movies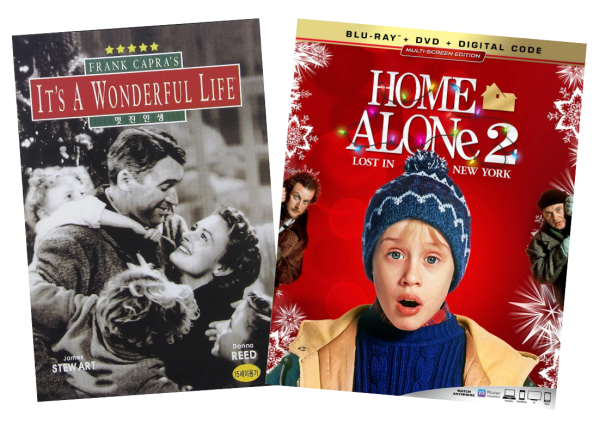 Christmas! Chestnuts roasting on an open fire (hopefully in a fireplace). Jack Frost nipping at your nose. This year, it appears that Christmas will bring more than the normally welcome Christmas snow. Here in north Florida, snow isn't on the menu, but a Christmas chill is still expected (north Florida is different from Miami in any number of ways).
Snow or not, Christmas will bring a blizzard of Christmas movies to your cable, streaming-services, and even on Blu-ray. In a Walmart yesterday I saw a whole rack of Blu-rays and DVDs dedicated exclusively to seasonal fare.
Pre-Christmas brings a mountain of demands on our time. But sometime after the holiday itself, the inevitable lull between Christmas and the arrival of 2023 (mein Gott, is it 2023 already!) is a time when a Christmas movie or two will find its way onto your TV or home theater screen. Few Christmas films will send chills to your subwoofers, but might just rekindle the holiday spirit after weeks of furious shopping and other sorts of seasonal chaos.
Christmas movies are as old film itself, or at least since the "talkies" were invented. It's a Wonderful Life from 1946 (with James Stewart) needs no introduction. If you haven't seen it as yet (and few haven't) it's not to be missed and worthy of an annual holiday watch. Yes, it's sentimental (not uncommon in many of the films here, particularly the older ones) but if Christmas isn't a time for a bit of sentimentality, what season is?
Meet Me in St. Louis from 1944, with a young Judy Garland and Margaret O'Brien is highly regarded as a Christmas film. I confess that I've never seen it, though I have seen clips of two of its featured tunes, the title song and "Have Yourself a Merry Little Christmas."
Nor have I seen Holiday Inn from 1942 with Bing Crosby and Fred Astaire. Its major claim to fame is that it introduced the song "White Christmas" to the world, and at one time (and perhaps still) this was the most widely played song in history. And it certainly had a special meaning in 1942, with millions of American soldiers fighting overseas in WW2. The song was roughly adapted for the film White Christmas in 1955 with (again) Bing Crosby and (a relatively subdued) Danny Kay.
Perhaps the granddaddy of all Christmas stories is A Christmas Carol. This has been committed to film endless times, including The Muppet Christmas Carol with Michael Caine as Scrooge, an animated Disney version in 3D with Jim Carrey voicing the main role. Patrick Stewart also made a solid go of it, as did George C. Scott. Even Bill Murray starred in the retitled and reconfigured Schrooged (1988). But the critical award for the best version goes to Alastair Sim from 1951. It's darker than many competing versions, but well worth a watch.
Moving to more recent productions, all of them in color (many of the above productions are in black and white), how could we not start with A Christmas Story from 1983 with Peter Billingsley and Darren McGavin. Young Ralphie doesn't want his two front teeth for Christmas, but rather a Red Ryder BB-gun. His mother complains that "You'll shoot your eye out" while his father is excited about a strange new table lamp. The film is a Christmas television icon.
The Nightmare Before Christmas from 1993 is a weird experience. Half Christmas story and half Halloween, it's a dark fantasy filmed in stop-motion animation. Hard to describe in a sentence or two, it simply must be experienced. Jack Skellington, the Pumpkin King of Halloween Town, goes out in search of something new for their annual Halloween celebration and discovers a door into the unknown Christmas Town. When he tries to explain it to his fellow ghouls back home, they want to learn more about this "Sandy Claws." They proceed to make Christmas into their darker vision, with hilarious results. A must see if you're into animation, or even if you're not.
The Man Who Invented Christmas, from 2017, stars Dan Stevens as Charles Dickens and Christopher Plummer as an imaginary but also believably real Scrooge that haunts Dickens as he fitfully attempts to write A Christmas Carol while also being harried by his publisher, his creditors, and his near-do-well father (Jonathan Price).
The Polar Express (2004, Tom Hanks, voice) is a computer animated film that doesn't really work. Its biggest failing is that the animation tries too hard to convincingly replicate humans, ending up in what animators call the uncanny valley, where human features are "off" just enough to look creepy. If that doesn't bother you, however, the film should light up your home theater's audio and video a little better than most of the above entries.
Is the first Die Hard film, from 1988, a genuine Christmas movie? Like most near-but not quite Christmas stories, it could be called either way. But as the best of the Die Hard films, and taking place on Christmas, it's hard to leave off this list. Bruce Willis turns in a strong performance as off-duty cop John McClane performing almost superhero feats.
I'll end with two of my favorite, relatively recent Christmas movies: Home Alone (1990) and Home Alone 2: Lost in New York (1992). The critical reception of these films was mixed to say the least, but the public ate them up. Home Alone, in fact, was at the time, and may still be, the highest grossing Christmas movie of all time at $477 million (over a billion in 2022 dollars). While Home Alone 2 did less business, it was still over $350 million.
Both films involve young Kevin McCalister being accidentally left at home (in Home Alone) and in New York City (Home Alone 2). Played by a then young acting phenom, Macaulay Culkin, Kevin is endlessly resourceful in warding off the same pair of clueless bandits in both films. Slapstick is the order of the day in the Kevin vs. bandits scenes, which can only be described as live-action Road Runner cartoons. They're hilarious, though more than a little over-the-top. But it's the warmth elsewhere in both films that give them their staying power, as Kevin helps two strangers find the true spirit of Christmas — a lonely neighbor in the first film and a homeless Pigeon Lady in the second (the latter in a wonderful performance by Irish actress Brenda Fricker).