Prince 1999 - Super Deluxe Edition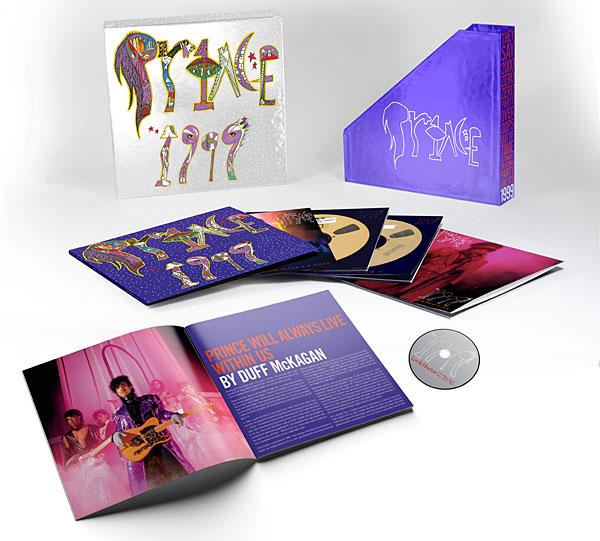 What ultimately emerged from this relentless studio activity in October 1982 was Prince's first double album—the 70-minute, 11-song masterstroke known as 1999. Featuring a more accessible multi-genre blend comprised of funk, rock, soul, R&B, synth pop, and more, 1999 put everyone on notice that Prince was taking over the '80s— ready or not.
Following Prince's untimely passing in April 2016, his estate has since shepherded a regular spate of updated re-releases, archival collections, and extended box sets. The latest offering is a (literally!) shiny new 1999 box set, which, in its Super Deluxe Edition form, contains five CDs and one DVD—or, if you prefer vinyl, ten 180-gram LPs, along with the same DVD. (Don't even think about eyeing those truncated "regular" Deluxe editions!) The box adds 65 tracks beyond the original album, consisting of promo mixes, B-sides, and two discs' worth of vault selections (23 of them previously unreleased), plus two different live gigs from late-1982 (one on CD, the other on DVD). The included 40-page booklet houses astute annotation and analysis, not to mention a wide swath of photos and 10 pages' worth of Prince's handwritten lyrics. (The man sure had clean penmanship, I must say.)
The original 1999 album covers two LPs (or one CD). Side 1 is as perfect a side as can be, given the undeniable triple- threat punch of "1999," "Little Red Corvette," and "Delirious." The rest of the main album is just as satisfying, as witnessed by "Let's Pretend We're Married" (wherein Prince handles every manipulated vocal) and "All the Critics Love U in New York" (note that King Crimsonesque angular guitar attack).
Once you start diving into the extras on the next four discs or LPs, it's like tackling a tasting menu where everything you sample has a singularly unique flavor you want to experience over and over. For starters, dig if you will some B-sides—the stripped-down come-on of "Irresistible Bitch," the narrative, er, anatomy lesson of "Vagina," and the swaggering mind-shift request of "Rearrange." And then try on vault-unearthed gems like the Linn LM-1 drum machine- driven new-wave warble of "Purple Music" the fluffy, dreamy psychedelia of "Moonbeam Levels," and the defiant, sultry snarl of "No Call U."Meanwhile, Disc five, an electrifying November 30, 1982 late show in Detroit, is bookended by the super-hot, pulsating "Controversy" and the fist-and- crotch-pumping "D.M.S.R."—the latter of which is a come-hither acronym for Dance, Music, Sex, Romance, one of Prince's earliest mantras.
The menu-less DVD serves up 68 unrelenting minutes of a previously unreleased December 29, 1982 gig at the Houston Summit. Just in case you were wondering about that format choice, the source material is in 480p and the mix is LCPM stereo—and let's give credit to Niko Bolas for dialing up the energy of said mix—but there's really no advantage to having even considered going the Blu-ray route here. Even so, Prince and the prototypical Revolution's performance itself is a pure knockout. His mostly solo falsetto-and-rap take on "How Come U Don't Call Me Anymore?" while simultaneously "interacting" with his piano— imagine Michelle Pfeiffer's piano-draping moves in the movie The Fabulous Baker Boys, but only Prince-ier—is an absolute tour de force.
My only nitpick: For this box to have been even more fulfilling, it would have been nice to have the dynamic, performance-oriented of-era videos for "Little Red Corvette" and "1999" included on the DVD. These were the core clips that, once MTV finally lifted their color barrier in mid-1983, truly opened the door for Prince to reach the much broader audience he had always been seeking—as well as pave the way for the full-on mainstream acceptance of his ensuing June 1984 mega-opus, Purple Rain.
Akin to fellow uber-prolific artists like Jimi Hendrix, Miles Davis, John Coltrane, and Bob Dylan, anything Prince put to tape in his lifetime is worth hearing, imo. While Purple One purists may quibble at certain latter-day mixing and track-editing choices, eagle-eared listeners can sift through what's offered here and appreciate the sonic breadth of the multitalented man's legacy as a whole.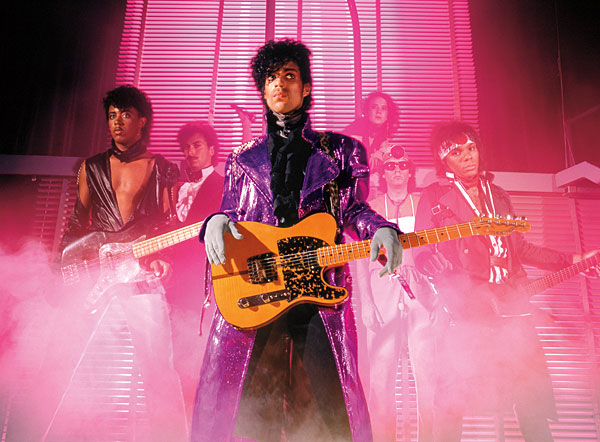 Remaining word count, zero zero—oops, review over, out of lines. So tonight, I suggest you prime your turntable and/or disc player accordingly to cue up this truly astonishing Prince box set and party like it's. . . well, you know the rest.
CD&DVD
Label: NPG/Warner Records
Audio Formats: 16-bit/44.1kHz PCM Stereo (CD); 24-bit/48kHz LPCM Stereo (DVD)
Number of Tracks: 76 on 6 discs (65 on 5 CDs, 11 on 1 DVD)
Length: 7:01:51 (5:53:22 on 5 CDs, 1:08:29 on 1 DVD)
Producers: Prince (original & archival recordings); Michael Howe (archival material)
Engineers: Prince (original & archival recordings); Peggy McCreary, Don Batts (original recordings, 2019 promo & B-side remasters); David "Z" Rifkin (live material); Niko Bolas (live material & DVD stereo mix); Bernie Grundman (2019 mastering); Craig Anderson (DVD authoring)

Prince was determined. While he had made some inroads on both the sales charts and urban radio with his first four hot-button, mostly one-man-show albums of the late-'70s and early-'80s, an opening slot on The Rolling Stones' 1981 tour exposed the narrowmindedness of many concertgoers who outright booed and/or threw things at Prince and his band while they were onstage. That negative reaction was something the Minneapolis native channeled into a much more positive vein when he returned to the studio not long afterward, recording as many songs as he could possibly lay down (and then some!) in the year that followed.