Should I Replace My 20-Year-Old Subwoofer?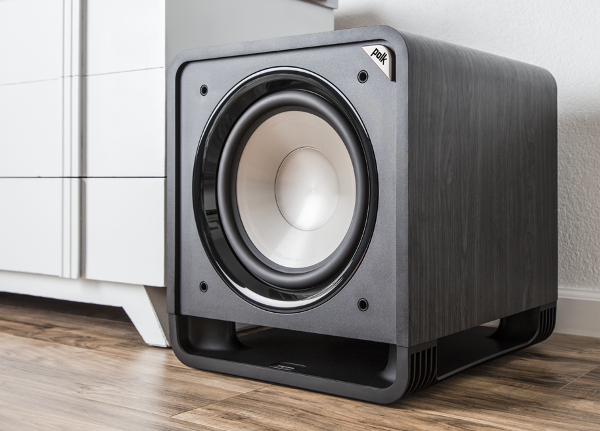 Got a tech question for Sound & Vision? Email us at AskSandV@gmail.com
Q I have a modest home theater in my basement that I have been slowly upgrading over the last two decades. The only component I haven't upgraded yet is my Polk Audio subwoofer since it was a pretty decent model when I purchased it 20 years ago. The Polk is a vented sub with a 12-inch driver and a Class-AB amp rated for 100 watts continuous (400 watts max) output, with frequency response rated down to 28 Hz. Here's my question: Would I benefit from upgrading to a new 12-inch sub? I am currently looking at a Polk HTS 12 (pictured above), another model with a 12-inch driver but a Class-D amp rated for 200 watts continuous (400 watts max) output, and frequency response down to 22 Hz. My system is in my basement rec room, a 3,200 cubic foot space, and I mostly use it for watching movies and occasionally for listening to music. —Cal Rempel, via email
A An approximately 3,000 cubic foot space such as yours would be considered as edging on "large" for a home theater. And while you might think that a single subwoofer with a 12-inch driver might not be enough to fill a large space with bass, the THX certification program consumers can use for comparative shopping has certified 12-inch subwoofers under its Ultra specification, which is for spaces up to 3,000 cubic feet. (See our review of the $800 Monoprice Monolith M12-S, a 2019 Top Pick of the Year finalist.) One THX Ultra requirement is that the subwoofer be able to hit a peak sound-pressure level (SPL) of 115 dB in a 3,000 cubic foot room from a distance of 12 feet. And while it's unclear if your current subwoofer is capable of delivering that level of performance, there are other reasons why you might want to upgrade to a new model.
Newer subs offer features like DSP controls, onboard room correction, and parametric EQ adjustments. Some also provide iOS/Android apps that can be used for easy setup and calibration, and for making on-the-fly tweaks while viewing/listening. While the Polk Audio HTS 12 you're looking at lacks features like app control or room correction, one key upgrade it does provide is Polk's Power Port, a bottom-mounted, floor-firing design that effectively minimizes port noise and turbulence — artifacts you're most liable to hear when watching movies with powerful low-frequency effects.
If you do upgrade to a new sub, you might also want to hang on to your old one. Using dual subwoofers will help to smooth out response so the sound is equally balanced across multiple seats. In some ways, deploying multiple subs in your system is the best possible bass upgrade you can make.
Related: