Samsung QN65Q90R LCD Ultra HDTV Review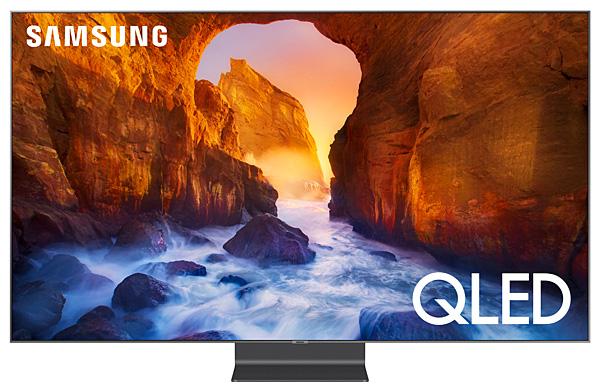 PRICE
$3,500
AT A GLANCE
Plus
High brightness
Good off-center picture uniformity
Vivid HDR
Minus
No Dolby Vision support
Remote control ergonomics
THE VERDICT
There's little to criticize, and much to like, about Samsung's new flagship LCD UHDTV.
TVs are cheaper than ever. Really. When you see a set priced at $3,500 and your first reaction is a gag reflex, ponder this: a CRT color TV in 1970 might well have cost you $350. That would be a simple tabletop model offering glorious 480i standard definition on a 19-inch screen, and it would cost $2,400 in today's money. Current-day premium sets do command similarly high prices, but they now offer more features and better performance than ever before. The 65-inch Samsung Q90R reviewed here has a suggested retail price of $3,500, though it can be found online for significantly less. There are also 75- and 82-inch Q90R series models, the latter retailing for $6,500. One couldn't even dream of a 65-inch set in 1970, much less an 82-incher.
Features
The Q90R series swaps the left and right feet of Samsung's step-down Q80R for a center-mounted stand. With a thin, black bezel and attractively textured back, it's not cosmetically dissimilar from many of its competitors, but one feature does set it apart: Samsung's One-Connect box. Exclusive to the Q90R series, this external brick-shaped device contains all of the set's inputs and outputs, along with the power connection. The box links to the set via a single thin, nearly invisible, fiber-optic cable, allowing for a wall mount without a forest of wires running under the TV. The video inputs are limited to HDMI, with no component- or composite-video connections.
The two longstanding weaknesses of LCD TVs have been mediocre black levels and off-axis performance. Full-array local dimming (FALD) backlights have largely solved the former issue. By my count, the Q90R has over 400 local dimming zones—an impressive number. Samsung has also dramatically improved the LCD off-axis shortcoming. As always, the best seat is front and center, but most viewers will be able to comfortably view this set without complaint from any practical seating position, even at 45 degrees off-axis (or beyond) seats to either side. Samsung also has a new anti-reflective screen design that dims reflections by spreading them out across the screen. (The best solution for reflections, as always, is to prevent light sources from directly hitting the screen.)
Samsung uses Quantum Dots (the "Q" in QLED) in its backlighting. Quantum dots are known for the wide color range they provide, and Samsung claims 100 percent color volume for the Q90R. Our measurements came in below that, but the results were close enough that visible differences are likely to be irrelevant.
Of the set's four available picture modes I used Movie exclusively. There's also a Game mode, but it's buried deep in the General menu. Settings>General>External Device Manager>Game Mode Settings>Game Mode is hardly intuitive, and to turn it off you have to repeat that sequence.
Both 2-point and 20-point white balance adjustments are provided, as is a full color management system (CMS). Motion compensation is available under Auto Motion Plus with Auto and Custom settings, the latter offering separate Blur and Judder controls. An LED Clear Motion option (black frame insertion) can reduce any "soap opera" effect resulting from Auto Motion Plus, but it also makes the picture darker. As usual, I left Auto Motion Plus off.
The Q90R is compatible with the HDR10, HDR10+, and HLG high dynamic range (HDR) formats, but not Dolby Vision. Since HDR10+ material, which includes dynamic metadata, is currently very limited, Samsung instead uses its own algorithms on the static metadata in HDR10 (and the HDR10 base layer in Dolby Vision sources) to generate dynamic tone mapping, adjusting the results scene-by-scene.

Samsung's Tizen Smart TV menu offers a full selection of smart apps, including the Apple TV app. Though competent, I found it annoyingly bright when called up while watching an HDR source. The Q90R supports AirPlay 2 wireless streaming and is compatible with Amazon and Google vocal assistants. Samsung's own Bixby voice assistant is also built in. By speaking into the remote, this can send you directly to, or near, a desired menu setting. But Bixby's response was so sensitive to my word choices and diction that I ultimately found it frustrating to use.
Samsung's small, black, non-backlit remote control is easy to misplace in the dark, and I found its buttons to be overly touch-sensitive. At least once or twice during a viewing session I would hit one of them by accident, transporting me to the Netflix, Amazon Prime, or Hulu app when I had no desire to go there. Samsung's Ambient mode displays a selected image onscreen, including, if desired, a photo of the wall behind the TV to make the set "disappear" into the room decor. Thanks to the TV's remote, I often made unplanned visits to that feature as well.
Setup
All four of the Q90R's HDMI 2.0a inputs can pass the full bandwidth (18Gbps) required for current 4K consumer sources. The Ultra HD Blu-ray of Billy Lynn's Long Halftime Walk, the only 60Hz consumer source known to us, played back in 4K, 60Hz, HDR, BT.2020, 4:2:0, and 10 bits.
While the set's inputs are HDMI 2.0a and not HDMI 2.1, they offer some HDMI 2.1 features that are important to gamers, including VRR (Variable Refresh Rate) and ALLM (Auto Low Latency Mode). The set also supports FreeSync, a feature meant to reduce tearing and stuttering. HDMI 2.1 features that the set doesn't support include display of frame rates above 60Hz (there currently are none that we know of) and Enhanced Audio Return Channel (eARC).
The set's optical digital output can pass lossy Dolby Digital and DTS soundtracks to an outboard device like a soundbar. However, it will only pass Dolby Digital in full 5.1; DTS sources are limited to 2.1. For this reason, routing audio from the set using one its HDMI-ARC port is a better option, although not all soundbars have an HDMI input.