LG Rolls Out its 2019 Ultra HDTVs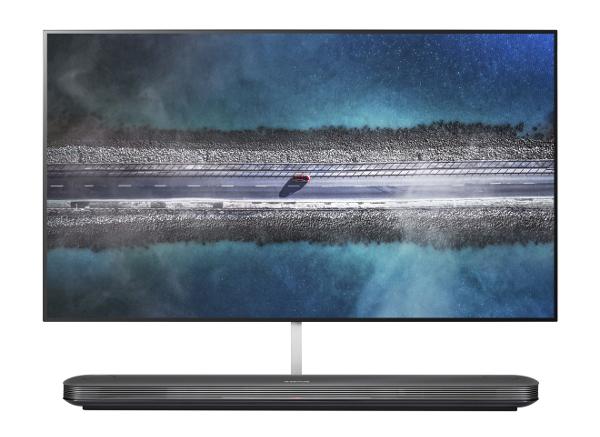 Shortly after sending out formal press releases for its 2019 television and audio lineups earlier this month (the products were first shown at the 2019 CES in January), LG held a March 20th press event in New York to expand on the details. LG began by noting that of the 36+ million sets sold in the U.S. market alone in 2018, only 2.4 million were priced above $1,000. Also notable is that 36% of the TVs sold in the U.S. for more than $2,000 were 70-inches or above. Globally, however, large sizes aren't as popular.
The 2019 LG product rollout will begin in April with the new 65-inch E9 and C9 OLEDs, with others to follow in May and June. Pricing on the OLEDs will range from $12,999 for the 77-inch W9 (June) to $2499 for the 55-inch C9 (April). The MSRP for the 65-inch C9 (April) is $3,499. Its 77-inch C9 sibling (May) will cost you $6,999. The least pricey LG OLEDs, the B9s, should be available later but were otherwise not covered at the event. No prices or details were given for the B9s, nor for LG's NanoCell (LCD) sets.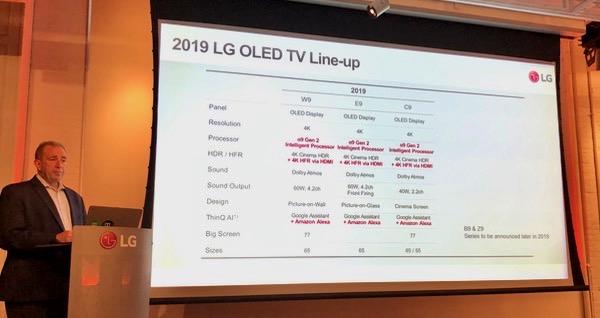 LG is expected to debut their 8K models later this year but have not confirmed a specific date. In the meantime, they've conducted panel tests comparing a 4K LG OLED with its major competitor's 8K LCD (the latter either by upconverting the same 4K source to 8K or feeding the 8K set a true 8K source of the same material). Their results showed a clear preference for the 4K OLED. Such tests are, of course, always fraught with "what if" questions, and like all A/B comparisons the variables must be tightly controlled. But given the fact that resolutions beyond 4K (some might say 2K!) will be subtle at a reasonable viewing distance, the results appear credible. Color, black level, and HDR contribute far more than resolution to the overall picture quality. But bigger numbers in the resolution specs sell TVs and are easier to promote than those other vital, but esoteric, qualities.
Taking Artificial Intelligence to a New Level
For 2019 LG has improved its Alpha9 processor, now called the Alpha9 Gen2, to dramatically enhance its artificial intelligence (AI) capabilities. The most significant of these, and perhaps the most controversial, is the Deep Learning algorithm. When it spots a picture problem it corrects it instantaneously, using an extensive library of files stored in its internal database. These files suggest what that particular picture element or elements should look like. The fussy videophile will want to know more, particularly if the AI is sophisticated enough to determine whether a perceived "error" in the incoming source material, such as grain, a light fog, or soft focus, is truly an error or reflects the filmmaker's intentions.
The Deep Learning feature also functions on the sets' on-board audio. In addition, the new LG sets are compatible with WiSA wireless surround audio. When used with 3rd party, self-powered, WiSA-compatible wireless speakers, an LG set can be the centerpiece of a full 5.1-channel surround system without the need for an AV receiver.
The new LG sets are also compatible with Amazon Alexa, Google Assistant, and Apple Play with no need for an outboard listening device.
The auto calibration feature for LG TVs, used in conjunction with CalMAN from Spectracal, is now called Auto Cal II. The biggest changes are the addition of auto correction for luminance error in the HDR EOTF (gamma) curve and an internal test pattern generator in the sets (color only for SDR).
While LG is bullish about the prospects for its 2019 OLED lineup, the company is also enthusiastic about its LCD sets, dubbed NanoCell. These sets use IPS (In-Plane Switching) LCD panels for superior performance when viewed off-center. From top to bottom there are four NanoCell lines: SM9500 (65-inches only), SM9000 (55, 65, 75, and 86-inches), SM8600 (39, 55, 65, and 75-inches), and SM8100 (55 and 65-inches). All are 4K (there are no 2K sets in LG's 2019 lineup — if you see one for sale it's an unsold left-over from an earlier year). Only the SM9500 and SM9000 sets have full array local dimming (FALD). All except the SM8100s use the Alpha9 Gen2 processor and offer on-board Dolby Atmos (an interesting and perhaps useful feature, though I wouldn't advise scrapping your plans for full, outboard Atmos system or chucking the one you might already have).
All of LG's 2019 sets are HDMI 2.1-capable, with a few limitations mainly involving variable refresh rate (VRR). Specifically, the W9 OLED and SM8600 series NanoCell LCD sets lack VRR support. Among the SM9000 NanoCells only 55- and 65-inch models will support VRR.
I normally don't get excited about soundbars, but there's no denying their popularity. Last year LG teamed with Meridian Audio for their premier soundbar offerings, and this year that partnership continues. The three top models — the 4.1.2-channel SL9YG ($999) due in late May, 5.1.2 SL10YG ($1,299) due in mid-April, and 3.1.2 SL8YG ($799) also due in mid-April — were all designed together with Meridian and offer on-board Google Assistant and Dolby Atmos. The latter is of course limited compared with a full Atmos setup, but will likely be a step up from the Atmos capabilities built into the new LG sets.
At the event we also learned that Spears & Munsil, well-known among enthusiasts for their HDTV Benchmark test discs on Blu-ray, are readying an Ultra HD Benchmark disc. It should be available shortly. We look forward to putting it through its paces, along with LG's new Ultra HDTVs.