A Home Theater Worthy of the Seven Kingdoms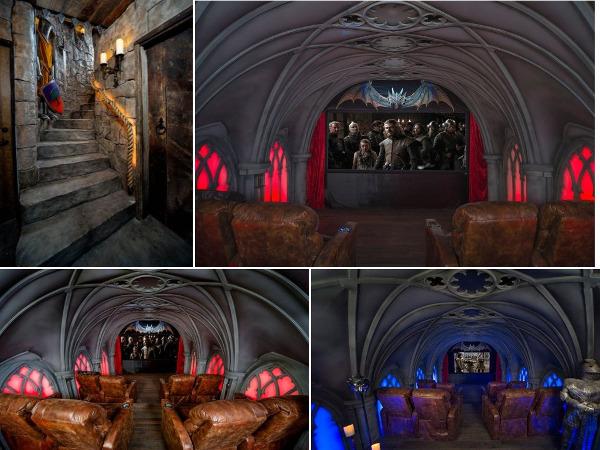 The following case study was submitted by Erin Phillips of the Wakefield, RI-based public relations and marketing firm Caster Communications.
It's no secret that there are a lot of fans of HBO's hit series Game of Thrones who watch the show religiously. But for some, simply watching the show is not enough. We're talking superfans who want to be transported directly into the world of Westeros, surrounded by the excitement and consumed by the atmosphere — every sound, every visual, and every emotion. Just ask Jacob Abbott, president of Nashville, TN-based custom-electronics design firm Visual Concepts, who worked with a GoT superfan to bring his dreams to life through one truly unique home theater.
The Challenge
Abbott's customer came to him with a vision for a Game of Thrones/Spartacus-themed home theater that was nothing short of spectacular. Before approaching Visual Concepts, the customer had already sought help from two other custom-installation companies, but neither had the capability nor the creativity to build the theater he envisioned or carried AV gear that could deliver the level of performance he demanded: Powerful, clear sound that would blow him (and his guests) away when fire-breathing dragons roared overhead or thousands of horse-mounted warriors clashed on the battlefield.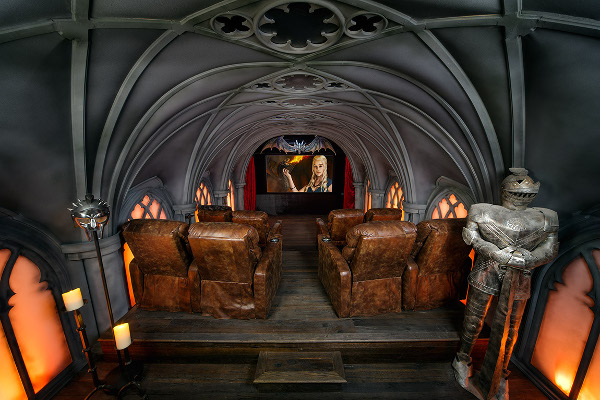 Abbott and the rest of the team at Visual Concepts were intrigued and more than up for what turned out to be a most unique challenge. "Listening and truly getting to know your customer is incredibly important when designing custom home theaters," Abbott said. "In my nearly 20 years of doing this, never before have I worked with a more avid movie buff/audiophile with such cool memorabilia that he wanted to incorporate into the space. To nail this project we knew we needed to think outside the box — from the equipment specified to the automation to every last detail in the interior. We needed to be inventive and over-the-top."
The Solution
Visual Concepts worked with the talented Donny Hackett to design and retrofit the room. After taking measurements, they used a sophisticated Computer-Aided Drawing (CAD) program to model the theater. At the center of the design process was one special and very specific request: The theater had to be a detailed replica of a scene from either Spartacus or Game of Thrones.
"Hackett's team let their imaginations run wild," Abbott observed. "Knowing nothing suggested would be seen as too much, they considered every detail of the room — from complete reconstruction of the stairwell, ceilings and walls, to rich fabrics and plush furniture, to specialized lighting and theme-specific automation features that incorporated the customer's medieval memorabilia."
To meet the customer's high sonic expectations, Visual Concepts specified a completely hidden 7.2-channel surround-sound system comprising gear from Pro Audio Technology. The proposed system was heartily embraced by the customer and even came in under budget.
"We are gratified that the Pro system was able to exceed the high expectations of the client," said Pro Audio Technology's owner and product designer L. Paul Hales. "Being a fan of Game of Thrones myself, I was blown away by the creativity and attention to detail that Hackett, Abbott and his team put into this project."
For video, the team at Visual Concepts was able to get their hands on one of the first Wolf DLD-280FD laser DLP projectors, which was pressed into action with Wolf's ProScaler MK III, a Seymour AV projection screen, and Helix media server. The entire AV rack, including four Pro Audio Technology PMA series power amplifiers and a Marantz AV preamp/processor, is hidden behind a 7-foot-tall motorized door that can only be unlocked by lifting the end of a customized skeleton key installed on a nearby shelf (above right).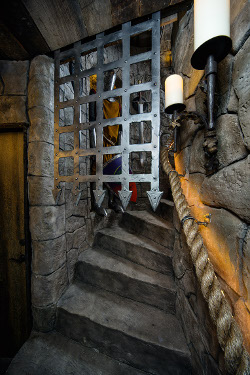 But that's far from the theater's most exciting feature. Visual Concepts worked with Hackett's team to transform the stairwell leading to the theater into the kind of spiral staircase you would expect to find in a medieval castle — complete with convincing stone work (made of concrete) and a motorized lift gate. The theater is situated above a garage so it needed to be soundproofed. To keep the space as quiet as possible, Abbott and his team used a significant amount of Dynamat sound-deadening material during construction.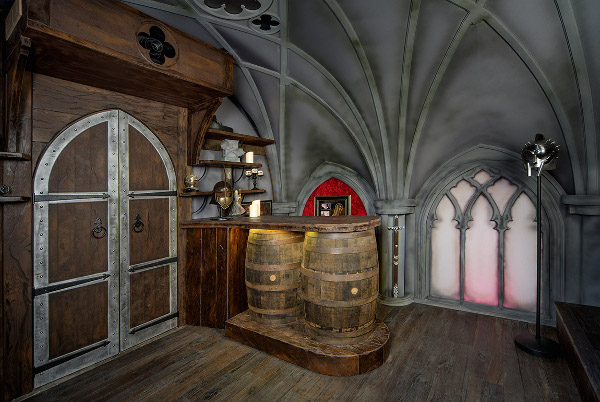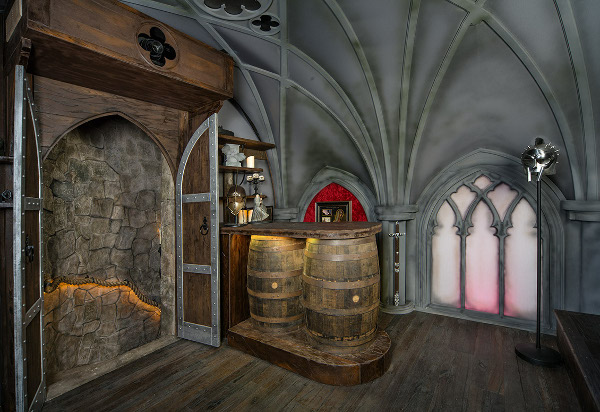 At the top of the winding stairs, visitors are greeted by a wooden arched double-door entrance. To the left of the entrance is a custom-made bar atop whiskey barrels, antiqued to give it an authentic look. In addition to a starlit vaulted ceiling, the theater's walls are highlighted with DMX RGB lighting, which along with the room's automated features and AV system, can be controlled via an iPad connected to a Control4 automation system.
Taking the automation experience to the next level, Visual Concepts worked with the designers to integrate the customer's sword collection into six motorized columns throughout the room, each lit from within and timed to rotate, open, and light up, exposing the swords one by one in dramatic fashion.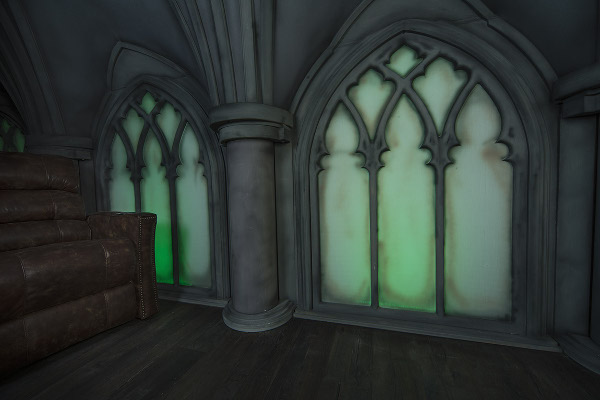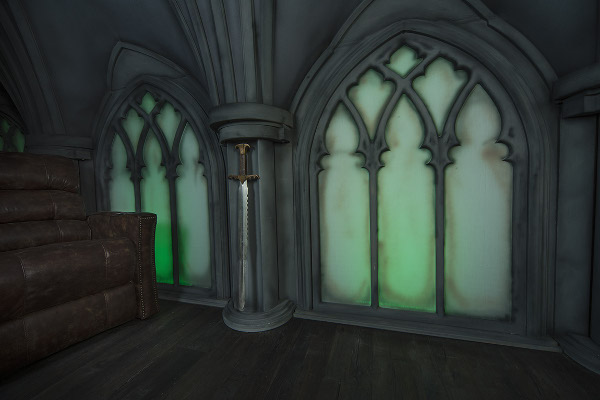 Yet another surprise feature is a coffee table featuring a back-lit, CNC-machined Game of Thrones map. As if that's not cool enough on its own, knock on the table three times and it opens, revealing hidden gaming consoles. Other custom touches include "Sir Duncan the Tall," a full suit of armor that stands guard at the rear of the theater, and a customer-supplied dragon head with custom-built wings and light-up eyes perched on the wall above the projector screen.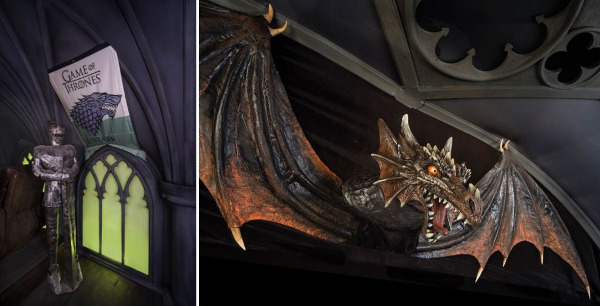 One Impressive Theater
From design and construction to installation and automation, the Game of Thrones/Spartacus-themed theater took more than a year to complete with dozens of hands on deck and at the substantial cost of more than $250,000, half of which was dedicated to the stealth AV system.
Visitors are immediately transported through time as they walk beneath the lift gate and up the candle-lit staircase, complete with a varnished rope hand rail, to the otherworldly theater above.

"Our client was extremely specific right down to the most minute details, but as the popular Game of Thrones saying goes, 'the man who passes the sentence should swing the sword', and that we did," Abbott observed. "Each challenge the client presented gave us the opportunity to build something bigger and better than anything we'd done before. Not only is The Game of Thrones theater by far the best-looking and best-sounding room we've ever built, the real satisfaction comes from seeing the look of pure joy on our client's face. Even as a GoT superfan, he was completely and totally blown away by the final product. It was an amazing experience and I am forever grateful for the opportunity."
EQUIPMENT LIST
• 7.2 Pro Audio Technology in-wall speaker system
• Pro Audio Technology PMA series amplifiers
• Marantz AV preamp/processor
• Control4 automation system (for controlling AV, lighting, and the motors that operate hidden swords, an equipment door, and a motorized gaming table)
• DMX RGB lighting
• Wolf DLD-280FD 4K DLP laser projector
• Wolf ProScaler MK III
• Seymour AV projection screen
• Helix Media Server
• Dynamat soundproofing
• Theater design and special effects by Donny Hackett Design