Why S&V's Disc Reviews Count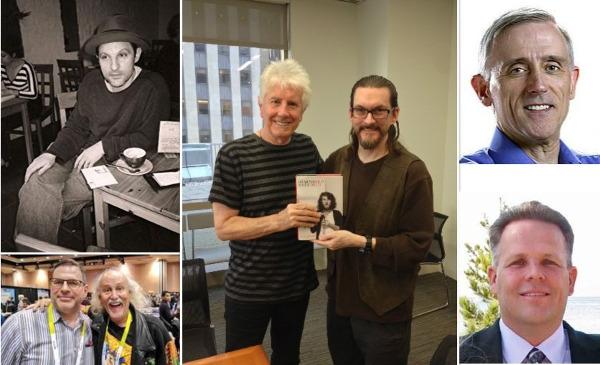 A recent reader comment on this site gave high praise to the magazine's AV equipment reviews, but then went on to condemn our "weak" attempts to review movies on Blu-ray disc. The gist of the message was that movie disc reviews are best left to websites that can cover them on a timely basis, as opposed to the weeks or even months that it can take for Sound & Vision to turn out reviews of the same titles.
While I understand (to a point) where the commenter is coming from, I'd like to make a case here for the importance of movie and music reviews in Sound & Vision magazine.
Yes, product reviews and tech info are undoubtedly the main reasons why readers turn to S&V — those topics are clearly our specialty. But I'd also argue that AV gear should not exist in a vacuum. Movies and music are the lifeblood of what we do; nobody goes through the trouble of putting together a high-performance system simply to view video test patterns and listen to audio test tones. (And if you do, well….)
The above-average systems that our reviewers have access to also make us uniquely qualified to comment on the visual and sonic quality of a particular release. When a review in S&V points out the crisp picture on a specific disc, or the dynamic character of its soundtrack, you can take that info to the bank. This is probably the biggest advantage S&V offers over more general disc review sites.
I'd also like to comment on the caliber of Sound & Vision's stable of reviewers. Chris Chiarella is a film fanatic who has been churning out disc reviews since way back in the laserdisc days. Josef Krebs is a cineaste with a deep knowledge of classic, independent, and international film. Thomas J. Norton and David Vaughn are not just gear reviewers, but movie buffs with state-of-the-art home theaters who also regularly attend theatrical screenings for reference. As for music, S&V music editor Mike Mettler is a lifelong collector with an extensive vinyl and CD archive. Mike also has what is probably one of the world's most complete libraries of 5.1 surround music on DVD, Blu-ray, SACD, and DVD-Audio, which he regularly digs into as a resource for Remaster Class.
To sum up, I am in total agreement with the suggestion that disc review websites like The Digital Bits, Blu-ray.com, and High-Def Digest (not to mention CineSavant and DVDBeaver) do a solid job of covering the latest releases, and doing so on a timely basis. But let's not completely count Sound & Vision out of the disc reviewing biz. We may be slower on the draw, but our bullet almost always hits its target.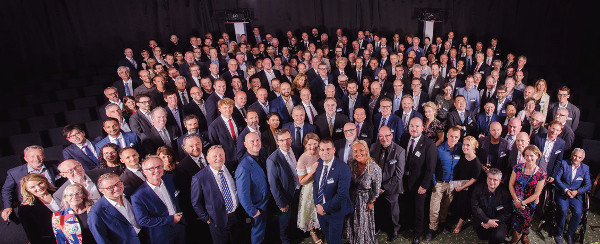 EISA Awards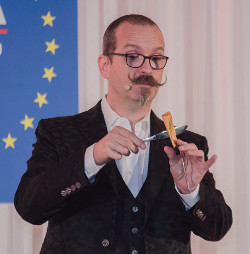 I had an opportunity in late August to attend the Expert Imaging and Sound Association's Gala ceremony in Berlin, where the 2018-2019 EISA awards were presented. (There I am in the group photo under the video projector way in the back on the left, along with Keith Pray, general manager of AVTech Media Americas.)
For me, the most impressive thing about this event (aside from the amazing magicians who performed between awards), was getting to meet with a large, international group of fellow AV magazine editors. It really drove home the reality that the print magazine is still a viable medium. Since the Gala was scheduled to coincide with Berlin's IFA convention, I also had a chance to look at the 8K LCD and OLED TVs coming from Samsung and LG, respectively. An impressive duo of next-gen Ultra HDTVs to be sure.