Yamaha RX-V685 AV Receiver Review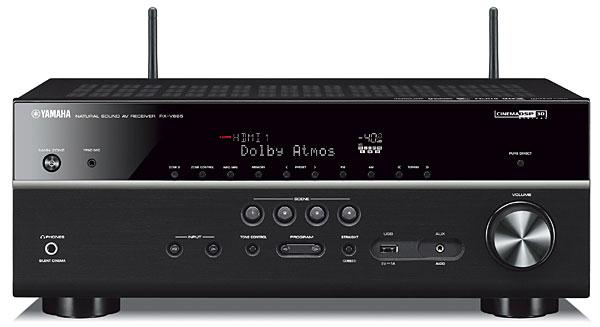 PRICE
$599
AT A GLANCE
Plus
Class-leading DSP surround
5.1.2-channel Dolby Atmos/DTS:X decoding
Useful Scene memory feature
Wireless surround speaker (and multiroom) option via MusicCast speakers
Minus
No 9-channel (front- and rear-height) Atmos/DTS:X expansion option
Slow DLNA audio streaming respons
THE VERDICT
Yamaha's unique DSP-surround technology sets apart what is otherwise still a strong A/V receiver in a highly competitive market niche.
I get to review a lot of A/V receivers. Familiarity breeding— well, familiarity— I confess that I tend to sort new examples into one of three classes. The flagship models cost a lot, pump out 140 or so watts from each of at least nine and often more channels, and they tend to cram in every conceivable feature. Entry-level jobs are cheap, five- or seven-channel affairs that usually top out at 65-or-so real watts per channel and incorporate more basic feature sets. Everything in between I callously lump into the "commodity-class" rubric. These are the ones nearly everybody actually ends up buying, and for good reason: they're still heavily featured and impressively capable, but seductively priced at one-third to one-half what the cruisers and battleships cost, and just a couple of Franklins above the cheap 'n' cheerfuls.
But much like Orwell's farm animals, some, like Yamaha's latest example, the $599 RX-V685, are more individual than others. The V685 has all the expected check boxes: Dolby Atmos/DTS:X surround decoding with seven onboard channels of amplifier power to provide for a 5.1.2 front-height setup (or 7.1 surround with surround-back speakers); HDMI with full HDR compatibility and video processing including output resolution up to 4K; and a generous helping of wired and wireless streaming-audio options, including Pandora and Tidal, plus full participation in Yamaha's proprietary MusicCast multiroom-audio ecosystem.
Unfortunately, along with most of its class cohort the V685 lacks the line-level rear-height outputs that would permit users to add an outboard stereo amplifier, such as a mothballed stereo receiver or integrated amp, to provide power for a "full" 5.1.4-channel Atmos/DTS:X system. Pretty much in concert, the industry seems to have agreed (with "No collusion!" I'm sure), to force buyers requiring nine-channel capability to move up-range to the near-flagship models at the $1,200 or higher price level. That's a shame, in my book since system-growth expansion options are a foundation stone of the A/V hobby, something that lures unsuspecting users every deeper into audio and home theater.
Two factors set the new RX-V685 Yamaha apart. One is the firm's longstanding DSP-surround, an ability that can bloom stereo (and surround) recordings into richer, more detailed ambient experiences than can Dolby or DTS "Music" modes. Brand-Y has been the leading proponent of applying digital signal processing to the recreation of acoustic environments for some four decades, and its technical expertise, at least in the consumer space, is without serious rival. I am in general a fan: when judiciously applied to selected— that is, naturally recorded—acoustic music, Yamaha's processing, currently marketed under the "Cinema DSP 3D" rubric, can deliver a remarkable simulacrum of natural space.
The second is the V685's option to deploy a pair of Yamaha's MusicCast wireless speakers in the surround position, obviating the need for long speaker-wire runs to the rear of the room (see sidebar). MusicCast is Yamaha's proprietary wireless-multiroom ecosystem, competing in the distributed-music space with rivals such as Sonos and Denon's Heos. Yamaha also states that the V685 can integrate Amazon Alexa voice-assistant control through MusicCast, a feature my dystopia-phobia prevented me from exploring.
Setup
Unboxing Yamaha's latest revealed the familiar, black-rectangle format (would somebody please make an AVR in a different shape, like a sphere, maybe, or a banana?), with a single volume knob and numerous small, tinily-labeled pushbuttons for input and mode selection and other functions. (Apparently, our onscreen era makes legible panel graphics superfluous. I can't think of any A/V receiver fascia that does not require a flashlight and a magnifying glass.) Hooking up the usual complement of HDMI and speaker cables, I set theV685 into my system in a 5.1.2-channel configuration, with front-height "ceiling-bounce" speakers perched atop my long-serving Energy Veritas standmount monitors. The Yamaha's speaker outs are plastic multi-ways spaced too wide to accept standard half-inch dual-bananas, alas.