Why People Still Rent DVDs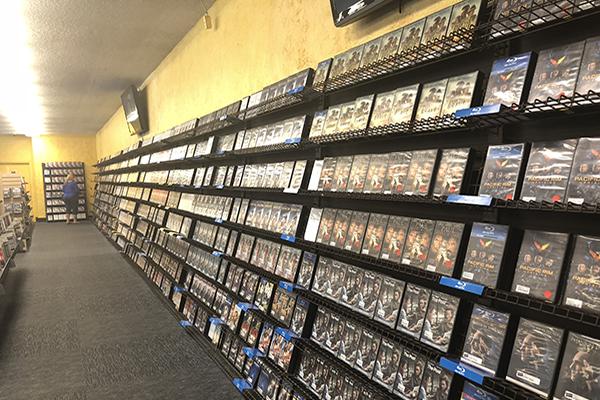 In the past weeks, much has been written about the closing of the Blockbuster stores in Alaska and about the
last store standing in Bend, Oregon
. Having lived in Bend for the past 10 years, it is clear that the reasons given for why these stores have stayed open is not true about Bend. A city of almost 100,000 people, Bend does not have slow internet speeds, sparse availability or unusually high ISP prices. Wondering why this Blockbuster has survived longer than any other, I decided to spend an afternoon speaking with employees and customers at our local Blockbuster. While some of the reasons for renting videos were about benefits of coming into a brick and mortar store, this Blockbuster's longevity is more about the strong values of this unique city in central Oregon.
While sparse internet access, slow speeds and high prices may have kept Alaskans from streaming movies, it is far from the case in Bend. The local internet company offers speeds of 100 Mbps for $45 per month. My internet speed is a whopping 600 Mbps, a recent upgrade from 300 Mbps that I've had for a few years. Other than outlying farm communities, this service is available to most who are close to the remaining Blockbuster store. It's not about a lack of internet access.
Some articles I've read hypothesize that the customers are older, don't have streaming services and are more comfortable with legacy technology like physical discs and players. But talking with the employees at the Bend store, many of the customers are in their 30 and 40s with families. Sandi Harding, general manager of the Bend Blockbuster, told me that it's not about people who eschew technology. Most have cell phones and tablets and are computer savvy. Many also have at least one streaming service (typically Netflix).
Since it's not about a lack of internet access, or a disinterest in new technology, there must be some other reason why customers continue to rent videos from the Bend store. It seems to be more about the community attitude of Bend, and what the Blockbuster store has to offer. This central Oregon town is on the eastern edge of the Cascade mountain range. It's not what most people think of when they imagine a town in Oregon. There are over 250 days when the sun shines and the average rainfall is a mere 12 inches compared with Portland to the west, which gets over 45 inches of rain. Bend is an outdoor playground with almost 400 miles of mountain biking trails, a ski resort, and a river running through the middle of town. It's perfect for families and it's the kind of place that boasts 28 craft breweries. People have been moving to Bend in droves over the past five years. Bumper stickers on cars here read "I love Bend Oregon," and "Be Nice You're in Bend."
Getting out of the house and strolling through the aisles was a common reason for coming in and renting at the Blockbuster store.
It is this attitude of family values and community support that has kept the Bend Blockbuster alive, and will likely help it survive into the near future. This, and smart business choices by Harding, who has managed the store for the past 14 years. She is well aware of the benefits of a brick and mortar Blockbuster store over streaming movies. First and foremost, she understands the importance of face-to-face interaction with her customers. Harding and her staff know many of the customers by name and remember what movies they rent. The staff is helpful in finding movies for the customers.
While I was at the store, a customer came in and asked, "Do you have A Wrinkle in Time?" Quickly an employee replied, "New or Old Version?" She had wanted the new version as Red Box had been sold out. The employee retrieved the title and the customer was good to go within minutes. New releases run $3.99 for a three-day rental. Customers can also call and ask for a title to be held for them. One gentleman came in to get Savages as he had just finished reading the book. A single father of a 7-year old girl, he is a regular at the Bend Blockbuster. By renting movies he can regulate what titles and how many movies his daughter watches. Kids' titles and older films run 99 cents per week. "If we had Netflix she would be watching all of the time and I'd never get a chance to watch the movies I want to see," he explained,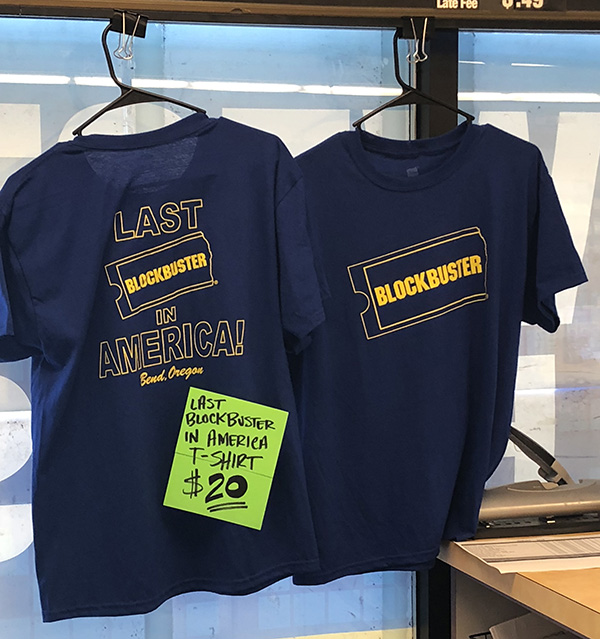 The ability to choose specific movie and TV titles was a reason a local friend of mine chooses to rent instead of stream. My friend doesn't subscribe to streaming services because she doesn't like violence in films and prefers to be very selective of what plays in their home. She also likes renting movies for the kids when they go on road trips. The seat-back players in her car only play DVDs. She can rent several movies for a week for 99 cents each and can keep her boys occupied for hours regardless of internet access on the road. Another customer told me she stocks up on children's DVDs when her grandchildren come to visit.
Walking through the aisles of the Blockbuster is one of the biggest reasons customers came into the store rather than streaming a movie. Several people said it was easier to find a movie they wanted to watch as they strolled past the titles arranged alphabetically in genres. Also consider that movie licensing agreements with streaming services are often changing. Other than using a service like Reelgood it can be difficult to find where to stream a specific movie title or browse a comprehensive list of titles. Physically walking past titles make them easier to find at a glance. Harding likened it to going to a library and browsing shelves of books.
It was ironic to find the discs from Netflix's original series The Crown.
One woman talked about how she liked to read the synopsis on the back of a box. Looking at the shelves of movies she would find titles that she would not have otherwise looked at. She also mentioned that when she rented older movies she would watch the trailers on the DVD and find other titles from the time when the movie came out. Getting out of the house and strolling through the aisles was a common reason for coming in and renting at the Blockbuster store.
Offering hard-to-find titles is another priority for the Bend store. Some older classic titles can be hard to find among streaming services. I walked past the original Stepford Wives (1972) with Katharine Ross that was on the shelf next to Planet of the Apes (1968) and The Sting (1973). Below those videos sat The Shakiest Gun in the West with Don Knotts. It's not just movies, but TV shows. One customer said she enjoys renting seasons of older TV series. It was ironic to find the discs from Netflix's original series The Crown. Harding tries to offer a good variety, and keeps a list of titles her customers request. Whenever possible she tries to find the disc and bring it into the store.
Blu-ray Discs now make up about a third of the store's inventory. New titles and a number of classics are now available in Blu-ray but there are no 4K Ultra HD Blu-ray discs. Harding explained that while 4k is getting more popular, there are few people requesting the discs. As disc prices come down and more people get players and request 4K, she will offer titles. There is no corporate buying for this Blockbuster. Harding goes out to buy the discs each Tuesday when new titles are released. The wide variety of candy and popcorn is bought at a local Cash and Carry store, and the discs are usually bought at the local Target or Walmart. She acknowledges that she is buying from big-box stores but feels buying locally supports the local economy.
It comes back to community loyalty. There are universal benefits to renting discs instead of streaming movies, but it is this loyal Bend community that keeps the local Blockbuster alive.
While local Bend couple Ken and Debbie Tisher license the Blockbuster name from Dish Network, it is still a locally owned business. Harding explained that the store was originally a mom-and-pop video store called Pacific Video. Despite the Blockbuster name, her paychecks still come from Pacific Video.
Here in Bend, supporting local businesses is still important even as the city grows. The publicity of this Blockbuster as the last one standing has brought back previous customers. More than one expressed to me that they want to become regulars again to make sure this Blockbuster stays in business. One woman, now in her 30s, remembers coming to Blockbuster as a little girl and wants to recreate the experience for her daughter.
In a world of convenient streaming, it is the human touch and community that may keep the Bend Blockbuster alive.