Sony XBR-65X900F LCD Ultra HDTV Review
PRICE
$2,300
AT A GLANCE
Plus
Excellent shadow detail
Superb color and resolution
Punchy HDR
Minus
Mediocre off-axis performance
Some blooming
THE VERDICT
The new Sony XBR-65X900F is no OLED-killer, but it offers OLED-like benefits at a reasonable price.
OLED ULTRA HDTVS grab most of today's headlines. And although prices for OLED sets have dropped dramatically over the last year, they still command a high premium. Even flagship LCD sets— Sony's Z9D line, for example—remain beyond the price reach of many consumers. Sony's new X900F LCD TVs, which are available in screen sizes all the way up to 85 inches, provide a more reasonable alternative. Choose the 65-inch X900F under review here and you'll leave the store with a far smaller dent on your credit line than you would when buying an OLED or a flagship LCD.
Design And Features
Thin at the edges but nearly 3 inches deep at the center (not counting the stand), the XBR-65X900F is less svelte than some of its competition, particularly OLED models. But that fact shouldn't bother most buyers. Two legs at the left and right of the screen provide good stability, though their wide spacing means that your stand will need to be nearly as wide as the TV for a table mount.
The X900F's four HDMI inputs are all HDCP 2.2-compliant, but only HDMI 2 and HDMI 3 can support the full bandwidth (18Gbps) required to pass Ultra HD signals at 60 frames per second. As with other 2018 flat-screen TVs, the X900F doesn't display 3D video.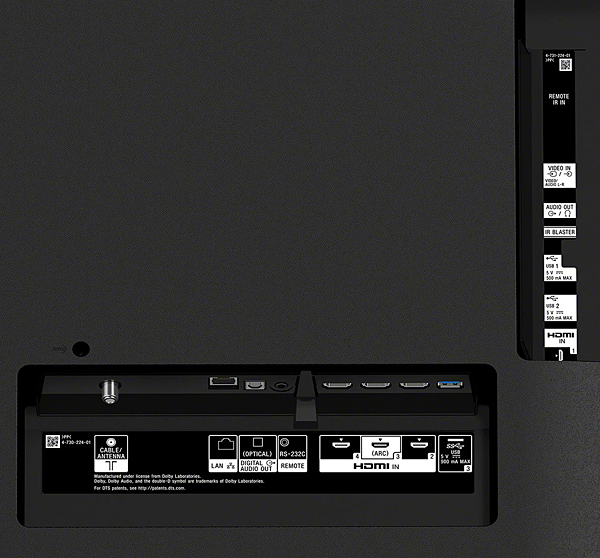 Sony's latest processing chip, the 4K HDR Processor X1 Extreme, enables some of the set's more sophisticated features. One of the most significant is X-tended Dynamic Range. This control, which is set to High by default when the X900F displays high dynamic range(HDR), converts the static metadata used on HDR10 sources to dynamic metadata, analyzing and processing the source on a shot-by-shot basis.
If you turn on X-tended Dynamic Range when displaying standard dynamic range (SDR) programs, the processor also generates an HDR effect. While the High setting was used in this review for all HDR sources, my SDR evaluation was made with X-tended Dynamic Range left at Off (the default setting for SDR sources).
The X900F offers both 2-point and 10-point Advanced color temperature controls. The 10-point adjustment was frustrating to use since there was no indication of the brightness percentage: When I adjusted steps 4 and 5 to correct an HDR calibration issue in the middle of the brightness range, there was no corresponding change. Fortunately, that issue, even uncorrected, didn't impact the picture. Similar to other Sony TVs, there is no color management system on the X900F to fine-tune the color gamut.
The X900F is a full-array local dimming (FALD) design with multiple zones of LED lighting behind the screen. This improves contrast by individually dimming LED zones as the scene requires. Like most manufacturers, Sony doesn't specify the number of zones, but we measured 48.
That amount isn't particularly generous—the more zones, the more effective the local dimming process—but it still offers far better performance than sets that use edge lighting. (Sony's pricier flagship Z9D LCDs have hundreds of FALD zones.)
Motion blur is a particular issue with LCD sets (and OLEDs as well) due to the way they display moving images. Most TVs have a motion compensation feature, under a variety of names, designed to deal with motion blur.
One form of motion compensation, known as black frame insertion, has been around for years and can smooth out motion without producing a soap opera effect. But using it typically results in a significant loss of brightness. What Sony has done with its "MotionFlow" feature is to combine the capabilities of the X1 Extreme processor with the set's FALD backlight to dynamically vary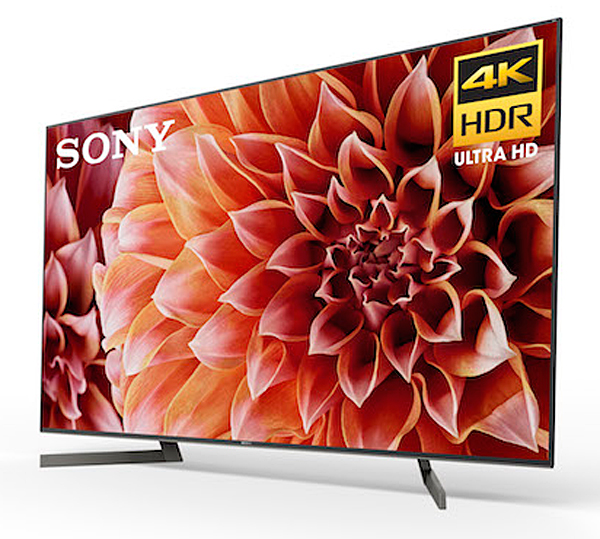 the result scene by scene and by zone. Does it work? Yes— sort of. Pictures look less soap opera-like than with most such features, particularly in the Custom(1or2) setting. I'd still leave it off for movies, but your mileage may vary.
In addition to HDR10, the X900F also supports the Dolby Vision and Hybrid Log Gamma (HLG) HDR formats, but not HDR10+. Sony released its Dolby Vision update for the X900F just before our copy deadline. Upon installing it, the set would switch automatically to a Dolby Vision picture mode and displayed a Dolby Vision logo onscreen to indicate a Dolby Vision source. But that was only with compatible apps that were streamed internally by the TV. For outboard sources such as an external streaming box or Ultra HD Blu-ray player, Dolby Vision can be accessed only if the makers of those sources update their devices accordingly.
Another update we received close to the press deadline for this report was the Beta version of the Dolby Vision firmware enabling Oppo Ultra HD Blu-ray players to play Dolby Vision sources in Dolby Vision on the Sony XBR-65X900F. The Dolby Vision logo appears at the beginning of a Dolby Vision disc and the set switches to a special Dolby Vision Picture Mode. While there was no time to perform a Dolby Vision calibration, the default settings on that Dolby Vision Picture Mode (apart from Motionflow, which I turned off) produced exceptional results.
Sony includes a satisfactory multi-function remote control with the X900F, though it isn't backlit and some of the buttons are spaced uncomfortably close together. I found myself accidentally punching the TV button far too often, which had the effect of selecting the unused antenna input.