How I Found a Timeless Moment on the Sidewalk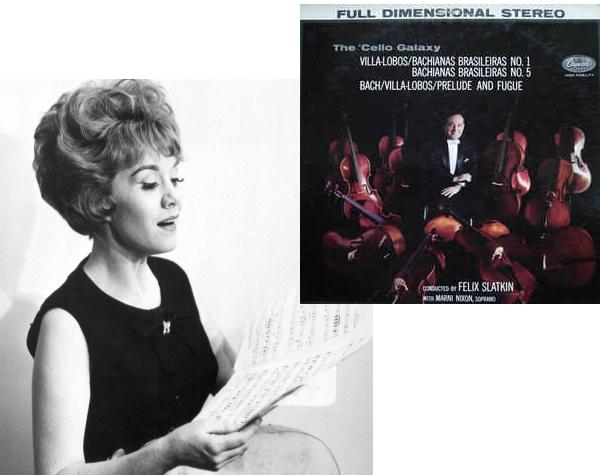 I live in a dense urban neighborhood where it's not uncommon to see secondhand LP dealers plying their trade on the sidewalks. One day I was pawing through dirty old LPs when I came across something decidedly odd. The jacket mentioned a singer named Marni Nixon; no relation to the president, but if you grew up during the Nixon era, the name would catch your eye. Backing her was an all-cello chamber ensemble. And the titles of the works, by Villa-Lobos, were
Bachianas Brasileiras Nos. 1 and 5
. I knew nothing of the Brazilian composer then but have always loved Bach. Curiosity pried $1 out of my wallet and I carried home my prize.
I cleaned the record, as I always do, and started to play it. An unearthly female moan rose from the speakers. It took me to another place—and then I came back to earth with a sickening jolt. The record had started skipping. Just as I grasped something timeless, it slipped away from me. On the off chance that my cleaning procedure had missed something, I examined the record under a bright light and found the cause of the skip. It was a reddish-brown dot that looked like a tiny drop of blood. Had someone died in the vicinity of my record? Had Marni Nixon's passion bled out from between the grooves? With nothing left to lose, I scraped off the unknown substance with a fingernail and put the record back on the turntable. Now it played flawlessly. Joy overtook me.
What was this strange music? Villa-Lobos' Bachianas Brasileiras is a series of suites that uses Bach's methodology to reconfigure Brazil's native music. The two suites relevant here contain several arias. Some, like the first one to catch my ear, are wordless while others are in Portuguese. This recording, of numbers one and five, was conducted by Felix Slatkin, a film and chamber musician who was concertmaster for Twentieth Century-Fox as well as for Frank Sinatra during his Capitol years. He was also the father of the better known Leonard Slatkin, who conducts major orchestras here and abroad. The ensemble of eight cellists was called The 'Cello Galaxy.
Marni Nixon's story is a fascinating one. With one foot planted in the conservatory and the other in popular culture, she appeared with several major orchestras including the New York Philharmonic, where she was a guest performer on Leonard Bernstein's Young People's Concerts, the legendary TV program that brought classical music to the masses. But she is more often remembered for overdubbing lip-syncing actresses: Audrey Hepburn in My Fair Lady, Ingrid Bergman in Joan of Arc, Deborah Kerr in both The King and I and An Affair to Remember. When Marilyn Monroe appears to hit the high notes in "Diamonds Are a Girl's Best Friend" from Gentlemen Prefer Blondes, that's not Marilyn Monroe—that's Marni Nixon. She also dubbed Natalie Wood and Rita Moreno in West Side Story, receiving no credit or performance royalty, though Bernstein thoughtfully gave her 0.25 percent of his composer royalty. Time Magazine called her "the ghostest with the mostest." One of her rare on-camera roles was Sister Sophia in The Sound of Music. She went on to become an opera singer, music teacher, and two-time Grammy nominee for recordings of Copland and Schoenberg under her own name.
While both Amazon and Discogs list the 1959 Capitol LP, no CD release exists under the same title. However, it is included in the compilation A Felix Slatkin Compendium, available via CD or MP3 download. I digitized my vinyl copy, surface noise and all, first burning it to CD-R, then ripping the CD-R to MP3 at 192 kbps, and more recently digging out the CD-R and reripping it to Apple Lossless. Now that unearthly moan lives on a microSD card plugged into my tablet and another one plugged into my mobile phone.
Capitol Records (once independent, now under the ownership of the Universal Music Group) is currently assembling a list of 75 most outstanding albums of its 75-year history. If this is not among them, I will be plenty upset.
Since the great awakening I've collected more of the Bachianas, invariably on used LPs for two or three dollars each. I've even collected another version of Bachianas Brasileiras No. 5 with Anna Moffo as soloist with Leopold Stokowski conducting the American Symphony Orchestra. It's pretty good though I still prefer the soul-stirring Marni Nixon version. That $1 sidewalk LP is still one of the jewels of my library. I just might creep out my executor and ask that it be played at my wake.
Audio Editor Mark Fleischmann is the author of Practical Home Theater: A Guide to Video and Audio Systems, available in both print and Kindle editions.