BenQ HT1070 DLP Projector Review
PRICE
$699
AT A GLANCE
Plus
Calibrates well for accurate color
Better-than-average contrast ratio
Backlit remote control
Minus
Limited installation features
High fan noise in Normal Lamp mode
Not as bright as competition
THE VERDICT
The better-than-average contrast and accurate color potential offered by BenQ's low-cost projector make it a great option for a budget home theater.
Budget 1080p projectors targeted at sports fans are a staple of many manufacturers' lineups. These usually come with a promise to "transport you to the stadium" by projecting a bright, 100-inchdiagonal picture from just a few feet out from a wall or screen, and they include a Sports picture mode to give Astroturf that hyper-real, greener-than-green look. In some cases, however, such projectors can deliver surprisingly accurate images. Pair one of them with an equally affordable screen, and you'll get a satisfying big-screen movie-viewing experience for under $1,000.
BenQ's $699 HT1070 is one example of a sports projector that can be moved from your rec room to your home theater. It uses a 6Xspeed, six-segment (RGBRGB) color wheel and features Texas Instruments' BrilliantColor, an image processing technology that increases the efficiency of the DLP light engine to boost picture brightness and extend color saturation. The projector also has ISF day/night modes that video calibration professionals can use to store bright- and dark-room picture memories.
The spec sheet cites brightness at 2,000 lumens, a typical level for this type of projector. Zoom ratio is 1.3x, focus and zoom controls are manual, and there's no vertical or horizontal lens shift—more typical budget-model specs. Lamp life is rated at 6,500 hours in SmartEco mode, and the projector also supports 3D; BenQ offers its optional DGD5 DLP-Link glasses for $59 each. You can also buy generic DLP-Link glasses online from third-party vendors that should work fine with the HT1070.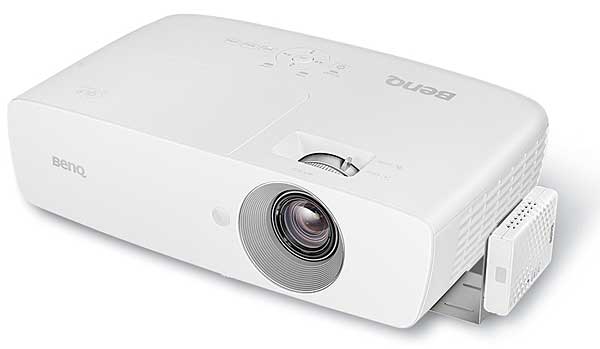 Another accessory that BenQ makes available for the HT1070 is the WDP01 Wireless Full HD kit ($299). It consists of a transmitter and a compact receiver that draws power from the projector's USB port; 1080p-res video can be conveyed from a specified transmission range of 100 feet. The kit supports 3D formats, and its setup is plug-and-play, with switching of signals arriving at the transmitter's dual HDMI inputs carried out either via the included remote control or by pressing the input buttons on the unit's top panel.
The compact HT1070 has an understated, all-white case with rounded edges. Control buttons and dials to manually adjust lens zoom and focus are both located on the top surface. Connections on the back panel include two HDMI inputs (one with MHL support), a D-sub 15-pin input for connecting a computer, and an RS-232 port for linking to a home control system. Along with powering the receiver from BenQ's wireless kit, the USB port can be used to power a Roku or Amazon Fire stick plugged into one of the projector's HDMI inputs.
A big plus with the HT1070 is its fully backlit remote control—a rarity for a projector in this price range. While it doesn't provide direct input buttons to select sources, it does have controls to select picture modes and to quickly access brightness, contrast, and sharpness adjustments. The remote matches the white color of the projector's case, and it's compact enough that you can easily access buttons on the keypad using your thumb alone.
Setup
To test the HT1070, I set it up in my home theater with the lens approximately 8 feet from a 90-inchdiagonal, 1.1-gain Stewart Filmscreen Cima Neve screen. Although I typically install projectors on a high shelf behind my seating area, this projector's 1.3x zoom and lack of a lens-shift adjustment meant that my options were limited to setup on a coffee table, with a relatively short throw distance to the screen—which really is how BenQ intends for the HT1070 to be used. Adjustable feet on the projector's bottom allowed me to center the image, and I was soon ready to roll.
Along with its Sports mode, the HT1070 has Cinema, Bright, Vivid, Game, and User picture presets. Though BenQ says none of these are intended to directly adhere to the Rec. 709 color profile, the Cinema preset was a reasonably close tracking match. Grayscale tracking and color point accuracy were both a bit off, but gamma tracked the 2.2 target for most of the brightness range. The HT1070 provides variable gamma and Normal, Economic, and SmartEco Lamp Power settings. It also has two-point color temperature and comprehensive color management system adjustments for professional video calibrators to play with.