The Rock & Roll Hall of Fame Surrenders to Cheap Trick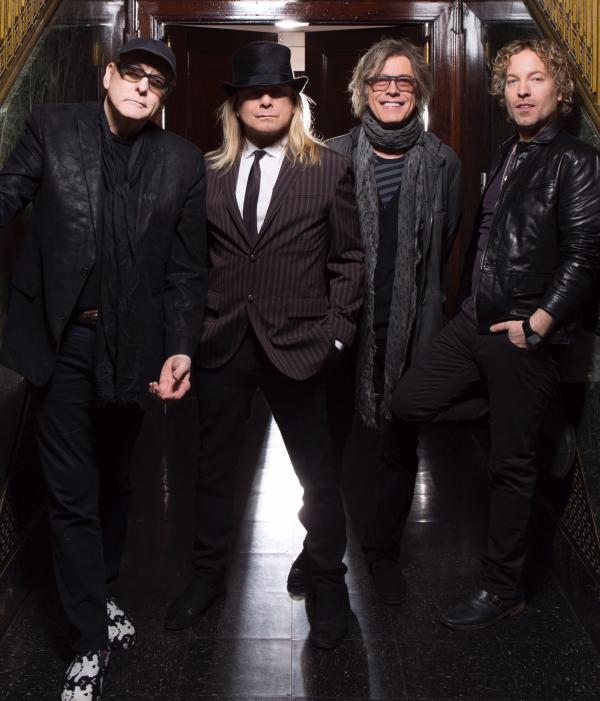 Looks like they're finally wanted enough. This Friday, April 8, Cheap Trick will be inducted into the Rock & Roll Hall of Fame alongside Chicago, Deep Purple, Steve Miller, and N.W.A at the 31st Annual Rock & Roll Hall of Fame Induction Ceremony at the Barclays Center in Brooklyn, New York. "Well, like they say — it's better than getting a sharp stick in the eye," jokes Cheap Trick's ever-jovial guitarist Rick Nielsen. "But, yeah, it's quite an honor."
Not only that, but Cheap Trick have also just released their 17th studio album, Bang Zoom Crazy... Hello (Big Machine), and, as the saying goes, it's all killer and no filler. From the riff-rousing opening track "Heart on the Line" to the heightened guitar duel on "Do You Believe Me?" to the timely cover of the '60s hipster classic "The In Crowd," there are no weak links in the Bang Zoom aural fence. "I think we made a good record," says Nielsen. "And it's good for the people who sell record players, too." (Yes, Virginia, there will be 180-gram vinyl.)
Nielsen, 67, and I got on the horn to discuss the sound design of Bang Zoom, working with George Martin on All Shook Up, and how it feels to finally get into the Rock & Roll Hall of Fame. We've known you all these years, so this time, boys, you can give yourselves away.
Mike Mettler: What was your goal for the sound of this record when you started working with producer Julian Raymond?
Rick Nielsen: Our first goal, really, is to make good records. Sonically, we have to match the guitars, basses, and drums with the songs. And it's usually the song that dictates what I do. It's not me saying, "Well, this is going to work here." Each song does it. It's rock music with two or three chords in it, with some variations. But the song dictates what the tones end up being.
Mettler: One of my favorite tracks is "Do You Believe Me?" It has you and [MC5 co-founding guitarist] Wayne Kramer trading off licks in a bit of a guitar duel.
Nielsen: Yeah, that was a lot of fun, wasn't it? How he got involved was Julian had produced some Glen Campbell records [2008's Meet Glen Campbell and 2011's Ghost on the Canvas], and I played on both of them. Wayne was in the studio one day, and Julian played him some of "Do You Believe Me?" and said, "Hey, Wayne, why don't you play some stuff on here?" I wasn't even in the studio when he did it. I had some stuff on there already, and then Wayne played some, and then I went back in, and we put together the guitar battle that's on there. He did an excellent job. I haven't even talked to Wayne since then.
Mettler: Time to give him a call. I also like that you guys revisit "The In Crowd," a cover song you were doing way back in your early setlists.
Nielsen: Oh yeah, way back in the day. We were playing it in the studio, and Julian and the guys at the record company went. "Wow! That's cool!" I think some of the people didn't even know where it came from. They just liked the vibe and the feel of it. [Dobie Gray's version of "The In Crowd" hit #13 on the Billboard Top 100 singles chart in February 1965.]
We had done it years ago. Not everybody knows what we know. We've always done covers, but we never do them quite like the originals. Never have, in anything we've done.
Mettler: I look at it as an opportunity for someone to go on Spotify and access the DNA of all this stuff after they listen to your version of it. Are you cool with being part of the streaming universe and people having access to everything at your fingertips?
Nielsen: Yeah, well that's kind of like what happened with Trapster, or whatever it was — sorry, I mean, Napster. (both laugh) "Hey everybody, look — I've got all this music!" Well, yeah, but is it any good? Just to have a vast amount of it? It's cool if people actually used it to study the music and try to find out that stuff. That part of it — if you want to study it, if you want to dig deep, it's available. Great! And if you don't, oh well.
A few years ago, when my son Daxx [Nielsen, Cheap Trick's drummer since 2010] was in college at Indiana University, they had a Beatles course. Here are 500 kids sitting in a room talking about Beatles songs, and they weren't even around when The Beatles came out. They had to actually go and study it for the course. It wasn't like it was for you and me, where we heard it on the radio and then bought the records. So it is pretty cool that the DNA, the origins, and the history of it is available, and if you're interested to study it, you can. Pretty cool.
Mettler: I'm with you on that. Unfortunately, Sir George Martin passed away recently [on March 8, 2016], but luckily, you had the chance to work with him as your producer on All Shook Up (1980). What was that like?
Nielsen: Oh, it was wonderful. He was the best producer, musically, and the best person I've ever worked with. A gentleman, and a great guy. And every year, I got a Christmas card from him too. The experience the band and I had with him — it was Numero Uno, Ichiban, the best. He was a great person.
Mettler: And what a great record to have made with him, going on 36 years ago now.
Nielsen: It was great we got to work with George, yes. When I did my part for the liner notes on the new album, I mentioned the quote that George Martin did on All Shook Up. I had written this part down for George to speak, which is buried in the background. It's kind of odd and strange — about a month after I had written that quote down for the credits, he had passed away. He probably didn't ever get to see it, but I respected him enough to do that. It was a quote that I had written, but he was the one who said it. It talks about the power of music.
[The full quote reads: "I'm wishing to live longer, aided by the supreme healing force of music. It most definitely overcomes all weakening aspects of the body. I have felt quite lost and distraught, without those wonderful vinyl productions. I'm convinced it's an addiction too. I feel just great again!"]
Mettler: Did you interact with Sir George all that much when you did Sgt. Pepper Live (2009)?
Nielsen: Oh yeah, yeah. When I went to see him in England — I kind of invited myself, but he didn't say no — I went out to his house in the country. He and his wife Judy cooked for us, and Giles [Martin, his son, also a noted producer] and his wife were there too, along with my wife. He walked me around the grounds, and he gave me permission to do it. I got his blessing. And he also gave us the original charts of the musical score to Pepper.
Mettler: Wow, that must have been a sweet moment.
Nielsen: Yes it was. And when we did the Sgt. Pepper stuff, we also had [Beatles engineer] Geoff Emerick, who engineered every show we did, all 80 of them.
The funny thing was, when I went to use the bathroom, there was a gold record above the toilet — for Cheap Trick! (chuckles) What an honor, to be in George Martin's bathroom, along with some Beatles records. Top that one, Mike!
Mettler: (laughs) I just checked — I don't see any gold records in my bathroom yet, I'm sorry to say.
Nielsen: Oh well.
Mettler: Now, in my hand here, I have the 8-track you guys put out in a limited edition for your previous studio album, The Latest (2009)...
Nielsen: You lucky man, you! I'd have to buy a Lincoln Continental with an 8-track in it to hear it.
Mettler: I think Neil Young might have one he can give you.
Nielsen: OK, I'll go to Neil's for that.
Mettler: What I want to know is, will we get an open-reel tape version of Bang Zoom?
Nielsen: Well, I'm going to have to talk to the powers that be. I hadn't even thought about it. It's been kind of a whirlwind here for us.
Mettler: Well, your label is Big Machine — I mean, they've got Big Machine in their name, so they can do it.
Nielsen: OK, well, call 'em up! "Hey, Scott Borchetta, this is Mike Mettler..." I'm going to give you a soapbox to stand on so you can go out and talk about Cheap Trick, over and over.
Mettler: Sure, if you need me to. That little organization known as the Rock & Roll Hall of Fame seems to think you guys are big enough now.
Nielsen: Well, we've actually been there twice. We played there when it first opened, and then one other time. We were the hired help, you know. As far as getting in, it took a long time for them to decide if we were worth it or not.
Mettler: How does it feel to finally get in? I'm sure I'm the 15 billionth person to ask you that, but...
Nielsen: Well, yes, like they say — it's better than getting a sharp stick in the eye. But, yeah, for me, it's quite an honor. I wish my parents were still alive to actually find out I still have my job.
Mettler: Do you think you guys getting in opens the door for that whole list of bands that people ask, "Why isn't Band X in there? Why isn't that band in there?" You guys have sold millions of records over the years; that has to count for something.
Nielsen: We're not one of those bands who bitch and moan about any of that. I've heard that they say it's not about how many you've sold, but how much you've been an influence. And that's something I'm quite proud of. It's not something I ever set out to do, but that's pretty cool.
Mettler: A perfect example of you having an influence if I've ever seen one is on Dave Grohl and the Foo Fighters. And I really liked your segment in the first episode of Sonic Highways (2014) too. You and the Foos really seemed to work well together.
Nielsen: Oh yeah. I'm proud to be on Sonic Highways, and happy Dave asked me to be in it.
Mettler: How was it working with Butch Vig as a producer on the Sonic Highways track "Something From Nothing"?
Nielsen: He's terrific. He's a Midwest boy. True story — when we did the All Shook Up album, George Martin and Geoff Emerick came to Madison, Wisconsin to do the pre-production with us, and it was freezing cold there. That's the same area Butch Vig is from. But when we'd go to the studio [Smart Studios], Butch was always gone, so on Sonic Highways, that's the first time I got to work with him.
Mettler: Oh, and I have to say, releasing Bang Zoom on April Fool's Day — that couldn't have been a mistake, knowing you like I do.
Nielsen: I know. Amazing. It worked out right. It wasn't the big plan, trust me. I don't even think the record company knew about Cheap Trick Day. A lot of people didn't know, but, of course, I did.
Mettler: But of course. After all of this new activity and the Hall of Fame accolades, I think you're going to have to do this Cheap Trick thing for another 10 years or so — if you're up to it.
Nielsen: Oh, nuts. OK, well, don't worry. We won't practice too hard.