Panasonic TC-65CX400U LCD Ultra HDTV Review
PRICE
$1,700
AT A GLANCE
Plus
Excellent color
Great screen uniformity
Artifact-free 1080p-to-UHD scaling
Minus
Poor black level and contrast
Meager streaming platform
THE VERDICT
Though it delivers solid entry-level performance, Panasonic's CX400 faces more fully featured competition at its price.
Panasonic pulled big crowds at its CES booth in January with their CZ950 OLED, a 65-inch Ultra HD television that adds advanced processing to an LG-supplied OLED panel, with quite stunning results. Unfortunately, that set is only sold overseas for now (priced at €10,000 or about $11,000, no less), and it remains unclear when or if Panasonic will release it in the States.
In the meanwhile, though, the company recently filled out its line of traditional LED-backlit LCD sets with a couple of budget models in the guise of the CX400 and CX420 series, apparently identical but for a difference in the color of the bezel: black for the CX400 and silver for the CX420. Models are available at 50-, 55-, and 65-inch sizes for the CX400, or 55- and 65-inch for the CX420. These entry-level Ultra HDTVs join Panasonic's current top-of-the-line CX850 and CX800 models, and the mid-line CX600 and CX650 series, and are designed more than anything to provide value.
Not surprisingly, then, the 65-inch TC-65CX400U we're testing here lacks today's most advanced UHDTV features and technology, notably the ability to accommodate content mastered with high dynamic range (HDR) and wide color gamut. On the other hand, it does arrive with a full-array direct LED backlight—which has the potential to offer better light uniformity across the screen versus the often streaky edge-lit backlight found in many of today's ever-slimmer TVs. And then there's this claim, found on the company's Website, of outstanding out-of-box performance: "With the CX420 Series TV, there's no need to spend time calibrating picture color gamut, white balance, or anything else. All TV default settings are pre-optimized for you. Just open the box, plug in the TV, and turn it on to enjoy an exceptional cinematic experience at home." Given that the average consumer doesn't even understand the terms color gamut or white balance, I've assumed that pitch to be targeted at the geeks among us, including brazen reviewers who might actually put that claim to the test. In other words: Game on!
Clever Compromises
Right away, I could tell the TC-65CX400U was unlike most other Panasonic sets I've reviewed. Details like the remote design and internal menus were not the usual Panny offerings, and this Panasonic doesn't offer the Firefox operating system the company has been touting in its other 2015 models; it's replaced here with a simplified smart TV offering. Sure enough, Panasonic confirmed that the CX400 and CX420 models are being outsourced from an unidentified supplier, though this hardly disqualifies any TV from performing well.
Like many other sets today, the TC-65CX400U's industrial design is intended to evoke a picture hanging in space, with a relatively fine ½-inch matte black bezel around the top and sides that grows to ¾ inch on the bottom. At 2.9 inches deep, it's not the most svelte set out there, but a direct LED backlight usually does add some depth compared with edge-lit models. The fancy pedestal found on many TVs is eschewed here in favor of a pair of solid brushed-metal leg stands affixed to the bottom. This has the advantage of being both stylish and more stable than some of the shaky plastic stands we've seen in low-end sets, but note that the legs are mounted at the far edges of the set. You'll need a surface that is at minimum 55 inches wide to rest the TV.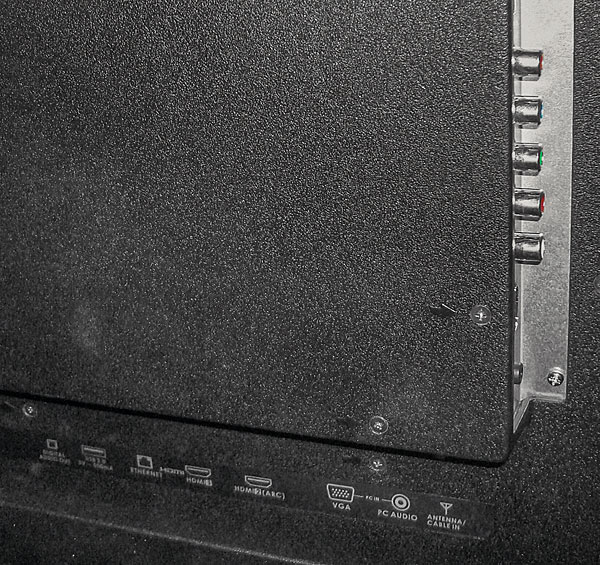 Around back, you'll find the typical complement of inputs, including a trio of 18-gigabit-per-second HDMI 2.0/HDCP 2.2 connections capable of handling up to 2160/60p signals, and one each USB 3.0 and 2.0 ports. Panasonic touts the full-array LED backlight, but the company confirmed there's no local-dimming going on. The panel is a VA (vertical alignment) type, which doesn't offer the exceptionally wide viewing angle of in IPS (in-plane switching) panel but should generally offer better blacks and contrast than an IPS panel in the absence of local dimming. A 178-degree viewing window is claimed here, and the off-axis image did hold up pretty well, though at an 8-foot distance, some very subtle loss of contrast was already detectable on a red field pattern starting at about 30 degrees off center.
There's no 3D playback, and as noted, no HDR capabilities. The set uses the more common 8-bit panel rather than the 10-bits that will be provided on the best UHD sources (such as Ultra HD Blu-ray). A Color Space menu option allows selection of Standard (Rec. 709), Dynamic, and Custom. The TV's native color space is 72 percent of the NTSC standard, which fully encompasses Rec. 709. (By comparison, DCI-P3, the new target for wide-gamut UHD content, is about 82 percent of NTSC.) In Custom mode, there's a full color management system (CMS) that allows tweaking of hue, saturation, and brightness for all the primary and secondary colors. There are also two-point white balance adjustments for the grayscale. I found both only mildly effective (more on that below). There were no adjustments available for the backlight (not even a basic backlight level control) or for gamma. The TV's Cinema and Custom presets are said to default to a gamma of 2.2, which is desirable for a wide range of existing content, while the Vivid, Standard, and Game modes default to 1.8.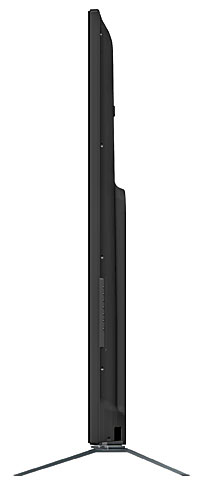 The supplied remote lacks a backlight but has a logical and relatively uncomplicated layout that didn't take long to learn. Pressing the power button results in a 7-second delay before a Panasonic logo finally lights up the screen, and then another annoying 13 seconds before the image from your active source appears. There's a dedicated Netflix button above the nav cluster, though the internal streaming options are quite meager compared with much of the competition, with apps for only Netflix, Vudu, YouTube, Toon Goggles, Pandora, and Accuweather—Amazon Prime being the notable omission. Surprisingly, the Vudu app does not support that service's 4K content offerings, though the apps for Netflix and YouTube (which require, respectively, onboard HEVC and VP9 decoding) will accommodate UHD streaming.
The TV's sound, through its pair of small speakers, was average for a flat panel—which is to say nothing special. I confirmed that the set's digital optical output will send either a PCM stereo signal to a soundbar or (with the audio output set to Raw) pass through a 5.1-channel Dolby Digital multichannel bitstream presented to its HDMI inputs from a cable box or Blu-ray player. DTS bitstreams presented from the source are output as PCM stereo.
Out of the Box
Among the TC-65CX400U's several video presets, the out-of-box default Standard setting had a grayscale that leaned toward blue and showed Delta errors as high as 5.8 across the brightness range, and some color point errors about as high, notably in green. (A Delta E below 3 is considered indistinguishable from perfect.) Not ridiculously bad, but definitely a candidate for improvement. I ultimately settled on the Cinema mode as the best for dark-room viewing, but it too was far from perfect, with both the grayscale and color points noticeably deficient in blue—a fact that was evident in noticeably rosy fleshtones. Delta Es ran mostly in the 4 to 7 range for grayscale and right at seven for the blue color point.