Wharfedale Diamond 220 Speaker System Review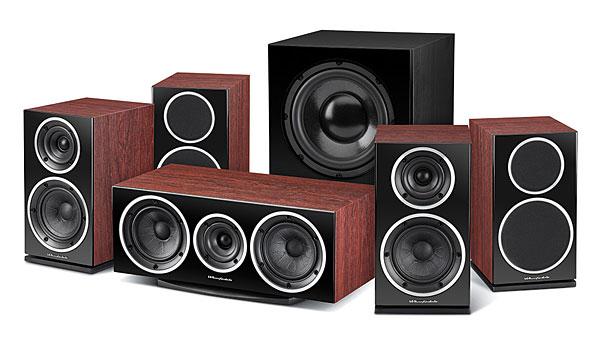 PRICE
$1,546 as reviewed
AT A GLANCE
Plus
Superb sound for price
Bottom port cuts unwanted noise
Dressy cosmetics
Minus
Odd binding-post layout
THE VERDICT
The Wharfedale Diamond 220 speaker system looks and sounds far better than its modest price tag would suggest.
When a venerable audio brand leaves its founders behind, sometimes it loses its way. But sometimes it gets a whole new lease on life. That's what happened when the International Audio Group (IAG, originally of Taiwan, now of mainland China) acquired a handful of British brands, including Wharfedale, Mission, and Quad. When I visited IAG's design and manufacturing facility in Shenzhen a dozen years ago, I was surprised at how self-reliant it was. The resident speaker designer could have a custom part made and tested in 24 hours, rather than having to outsource it and wait for months, as Wharfedale's British forebears had to do. Thus, he has the luxury of endless tweaking. Even so, Wharfedale hasn't had a commanding presence in the U.S. market commensurate with the brand's engineering resources and expertise. Will the new Diamond 200 series change that?
Diamonds Are for Now
The Diamond line includes three towers: the 250 ($1,599/pair), 240 ($1,199/pair), and 230 ($799/pair). There are also two monitors, the 220 ($349/pair) and 210 ($299/pair), as well as the 220C center ($299) and two subwoofers, the WH-D10 ($549) and WH-D8 ($399). There's no dedicated surround speaker, so the monitors may be used on the rear channels—and that's actually what I prefer to do in my reference system. This review features two pair of the larger 220 monitors in front and back plus the center and the larger sub. The line doesn't currently include any Dolby Atmos–enabled speakers or Atmos add-ons.
Wharfedale has gone to great lengths to make the Diamonds sparkle like gems. The price may be cheap, but the look is not. The 1-inch soft-dome tweeter and 5-inch Kevlar-cone woofer (two woofers in the center speaker) sit in glossy baffles with individual round cloth grilles over each driver surrounded by metal accent rings. The rings look right at home in the Sandex white version of the speakers, though the contrast is a bit jarring to me in the rosewood, pearl walnut, and black ash vinyl finishes. The monitors and center each rest on a separate base plate that is screwed onto spacers and extends and conceals the down-firing port.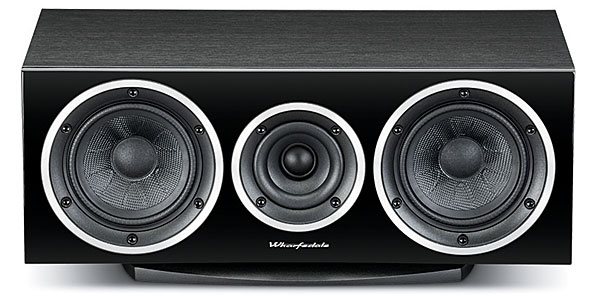 On the rear panel, the plastic-sheathed gold-nut gold-plated biwire binding posts are staggered in a formation I've never seen before, with the posts aimed outward at different angles. After trying to twist my bulky Monster M1.2s cables onto the posts, to no avail, I resorted to a more flexible but discontinued Monster THX ribbon cable (similar to the non-THX Navajo in Monster's current line).
Add up the design and decorative details, and it's evident that plenty of out-of-the-box thinking went into the Diamonds. This is admirable and—in a budget speaker series—even remarkable. The binding posts and accent rings may be deemed overthinking, but better overthought than underthought.
The rated sensitivity of the Diamond 220 monitor is 86 decibels, on the low side of average, while the 220C center is a more efficient 89 dB. A budget receiver would probably run them adequately, but they might benefit from the greater oomph of a midpriced receiver like the one I used. Perhaps you'd like to spend what you save on the speaker purchase for better amplification. I may be tipping my hand a little early, but these speakers would be worth it.
The WH-D10 subwoofer has its 10-inch driver set behind a round grille and into a glossy baffle, which echoes those of the main speakers. Rated power is 150 watts RMS, pretty good for a budget sub. As with many subs, connectivity for this one consists of line-level inputs and outputs only—there are no speaker-level posts—and that's OK for the 5.1-oriented consumer using the sub-out from a receiver or pre/pro. The sealed enclosure suggests a desire to trade bass wallop for bass articulation. The inquiring reader will find out whether the system's promise is borne out in the Test Bench measurements and listening notes.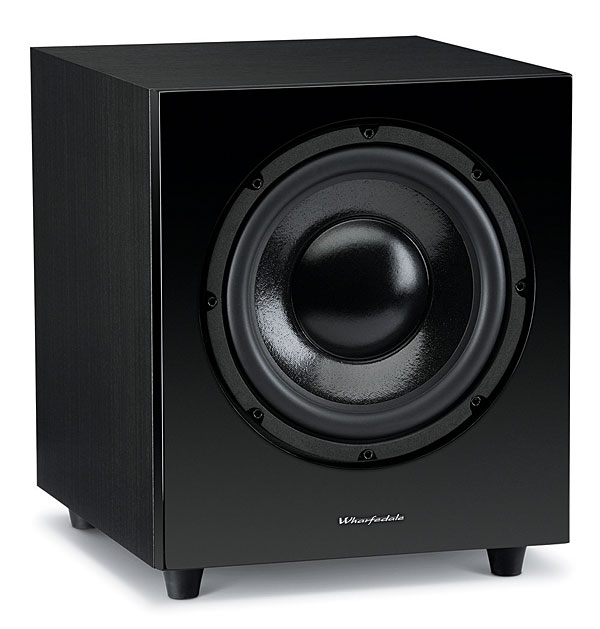 I should note in passing that two of the initial review samples were defective. The center and one of the monitors had something loose bouncing around inside. There were also audible, and probably related, driver outages: The center's tweeter and monitor's woofer were both silent. Shipping damage was likely the cause, so I had no qualms about bestowing a "You have the right to know." Second samples of both speakers worked fine.
Associated equipment included a Pioneer Elite VSX-53 A/V receiver, Oppo BDP-83SE universal disc player for discs, Panasonic DMP-BD87 player for streaming, Micro Seiki BL-21 turntable, Shure V15MxVR/N97XE cartridge, and the phono stage of a Denon PRA-S10 preamp.
Best Budget
I'll cut to the chase and raid my supply of superlatives: These are the best budget speakers I've heard in a long time. They are amazingly transparent for their price. With the right content, they are sweet and euphonic (though they don't disguise substandard content). If you love the sound of speaking and singing voices, in surround or stereo, the Diamond 220C center and Diamond 220 monitors deliver a clean, communicative midrange that's extremely adept at vocally sensitive frequencies. While the knuckle test revealed a touch of budget-speaker cabinet coloration, it didn't become an audible issue. The top end is immaculate, and the bottom end tailors beautifully with the sealed-box sub. Once I got them working, I listened to these speakers for pleasure as well as business. They integrated effortlessly into my listening life.