Sony STR-ZA3000ES A/V Receiver Review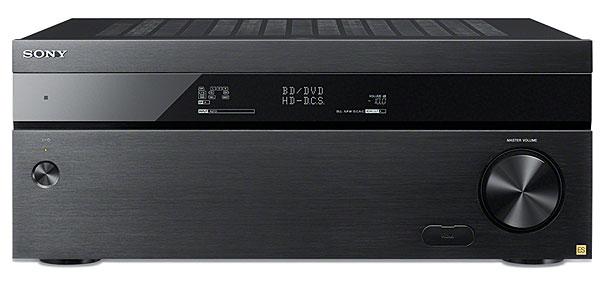 PRICE
$1,700
AT A GLANCE
Plus
4K video, including scaling and HDCP 2.2
Excellent audio quality
Simpler to use than Hodor
Minus
Missing some popular features like AirPlay and Internet Radio
No Atmos or DTS:X
THE VERDICT
Plenty of power on tap and easy to use. A few quirks that don't amount to a hill of beans. Best of all, it sounds great!
Sony posted a video blog on their Website introducing the STR-ZA3000ES and touting how easy it is for a professional installer to set up this AVR. Guess who else would find it simple? That's right, an 8-year-old! Not since my Sherwood stereo model (circa 1982) has a receiver gone into my oft-refreshed setup with as little fuss. That doesn't mean this AVR isn't capable of feats of bravery and bravado; it is. A dealer installing it can easily program it to drop a projection screen when you select the Blu-ray player's input, or hook up a second HDTV in the bedroom to show a source that's different from the one playing in your home theater.
Still, Sony seems to know just how easy it is to set up and use the STR-ZA3000ES, as the printed manual that accompanies it is about the size of some other AVR manufacturers' warranty cards. Plug stuff in, turn it on, and the Easy Setup menu pops up—and you're halfway there. If you do read the manual, buried in there is a note that says you can configure the AVR with your computer or tablet if the receiver is plugged into a router that your computer or tablet sees. The address will be 10.0.0.something. If you get into trouble, go find an 8-year-old.
While the STR-ZA3000ES doesn't offer every feature in the world, the ones included are state of the art. Like most other AVRs, it has proprietary room equalization to help tame acoustical problems in your room. But Sony also provides an unusual "in-ceiling" setting for the front-channel speakers to optimize the sound for speakers placed in the ceiling, which is often the case in many of today's custom installations. This setting reportedly performs psychoacoustic manipulation that enhances the illusion of bringing the sound down to appear to match the height of the picture.
Although I couldn't test it with my Pioneer Kuro 1080p HDTV, the Sony is UHD-capable and will pass 4K video and even scale 1080p video to 4K (though there's no provision for scaling of standard-def, 720p, or 1080i signals). It fully supports HDCP 2.2 copyright management on two of its six HDMI 2.0 inputs and on both HDMI outputs. That's critical for working with new 4K source components moving forward.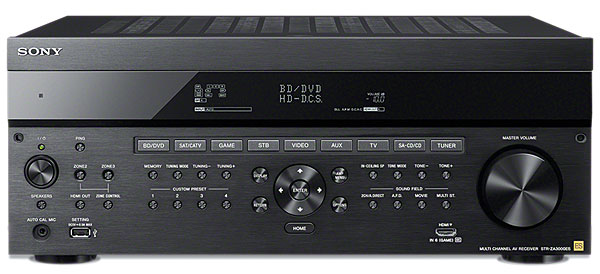 There are no front-panel Dolby TrueHD or DTS-HD Master Audio indicator lights, but the STR-ZA3000ES will indeed accept and latch onto a bitstream feed from your player, and notification of the format being decoded will momentarily scroll across the front panel (more on that later). Missing are the two latest surround modes of the moment, object-based Dolby Atmos and DTS:X, though it's hard to fault any seven-channel receiver for not offering these when nine-channel systems (with four height speakers) appear to be the preferred setup for optimum effect. Lastly, Sony does throw in an 8-port gigabit Ethernet switch on the back, doubling the number that my cable company provided me on its router. Between my Blu-ray player, cable box, DirecTV Genie, and Sony PS3 (plus a Mac in the back of the room), the switch was a welcome accessory.
I'll Have What She's Having
The Advanced Digital Cinema Auto Calibration went smoothly. It requires a quiet room, or it will warn you that the results were inconclusive (as they would be). Sony provides a wisp of a microphone, and the calibration process optimizes for only a single seating location, but it gets the job done. Once complete, it saves three sets of EQ curves (plus Off) that you can switch among—Full Flat, Engineer, and Front Reference. I'm an engineer, but it's probably just coincidence that this was the curve I preferred. It had a more forceful and palpable midrange. Unfortunately, there's no way to see the corrective curves on the screen or the front panel, or even via a connected browser. Neither the included starter manual nor anything I found online explains how many corrective bands there are, and whether they're concentrated in the bass (where they're the most effective) or if they run full-range. This is stuff that an engineer would like to know!
I'm the only guy in the neighborhood who rocks a 12-foot Yagi antenna on his roof (a holdover from the early days of HDTV), but I make it a point to check out the FM reception of any AVR I get to review. There's nothing like starting a Sunday morning with Little Steven's Underground Garage to restore one's faith in music. The STR-ZA3000ES proved sensitive and was able to pull in a favorite station from the University of Bridgeport about 40 miles away with only a little bit of uniform low-level hiss. Most FM receivers would just mute a signal that low. Closer and higher-powered commercial stations, like the one in New Haven that broadcasts Steve Van Zandt's show, were received in full two-channel analog glory. The Sony has space for 30 AM and 30 FM presets. You can scan the band and set the presets with the remote control, using dedicated buttons, and thereafter skip around with the preset scan buttons. Too often, AVR remotes make you jump through hoops to operate the radio. The dedicated buttons are appreciated.
Even better, you can use the receiver's Web browser interface to set or change the AM/FM presets. In fact, anything you can do with the onscreen display, you can do with the browser. Changed settings on the browser, for such things as the EQ type or speaker size, take immediate effect. It's a very nice feature, and even if you find you don't use it, it gives you a good overview of the AVR's many capabilities.