BenQ treVolo Electrostatic Bluetooth Speaker
PRICE
$300
AT A GLANCE
Plus
Spacious sound
Fold-up, portable design
Cool conversation piece
Minus
Limited volume
Limited bass
Pricey compared with Bluetooth speakers with similar volume/bass capabilities
THE VERDICT
BenQ's treVolo is a lush-sounding Bluetooth speaker that should please audiophiles with reasonable expectations.
Portable Bluetooth speakers range from toy-like novelties you can tote along in the shower to high-end Danish audio lunch boxes designed to survive a day at the beach. In between, you'll find plenty of other options ranging from cheap and bad-sounding to pricey and good-sounding.
With Bluetooth speakers starting to become not just a popular, but a default audio playback system for many people, it's perhaps time to take the category seriously. BenQ, a company best known for video monitors and projectors, has entered the crowded Bluetooth speaker arena with an attention-grabbing effort: a compact portable design that uses electrostatic panels—the same tech found in speakers from companies like MartinLogan—to convey sound. If that doesn't count as a bid for Bluetooth speaker seriousness, I don't know what would.
The eye-catching treVolo's dual electrostatic panels fold out for playback and can be retracted when not in use. The speaker's solid cabinet houses two 2.5-inch woofers and two 2.5 x 4-inch passive radiators, with a 4 x 10-watt Class D amp powering both the panels and woofers. Rated battery life is 12 hours before the treVolo needs to be plugged in for a recharge.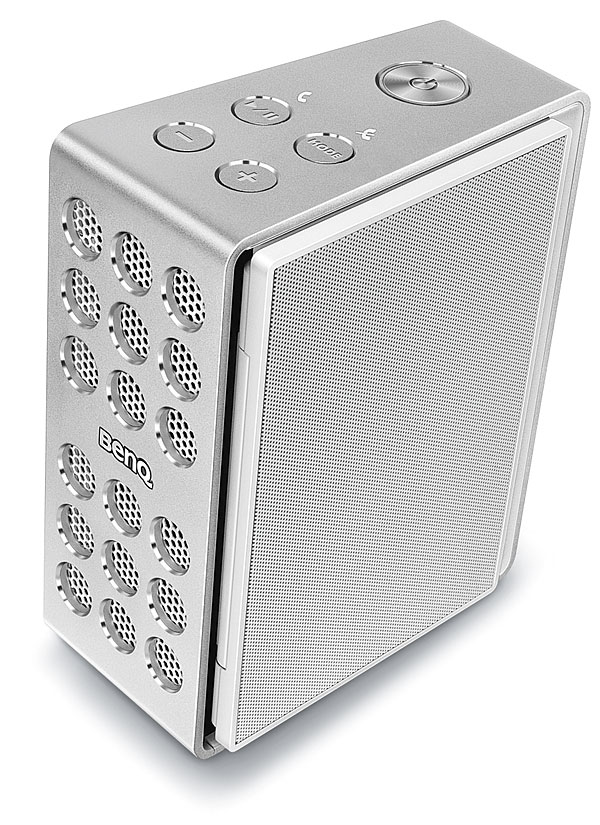 In addition to its aptX Bluetooth wireless connection, the treVolo has a Micro USB input (48-kilohertz/16-bit) to connect directly to a computer, plus a 3.5mm analog input. There's also an analog line out connection for audio passthrough should you ever have need to use the treVolo as a basic aptX Bluetooth receiver to feed an external audio system.
Setup
Setting up the treVolo for playback was a pain-free process. Once fully charged, you press a button on its top surface to initiate Bluetooth pairing with your phone or other device, and then listen for an electronic bloop that signals a successful connection. Tapping the Mode button cycles through the speaker's Pure, Warm, and Vivid modes, which are indicated respectively by green, red, or blue LEDs. BenQ's lit describes the Pure mode as providing "an accurate tonal balance with minimal equalization," so that's the one I used for most of my listening. (Vivid sounded too edgy, while Warm seemed to provide no audible benefit over Pure.) Other buttons on the treVolo's top let you answer/hang up calls when using your phone as a source, and adjust volume.
Performance
With the regular, non-audiophile world looking to the humble Bluetooth speaker as a primary music playback system, you can imagine what kind of pressure it's under to perform. Sadly, most aren't up to the task—when you push volume past a certain level, the sound often gets bloated and strained, the presentation boxy and monophonic. BenQ's treVolo, however, is in a different league.
That's not to say the treVolo can fill a room with sound—it is more of a bedside or tabletop speaker, one best equipped to play certain types of music at a reasonable volume level. When I streamed "Verses" from Olafur Arnolds and Alice Sara Ott's The Chopin Project via Tidal, the layered cellos and violins sounded detailed and lush and had plenty of space and air. Soft rock tracks such as "Should Have Known Better" from Sufjan Stevens' Carrie & Lowell came across equally rich, with a natural timbre to the vocals and acoustic guitar.
Another music genre that let the treVolo shine was electronic, and particularly ambient electronic, music. Listening to Harold Budd's "The White Arcades," the billowing layers of synthesizer and piano had a dense, atmospheric presentation that extended well beyond the speaker—something I've never experienced with a portable Bluetooth model. Moving to Aphex Twin's "diskhat ALL prepared1mix" from Computer Controlled Acoustic Instruments, the plucked piano strings sounded rich and resonant, and the reverb- laden elec- tronic beats had an equally smooth presentation.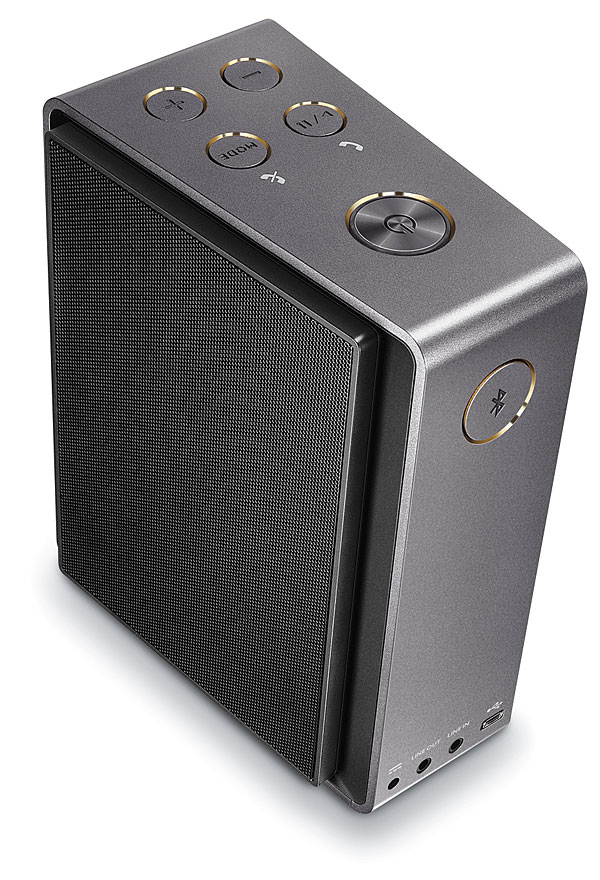 To give you an idea of what the treVolo can't do well, I took advantage of the sudden appearance of Led Zeppelin's catalog on Tidal and cued up "Good Times, Bad Times." The sound, to put it bluntly, was bass-shy and constrained. The treVolo does lots of stuff well, but rockin' out isn't one of them.
Conclusion
For 300 bucks, BenQ's treVolo may seem pricey for a Bluetooth speaker that's in its comfort zone mostly when playing ambient music and Chopin string quartets at moderate volumes. But if you like that sort of music, and if you enter the situation with reasonable expectations—by that I mean not expecting the treVolo to supplant a regular component-based stereo system—the appeal of BenQ's speaker will quickly become apparent. In a world packed with not-too-impressive Bluetooth speakers, the treVolo's refined sound, cool design, and innovative tech make it stand head and shoulders above the crowd.