Riva Turbo X Bluetooth Speaker Review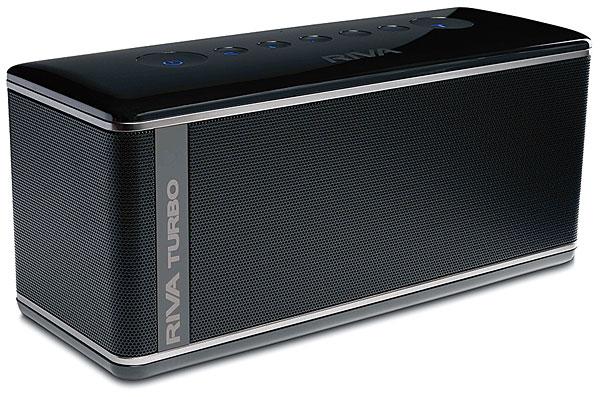 PRICE
$350
AT A GLANCE
Plus
Easy setup
Intuitive controls
Portable footprint but big sound
Minus
A little pricey compared with competition its size
Even with phono mode, vinyl may not be loud enough at line level
THE VERDICT
Portable enough for on-the-go listening, the Riva Turbo X is a little more expensive than most, but it's worth the money for folks who want a small speaker without sacrificing sound quality.
There's a multitude of portable Bluetooth speakers on the market today. Every form of novelty is covered: They're splash-proof, they have disco light displays, some literally dance. Standing out in a field of hundreds takes a little something extra that's truly special. How novel is it, then, when a small Bluetooth speaker's claim to fame is that it actually sounds fantastic? Enter the Riva Turbo X, a seven-driver, 45-watt (RMS) little dynamo that is smaller than a loaf of bread and yet easily fills a medium-sized living room with high-quality sound.
The Turbo X's array includes three 2.4-inch drivers and four flat-piston passive bass radiators (two each on the front and rear), which together are remarkable at reproducing crisp high frequencies, lush mids, and even deeper low-end frequencies than what you'd expect from a speaker that measures about 3.5 x 4 x 9 inches. Along with a Bluetooth input capable of aptX sound quality (with compatible sources), there's a 3.5mm analog stereo input. The Turbo X also takes calls with its built-in microphone. There's a USB port for powering your phone, and the lithium ion battery is said to provide 26 hours of play time (at 75 dB volume) when fully charged.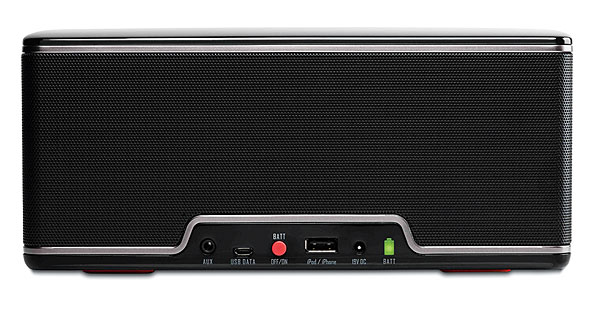 Build quality is exceptional for a portable Bluetooth speaker, with a sturdy metal grille that wraps fully around the speaker, and high-gloss top and bottom plates in either white or black. Touch-sensitive buttons across the top control power, volume up/down, and pairing, and activate either (or both) of two specialized sound modes called Trillium Surround and Turbo (more on these later). A proximity sensor backlights the controls when you wave your hand over the top, and there are audible cues when you press the buttons, including a woman with a British accent who tells you when "Turbo is paired" and a revving-engine effect when you turn on the Turbo mode. For remote operation from your paired device, Riva's Ground Control app for iOS or Android controls volume, power, and track selection, as well as the sound modes, and also indicates remaining battery power.
As if all this wasn't enough, the Turbo X has one more little special feature. There's a phono mode that helps to boost the gain of the line input for use with turntables. It's somewhat of an Easter egg; activating it requires the aux 3.5mm input jack to be filled and the + and – volume buttons to be depressed simultaneously for three seconds. Keep in mind you might still require a phono preamp with some cartridges.
The Turbo X is said to be weather resistant; one of the three rubber pads on its bottom cleverly pops out to serve as a splash cover for the input jacks. Riva makes a padded custom travel bag to protect the speaker. It's a $30 option.
As with any speaker, placement in your listening environment is key. Not surprisingly, Riva suggests a corner placement (which best reinforces bass frequencies) as optimal, 3 to 6 inches from a wall as second choice, and open air as a good option. I tried all three positions in my living room and also took the speaker to other rooms to see how it fared.
Overall, the Turbo X held its own in each location, and my results were about as I expected. A smaller bedroom was where it sounded the best; away from walls on a patio table caused a loss in both warmth and deeper low frequencies. To get enough volume for larger rooms or outdoors, you need to pretty much crank the volume control all the way up. (I found 9 out of 10 on the apps volume scale to be enough.)
The Trillium Surround sound mode is made for creating a sense of space when you're watching movies, and it depends upon the scene you're viewing as to whether or not there's a quantifiable difference. It seems to help flesh out larger-scale scenes, such as battle sequences and thunderstorms, and it lessens the sense that the soundscape is coming from a single, central speaker. In contrast, scenes consisting of dialogue indoors are left largely unaffected. Interestingly, I also found that orchestral recordings were well served by Trillium Surround. It's a very slight shift, but the separation effect enhances the concert-hall feel.
The Turbo mode provides a 7-dB boost in total output while simultaneously applying what Riva calls a "smart bass compressor" to protect the speaker from overexcursion and damage. And yes, the volume control on the app literally goes to 11 (this top volume is only accessible when Turbo is enabled). Generally speaking, I don't care for the typical boosted EQ settings found on speakers like this; most are heavy-handed, and my ears usually prefer the flattest frequency representation possible. However, the overall sonic effect with Turbo feels more like a careful nudging of the bass and treble in just the right frequencies, and I found I actually liked it with certain genres of music. Pop, electronic, and hip-hop get a slight boost in the vocals and bass line, which sounds exciting rather than suffering from a bloated boom and sizzle. On rock, jazz, and acoustic music, however, I found myself reverting to the flat EQ.
Whichever setting you choose, the Riva Turbo X was dexterous with all genres of music I threw at it. At high volumes, the speaker rarely became distorted. The only time I heard any sort of anomaly was when I enabled Turbo, cranked the volume to the highest peak of 11, and listened to hip-hop or pop. The treble started to sound rough around the edges, and the bass began to waver in volume, as though the speaker was trying to keep from damaging itself (probably that protection circuit kicking in). That said, in most environments, the Turbo X didn't need to be pushed to these limits to be comfortably audible.
With so much competition, the Turbo X's $350 MSRP may seem pricey, but in this instance, you really get what you pay for. If you need portable, splash-resistant, great sound, the Riva Turbo X is worth every penny.