Cambridge Audio CXR120 A/V Receiver Review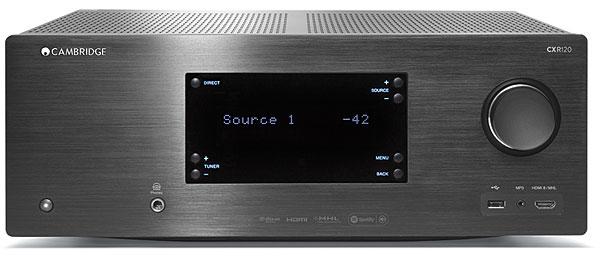 PRICE
$2,399
AT A GLANCE
Plus
Nuanced, open, uncolored sonics
Stream Magic module
Auto setup imposes no room correction
Minus
Bluetooth requires adapter
A $2,400 AVR with no Dolby Atmos or DTS:X
Auto setup imposes no room correction
THE VERDICT
This receiver makes idiosyncratic audiophile choices—omitting Atmos, Bluetooth, and other features—but the revamped look and feel are great, and the sound is reliably musical.
At first glance, the cosmetic difference between Cambridge Audio's new CXR receivers and the company's previous Azur line is almost shocking. The older receivers were stellar performers, but their look was strictly utilitarian, even a bit dowdy. They were the consumer electronics equivalent of Queen Elizabeth II. Whatever her traditional virtues may be, she hasn't won many beauty contests lately. What a difference a new look makes! The CXR receivers have a cleaner, sleeker front panel, with fewer controls and a generously oversized display. They're less QEII, more Kate Middleton—who, coincidentally, is also known as the Duchess of Cambridge.
Full Disclosure Specs
The CXR120 ($2,399) is one of two new Cambridge receivers, the other being the CXR200 ($3,299), which has twice the rated power. The Azur name has been retired. While CXR receivers still use fan cooling, it's a new design with new components. Using the industry-standard (if slightly deceptive) method of power rating, the CXR120 offers 100 watts into 8 ohms with two channels driven. At 6 ohms, that rises to 120, and at 4 ohms, 155. In an unusual and praiseworthy step, Cambridge also specifies the receiver at 60 watts into 8 ohms with all seven channels driven. That is the kind of information that most manufacturers prefer to conceal. Compare it with our Test Bench measurements—and competitive AVRs.
Cambridge has dramatically reduced the number of buttons on the front panel. The old same-priced Azur 651R had 22 buttons. The CXR120 has eight, and seven of them are cunningly camouflaged, tucked into the four corners of the large display. When the receiver is powered down, you hardly notice them—but when it's powered up, the backlit legends pop up brightly. If only I could be that cheerful when I wake up in the morning.
The pair of buttons in the lower right corner are home menu and back keys. In an inspired touch, the volume knob scrolls up or down menu items; press the knob for enter. Brilliant! While I've seen this before, I haven't seen it often enough. Two other keys cycle among sources. The remaining controls operate the direct modes and the tuner. Yes, older Cambridge receivers offered more front-panel functionality independent of menus, but their control layouts were harder to learn. The new ergonomic choices make it simpler to find what you need.
The cosmetic redesign extends to the graphic user interface. The new look, like the old one, is mostly monochrome except for a speaker-setup diagram in color. But the font is more attractive and smaller, presumably sized for a large HD screen. The remote distinguishes controls by shape but, oddly, not by color. The home menu and volume buttons are both integrated into the ring surrounding the navigation controls, which is convenient but takes some getting used to.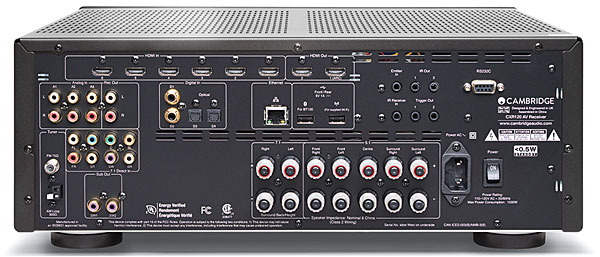 There's always a tradeoff between features and performance at a given price point. To reserve more pounds sterling in the design budget for audiophile-grade build quality, Cambridge has passed over some high-profile features that other manufacturers deem indispensable. Dolby Atmos and DTS:X, the new object-oriented surround standards, are nowhere in sight. Cambridge agrees with Dolby and myself that the 7.1.4 configuration is better for Atmos, which would require an additional pair of amp channels. The receiver can derive front height channels using Dolby Pro Logic IIz processing, but that's no substitute for decoding discrete Atmos soundtracks. Also missing: any form of automatic room correction EQ, though an auto-setup routine is present.
An increasing number of manufacturers are integrating Wi-Fi, Bluetooth, and AirPlay while eliminating extra-cost adapters. Cambridge does bake in Wi-Fi, including a supplied antenna, but Bluetooth requires the BT100 adapter ($109). If you want AirPlay, buy Apple's AirPort Express.
It's not that Cambridge is uninterested in audio streaming. The CXR120 includes the same Stream Magic module found in Cambridge's CXN and 851N network music players. As most receivers do, Stream Magic supports Spotify and streams lossless audio via Wi-Fi or Ethernet or from a USB hard drive. But it offers wider file support than some, benefits from regular firmware updates and improvements, and consolidates streaming and simple receiver control features in the Cambridge Connect app. The app is for both Android and iOS. One of the HDMI ports is MHL capable, though the USB port isn't iOS compatible—so Android users have the advantage in streaming with a wired connection.
This is one of the few receivers I've seen that entirely omits the HD component video interface—and the first I've seen that omits SD composite video as well. Thus, Cambridge eliminates the need for an analog transcoder and scaler, simplifying the design and freeing up resources for sound-enhancing components. HDMI 2.0 is supported, not 2.0a, so you'll have to do without being able to pass HDR video to a 4K display. But the receiver does support Ultra HD at a 60-hertz frame rate, 4:4:4 color depth, and 21:9 widescreen passthrough—and it offers the updated HDCP 2.2 digital rights management, so it can pass copy-protected UHD.