"Disney Movies Anywhere" Is Finally Available Anywhere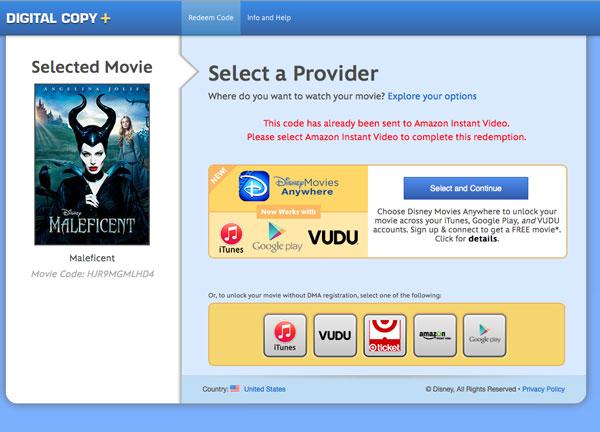 Blu-ray Discs may offer the best picture and sound quality, but they are limited to the physical disc, which doesn't fit with our mobile lifestyles. The Blu-ray combo disc has been one solution. Combo discs come with a redeem code that will add the movie title to your UltraViolet cloud library for streaming or downloading to media players or mobile devices. UltraViolet has been good for movies from NBCUniversal, Sony, Paramount, Twentieth Century Fox, and Warner Bros. but not Disney, which didn't join the UltraViolet consortium. And Disney, Marvel, Pixar, Dreamscape, and Touchstone Blu-ray Discs didn't offer streaming options for purchased Blu-rays until a year ago, when the company launched "Disney Movies Anywhere."
Disney Movies Anywhere (DMA) works much like UltraViolet, where users put in a redeem code to add the title to their DMA library, but playback was only available through a deal with Apple iTunes. Movies could be played in the Disney Movies Anywhere app on iOS devices or added to the user's iTunes library. Last November, Disney signed deals to partner with Vudu and Google Play, greatly expanding the number of devices that can play Disney digital titles. Recently I had the opportunity to try it out.
As I haven't previously bought a Disney Movies Anywhere title, I didn't think I had a Disney account, but I was wrong. Because I had signed up for an account with ABC's streaming service (owned by Disney), I could use those credentials to set up my Disney Movies Anywhere library. Users can also sign in with an account made on ESPN or other Disney subsidiaries—Lifetime, A&E, History Channel, and more.
After logging into my account, I was ready to add my new Disney Digital Plus movies. The Magic Code (the Magic Kingdom's name for a redeem code) was on a sheet of paper inside the Blu-ray Disc case. Now that I had a movie in my DMA library, I was offered the option to connect to my iTunes, Vudu, or Google Play accounts. Doing so would add the title to my iTunes, Vudu, and/or Google Play libraries. As an incentive to connect my accounts, I received a digital copy of Wreck It Ralph. After connecting the account, any subsequent title would automatically appear in all connected libraries for streaming or download to devices.
While downloads may be in standard definition, streaming is HD. Vudu streaming of DMA titles is in its best quality HDX format. Along with DMA movies appearing in the libraries of the other services, Disney, Marvel, or Pixar movies purchased on iTunes, Vudu, or Google Play, those titles are automatically added to the Disney Movies Anywhere library.
If you don't want to set up a Disney Movies Anywhere account, individual titles can be added directly to iTunes, Vudu, Google Play, Amazon Instant Video, or Target's Ticket streaming service. At this time, users cannot link an Amazon or Target account to a DMA library, but can get a digital copy of an individual title by sending its digital code. If you use this option and don't set up a DMA library, the title will only be available on the service you designate. If you add the title to your Disney Movies Anywhere library and link to other libraries, you can still send it to either Amazon or Target.
I set up an account and added Maleficent to my DMA library. I linked my Vudu, iTunes, and Google Play accounts. In the next screen, I was offered the option of watching it on a variety of services. Clicking on Amazon opened a redeem code page where I typed in the redeem code again. Maleficent was now available in all my linked libraries as well as in my Amazon purchased movies library where I could stream or download it.
Although industry analysts claimed that Disney Movies Anywhere would be the downfall of UltraViolet, the opposite may be true. When Disney Movies Anywhere titles are added and the account is linked with Vudu, the Disney movies are included in the same library as UltraViolet digital copies, along with movies purchased on Vudu or added via Disc-to-Digital services.
Still, setting up a DMA account and linking it to other services may be a little easier than establishing and linking an UltraViolet library. Although last year, Vudu made it possible to set up an UltraViolet account and redeem movies through the Vudu website or app, it still is more confusing than the Disney Movies Anywhere setup, which walks you through the process. But DMA only handles titles from the various Disney studios, Pixar, and Marvel. Perhaps UltraViolet can learn from the DMA setup process.
With Disney's new partnerships, DMA movies may be streamed to a number of different apps, thus expanding Disney Movies Anywhere beyond iTunes and its iOS App. There is now a Disney Movies Anywhere app for Android devices (but not Android TV). By linking the account with Vudu and Google Play, the digital Disney movie titles are pretty much available to stream on just about any media player, smart TV, or streaming device you may own. Disney Movies Anywhere now lives up to its name.