Sony HT-ST5 Soundbar System

PRICE
$800 (updated 12/10/14)
AT A GLANCE
Plus
HDMI 2.0 and lossless surround decoding
7.1 channels of amplification
Fairly deep response
Upward-angled rubber feet
Minus
No HDCP 2.2 DRM
THE VERDICT
The Sony HT-ST5 provides up-to-date HDMI 2.0 connectivity along with great-for-a-bar sound, including excellent subwoofer integration.
OK, I admit it. When I signed up for audio-critic duty in the late 1980s, about a decade into my tech-journalism career, I envisioned a glamorous world of gleaming waxed wood-veneered speakers, precocious multitalented receivers, and dressed-to-kill home theaters designed by Theo Kalomirakis. Soundbars weren't even on the horizon then. Even so, step by step, I have committed myself to the conceptual principles underlying soundbars: audio-for-video, compactness, minimal footprint, maybe a little surround magic, and user-friendliness, that last item being glaringly absent from AV receivers.
Sure, I still love orthodox speakers and receivers, and I review as many as I can. But a big part of the home theater audience wants a more convenient audio-for-video solution, especially for secondary systems. And some bars do sound better than others. Sony is among the companies making well-above-average soundbars, at the top of their line, at least.
I gave Sony's flagship bar, the HT-ST7 ($1,299), a five-star performance rating, which means that relative to most other soundbars I've auditioned, the HT-ST7 is the top of the pops. Now comes the HT-ST5, with a price tag about 300 bucks lower. Does it measure up to its distinguished predecessor?
7.1 Versus 2.1
In addition to the 7.1-channel HT-ST7 and HT-ST5, the Sony soundbar line includes three considerably less expensive 2.1-channel models: the HT-CT770 ($450) and HT-CT370 ($350). Most of the lower-end bars have a simpler, flatter enclosure than the pricier soundbars, which feature Sony's distinctive "Sense of Quartz" styling, with its geometrically intriguing shapes.
Sony likes to emphasize that personnel from the company's motion picture unit contribute to the voicing of their soundbars. For this project, participants included Tom C. McCarthy, executive vice president of Post Production Facilities at Sony Pictures Studios, and audio engineers Bill Banyai and Edward Hernandez.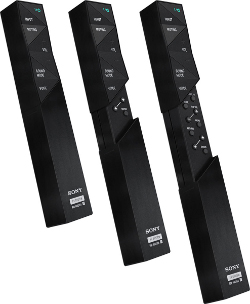 At 40.63 inches wide, the HT-ST5 is a couple of inches smaller than the HT-ST7. Once again, it comes in a tough aluminum enclosure with a bisected perforated-metal grille; the end caps and back panel are plastic. The back panel has keyholes for wall mounting. Preinstalled (but removable) feet angle the bar 30 degrees upward for a table mount. If the speaker blocks the TV's IR remote control sensor, an IR repeater function can be activated.
Buttons on top of the HT-ST5 control power, input, Bluetooth pairing, and volume. The slim, oblong remote, with its distinctive triangular buttons, covers the above items and adds muting and sound modes. Slide down its bottom half for access to more sound adjustments and menu navigation. The large white display can be dimmed or shut down, leaving only a white dot.
This is a 7.1-channel soundbar system with the associated drivers and amp channels. The bar itself houses five full-range mica-reinforced cellular fiber cone drivers, plus a pair of polyester fabric diaphragm tweeters and companion woofers for the front left and right channels. The subwoofer's substantial fiberboard enclosure includes a front-firing 7-inch driver. Both bar and sub enclosures are sealed. While a sealed enclosure isn't automatically superior to a ported one, it can help achieve more controlled response.
Rated power is 7 x 40 watts peak plus another 100 peak for the sub. That's with a 1-kilohertz test tone. The manual's spec sheet also lists a more conservative 15 watts RMS with two channels driven. We can't measure the amps directly but do provide frequency response of the acoustical output in the Test Bench section.
Powered soundbars fall into two categories: those with only legacy connectivity, which require that the TV be the central hub, and those with multiple HDMI inputs, which may optionally function more like receiver-based systems, accepting input from source components and passing video to the TV while perhaps offering decoding of lossless surround formats. Sony's top-end bars are in the latter category. This one boasts HDMI 2.0 and onboard decoding for DTS-HD Master Audio and Dolby TrueHD as well as old-school Dolby Digital and DTS. Like most gear at the moment, this bar doesn't include HDCP 2.2 for some copy-protected UHD signals, though it does otherwise pass UHD.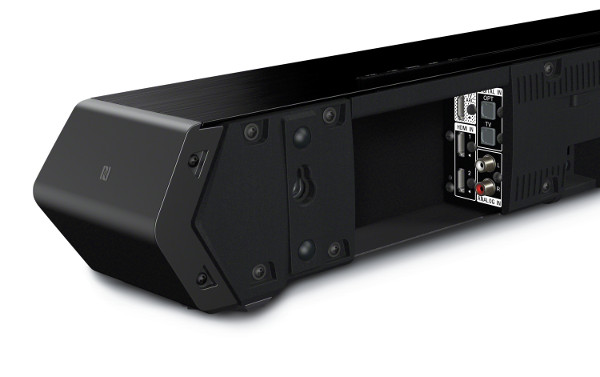 The HT-ST5 has three HDMI inputs: two in a back-panel recess oriented to facilitate wall mounting and one in a separate location on the back that's aimed for easier access with a table mount. The recess also includes an ARC-capable HDMI output, which can pass video and audio to the TV and get audio back from the TV's internal tuner or streaming platform. There are also two optical digital inputs and one stereo analog input to connect various sources. Bluetooth is accommodated with NFC pairing, which lets you "bump" your NFC compliant source device to complete that task, and it includes both aptX and AAC audio compression decoding.
The wireless sub connects itself with no fuss when the system powers up. If multiple wireless devices in the vicinity are stepping on each other's toes, the sub's Secure Link feature will help you find a working frequency.
I often complain that soundbars don't offer enough sound adjustments. While Sony doesn't provide orthodox bass or treble controls, you do get a thoughtful assortment of others. Twelve-step sub volume (up from 10 in the ST-HT7) is one of the controls hidden behind the remote's slide.
The Voice and Sound Field controls are given premium top-of-the-remote spots. The Voice control offers three settings: Type 1, for relatively uncolored voice timbre; Type 2, for a modest treble boost; and Type 3, with still more treble (presumably for elderly listeners). The ST-HT5 has all the Sound Field modes of the ST-HT7 plus a few new ones. The Movie mode is now split into Movie 1 (wider soundstage) and Movie 2 (stronger surround effects). Another new mode is Clearaudio+, which appears to be little more than an EQ preset and isn't explained further. Reappearing are the Standard, Music, Game, and crowd-enhancing Football modes.